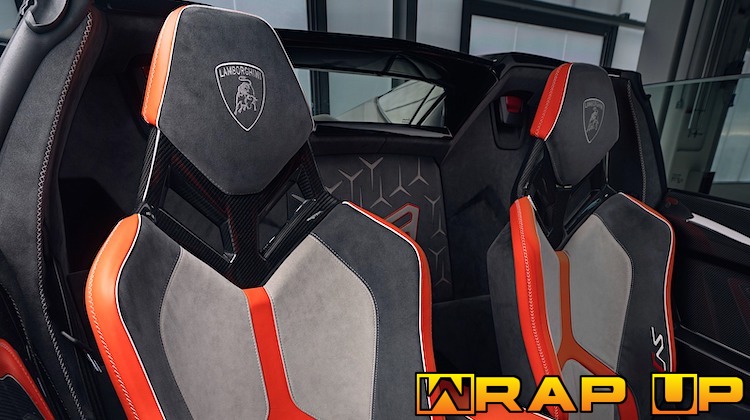 It was a busy month! We brought you the latest news on how coronavirus is impacting our industry, highlighted talented trimmers and more! Here's a look back at August 2020.
Trimmer Vaughn Edward Tessier Dies at 95
Trimmer Vaughn Edward Tessier of Redlands, California, has died at age 95.
Save on Auto Revolution Vinyl!
Albright's Supply is having a sale on Auto Revolution Vinyl!
Vilner's Ferrari California T is a Work of Art
If you thought the Ferrari California was gorgeous, wait until you see the one Vilner Garage just trimmed.
SEMA 2020 Canceled Due to Coronavirus
The 2020 SEMA Show is officially canceled due to the coronavirus pandemic.
Electron Top Product Catalog Changes
Electron Top's latest newsletter is not to be missed — especially if you regularly order from their product catalog.
Attend NC's First Ever Virtual Trade Show!
NC Carpet Binding & Equipment is making history by hosting the auto upholstery industry's first-ever live virtual trade show!
AAPEX Also Cancels its In-Person Show
The Automotive Aftermarket Products Expo will not be an in-person event this year. Instead, it's going online.
Mobile Tech Expo Cancels Las Vegas Show
Mobile Tech Expo 2020 has officially been canceled due to the coronavirus pandemic.
Mazda's 100-Year Anniversary Miata is Hot
Mazda is celebrating its 100-year anniversary with a special-edition MX-5 Miata that's available in an exclusive red soft top.
Are Aftermarket Racing Seats Worth It?
Donut Media just published an overview of aftermarket racing seats that every interior professional should watch.
Mohair Was Once a Booming Industry
At one point in automotive history, mohair upholstery was as trendy as Alcantara is today.
Trimmer Vohn 'Booger' Barnes Dies at 81
Trimmer Vohn Curtis Barnes, also known as "Booger," has died at age 81.
Trimmer Truman Osban Watson Dies at 73
Trimmer Truman Osban Watson of Nacogdoches, Texas, has died at age 73.
Watch Gabe's Custom Interiors Trim a 1964 Continental
The 1964 Lincoln Continental is one sweet ride. But it's even sweeter after the guys at Gabe's Custom Interiors get their hands on it.
Soon Cars Won't Have Steering Wheels
The New York Times has all but written an obituary for the steering wheel.
Help Trimmers Impacted by Wildfires
California is currently battling some of the biggest wildfires in its history — and trim shops are impacted.
Audi's Interior Designer Now Makes Handbags
Vicki von Holzhausen, longtime interior designer for Audi, now creates handbags using sustainable materials.
Rolls-Royce to Debut a Starlight Dashboard
Rolls-Royce breathed new life into cars when it introduced the starlight headliner. It aims to do it again with this dashboard.
Auto Upholstery Jobs and Apprenticeships
We scoured the internet for the latest auto upholstery jobs and apprenticeships and posted them on our jobs page.
Meet Simon Judd of Elite Custom Interiors
Simon Judd of Elite Custom Interiors has spent the last 20 years honing his skills in auto upholstery — and still isn't done learning.
That's not all! Visit our Facebook, Twitter and Instagram pages to see what other trimmers are up to. You can also join in the latest industry discussions by registering for our Auto Upholstery Forum. And don't forget to subscribe to our FREE newsletter!