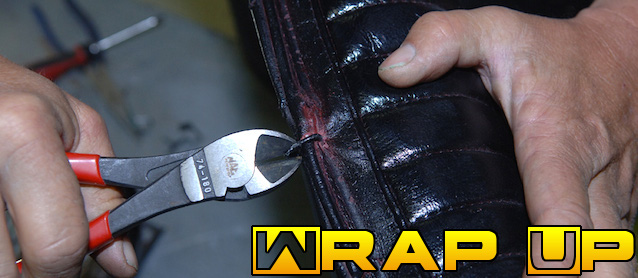 This month has been one wild ride. Not only did we fly to Las Vegas for the 2014 SEMA Show, but we reported on loads of new products and steered The Hog Ring community's attention to the best sales and promotions our industry has to offer. Of course, we unveiled the latest addition to our popular Design Studio too. Here's a look back at November 2014.
We're headed to the 2014 SEMA Show
Look out Sin City, The Hog Ring is about to invade! We're headed to Las Vegas for the 2014 SEMA Show, where we'll be reporting on the auto upholstery industry's latest news and products.
Report Back: 2014 SEMA Show, Day 1
Day one of the 2014 SEMA Show was awesome! We registered, walked the convention floor, saw some jaw-dropping interiors, networked with company reps and even met a few members of The Hog Ring. 
Report Back: 2014 SEMA Show, Day 2
The 2014 SEMA Show continues to be a blast, with seemingly infinite networking opportunities and loads of new developments in the sector of car interiors to report on — which we'll be doing.
Report Back: 2014 SEMA Show, Day 3
Day three of the 2014 SEMA Show was the best yet! We continue to be astounded by the number of amazing folks here doing exceptional work to grow and innovate the automotive aftermarket.
Report Back: 2014 SEMA Show, Day 4
Having caught up with nearly everyone we set out to meet, we spent day four of the 2014 SEMA Show roaming the outdoor car show and snapping photos of interiors that caught our eyes.
Happy Thanksgiving from Kee Auto Top
Kee Auto Top is celebrating Thanksgiving with a special note of gratitude and a gift for each of their loyal customers, as well as continued sponsorship of The Hog Ring — check it out!
Are you an out-of-work auto trimmer? Fear not. We've scoured the internet for the latest employment opportunities in the field of auto upholstery and posted them on our jobs page.
The Seat Shop: Making Repair Jobs Easier
If your auto upholstery shop does a lot of repair work, then check out The Seat Shop — which manufactures replacement seat covers and foam cushions for most GM, Dodge and Ford trucks and SUVs.
What's New at DLT Upholstery Supply
DLT Upholstery Supply's November newsletter has it all — new products, great sales, shop tips and, of course, a feature article by The Hog Ring.
Photo: Carlex Design Zetros Steering Wheel
The 2015 Mercedes-Benz Zetros Desert Edition is a big, brutal six-wheel-drive cargo truck that militaries use to transport equipment — but that doesn't mean it can't be luxurious too.
NSV Seat Covers: The Worst Product at SEMA?
Thousands of automotive aftermarket manufacturers displayed their latest products at the 2014 SEMA Show. While most where impressive, a few left me wondering: "What the hell are they thinking?"
Behind the Scenes at Albright's Supply
In October, The Hog Ring took a trip to Mississippi to attend the Albright's Supply "Open House" — which featured great food, door prizes, closeout deals and unbeatable savings on everything in stock.
Design Studio: Two-Up Motorcycle Seat
We've added our first illustration of a motorcycle seat to The Hog Ring Design Studio. Now you can sketch out your ideas on paper before making a single stitch. Check it out!
TMI Products Goes 'Custom' at SEMA 2014
TMI Products, a leading manufacturer of automotive interior components, stepped up its range of custom-looking products at this month's 2014 SEMA Show.
Find Out What's New at Electron Top
For Electron Top's latest news and promotions, check out the November issue of "Keep in Touch!" — their monthly newsletter, which you can download for free here on The Hog Ring.
Photo: 1971 Fiat Shellette Wicker Interior
In 1971, renown Italian sports car designer Giovanni Michelotti collaborated with yacht builder Philip Schell to redesign a Fiat 850 to serve as a beach car — which they aptly named the Shellette.
The Ultimate Car Seat Suspension System
Naval researchers are developing a vehicle seat suspension system that can help protect Marines riding in tanks and helicopters from the impact of explosions.
How to Tan Quality Leather and Avoid Bad Leather
In July, we wrote about the darker side of leather tanneries. Today, with the help of our friends at Saddleback Leather Co., we'd like to show you how high-quality leather tanneries operate.
To all our community members – trimmers and sponsors alike, we'd like to say thank you. You make The Hog Ring possible, and continue to inspire us with your commitment, creativity, talent and kindness to your fellow trimmers.
The Impending Death of Convertible Hardtops
We've written extensively about America's waning interest in convertible tops. But as automakers manufacture less and less convertible models, there does appear to be a bit of good news.
That's not all! Pop into our Auto Upholstery Forum and visit our Facebook and Instagram pages to see what other trimmers are up to and to join in the latest industry chatter.