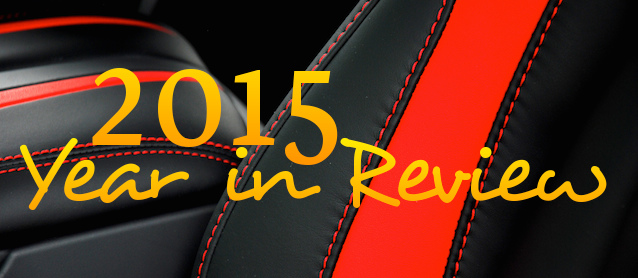 Thank you for helping make 2015 The Hog Ring's most successful year yet! Over the past 12 months, we collaborated with the auto upholstery industry's leading manufacturers and suppliers to cover the latest news, highlight new products and services, showcase incredible talent and interview some of the biggest names in our craft.
We also worked tirelessly to grow The Hog Ring as an invaluable resource for auto upholstery professionals. We expanded our Design Studio, grew our Industry Directory, and transformed our Instagram account into a "look book" to inspire trimmers and help shops reach new customers. Of course, we also utilized our Auto Upholstery Forum to connect shops and allow pros to share tips, tricks and words of encouragement.
In turn, you kept coming back to The Hog Ring and encouraging your peers to do the same. You shared and commented on our articles, published pictorials in our forum, and assisted one another in difficult projects. You also provided us with great story leads and feedback that continue to help us realize our mission of strengthening the auto upholstery industry. Without your continued participation and support, none of this would be possible.
Let's take a look back at some of the most memorable moments of the year…
We profiled incredible talent
In 2015, we profiled more auto upholstery shops than ever before — including Customs by Vos, Sculpt Garage, California Upholstery, Trim Den, Sid Chavers Company, Carlex Design, SideEffect Ltd, Hix Design, Russian Tuning Company, and others!
What's more, we interviewed Mike and Jim of Ringbrothers about their thoughts on the craft of auto upholstery. We also published an exclusive three-part interview series with Ish Jimenez, former star of MTV's "Pimp My Ride."
Trimmers told us about how they learned the craft, their individual styles, goals and thoughts on the industry. Each profile and interview we conducted left us more knowledgable, intrigued and inspired. We hope it had the same affect on you. With your support, we aim to highlight even more shops and trimmers in 2016.
We helped shops connect
Thousands of auto trimmers across the world logged onto The Hog Ring to connect, talk shop and help each other grow successful businesses. On any day of the year, trimmers from as near as New York to as far as South Africa and Malaysia could be seen commenting on our articles and discussion threads.
Community members took the time to answer questions in our Auto Upholstery Forum, as well as publish how-to pictorials — including Roy Powell of Drew's Garage in Tempe, Arizona; Jim Nishida-Adams of Adams Auto Upholstery in Iowa City, Iowa, and Cesar Chavez of Upholstery Training Programs.
That's not all, Brent Parker of Brent Parker Motor Trimming in Glenorie, Australia, shared his "10 Tips to Take Your Trimming to the Next Level" and Ryan Nettleton of Exact Art Fabrications in Philadelphia, Pennsylvania, taught us "How to Fabricate a Custom Starlight Headliner."
Other auto trimmers who met on The Hog Ring also forged relationships offline. For example: Bob Johnson of United Prez, LLC in Columbus, Ohio, saw a post by Marc Fisher of Auto Trim by Fisher in Lubbock, Texas, on our website and cold called him for advice on a contract job. Being the great guy that he is, Marc happily obliged.
Many community members even organized meet-ups at industry conventions, including SEMA, WardsAuto Interiors Conference and Automotive Interiors Expo.
We gave away some awesome prizes
We partnered with a number of great companies to give away over $2,000 in prizes to community members who left insightful comments on our articles this year. Among the winners…
Isaac Knuuttila of All Seasons Upholstery in Houghton, Michigan, won a convertible top courtesy of Electron Top.
Jimmy Hervatin of Kustoms by Jimmy in Warrenton, Missouri, won a snap setter kit courtesy of Albright's Supply.
Jerra Bullock-Hubbard of Lake Belton Marine & Auto Upholstery in Belton, Texas; Robert Edwards of KAR Quality Upholstery in Sparks, Nevada; and Steven Cupich of C&C Upholstery LLC in Las Vegas, Nevada, each won a MasterPry LED pry bar courtesy of General Technician Equipment.
Showtime Upholstery in Rome, Georgia, and Soo Fine Customs in Big Bend, Wisconsin, won spools of SewGlow thread courtesy of Superior Threads.
Stay tuned for even greater give aways in 2016!
We celebrated the support of our sponsors

Of course, none of this would be possible without the financial support of our sponsors: Albright's Supply, Alea Leather Specialist, Inc., DLT Upholstery Supply, Electron Top Manufacturing Co., The Haartz Corporation and Kee Auto Top.
Not only are these six companies outstanding leaders in the auto upholstery industry, who provide quality products and exceptional services at competitive prices, but they also share our vision of strengthening and growing the auto upholstery community through The Hog Ring.
Many also marked really big occasions this year. Here's a brief highlight:
Albright's Supply launched the industry's first real-time inventory system, which syncs with their website so shop owners can check what's in stock and what isn't before committing to a date to finish a job.
Alea Leather made a spectacular showing at the 2015 SEMA Show, constructing an impressive booth display and sponsoring the interiors of 31 custom cars built by some of the best shops.
DLT Upholstery Supply grew its "Certified Shop Loyalty Program" (the first in our industry!), expanded its product lines and offered some of the hottest sales and promotions in our industry.
Electron Top reaffirmed its commitment to independently owned auto upholstery shops to never sell direct to customers. They also provided loads of insight and support through their monthly newsletter.
All of our sponsors have put a great deal of faith in The Hog Ring and want to see it succeed. Please show your gratitude by giving them your business.
Here's to a wonderful new year!
We are excited to celebrate The Hog Ring's five year anniversary in 2016, marking the occasion as the auto upholstery industry's leading news website and online community.
This site was launched as an experiment that has grown beyond our wildest expectations. The people we've met, talent we've witnessed and guidance and support we've received have left us inspired and determined to continue to do all we can to benefit the small, but powerful, community of auto upholstery professionals. Together, we will grow and advance our craft.
Thank you all for your loyalty and support throughout the year. We're truly blessed that you've allowed us into your lives.
We wish you all the best in 2016. Happy New Year!
Nadeem & Naseem