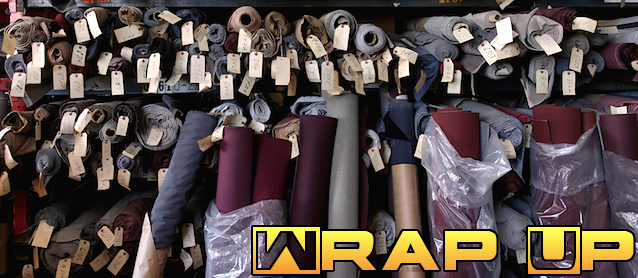 It was another busy month on The Hog Ring. We reported the latest industry news, introduced a new illustration to our Design Studio, celebrated April Fool's Day and Earth Day, and more! Here's a look back at April 2016!
Kia Motors to Sell Upholstery-Optional Rio Sedan
To appeal to budget buyers, Kia Motors just announced it will offer its 2017 Rio sedan without upholstery.
Porsche Unveils Line of Car Seat Office Chairs
Still transforming car seats into office chairs for fun? Porsche nabbed the idea from trimmers and is now selling its own line of office furniture for big bucks.
GM Once Experimented with Fashion Tops
In 1961, General Motors sought to differentiate itself from the competition by offering fashionable convertible tops in a variety of patterns.
Save Big this Month at Kee Auto Top
Check out Kee Auto Top's April 2016 newsletter for the latest sales and promotions on convertible tops, sew foam and more!
Design Studio: 1967-68 Ford Mustang Door Panel
The Hog Ring Design Studio continues its popular "door panel series" by adding a new illustration to the mix: the 1967-68 Ford Mustang.
New Mexico Auto Upholstery Shop Vandalized
Dash Saver, an auto upholstery shop in Albuquerque, experienced a close call when its owner found the business broken into and vandalized.
Haartz Announces New Venture in China Market
The Haartz Corporation has announced the formation of a joint venture with the Minth Group, a leading supplier of vehicle trim and components in China.
Dream Garage: Rexel Pneumatic-Lifting Table
Check out the Rexel ST-3/K pneumatic-lifting table. With a height-positioning system that enables it to rise to 50″, you'll never strain to lift another bench seat.
We scoured the internet for the latest employment opportunities in the field of auto upholstery and posted them on our jobs page.
The Shop Features Interview with VLF Trimmer
Pick up a copy of the May 2016 issue of The Shop to read our exclusive interview with Dan Miller, the master trimmer behind the VLF Force 1's interior.
SEMA Accepting Nominations for 35 Under 35
If you know a young trimmer moving the auto upholstery industry in a new and exciting direction, nominate him or her for SEMA's "35 Under 35."
Ward's Picks Best Interiors of 2016
With its annual Interiors Conference just weeks away, WardsAuto has announced its list of the auto industry's "10 Best Interiors."
Flashback: The Shift Knob Ashtray
Check out this ashtray hidden in the knob of a gear shifter. It was written about in the December 1929 issue of Popular Mechanics.
Why Word-of-Mouth Marketing Matters
In a recently published shop profile, Don Kasprzyk of Kasper's Inside Rides in Wisconsin perfectly summed up the importance of word-of-mouth marketing.
Every Day is Earth Day at The Haartz Corporation
On this Earth Day we're reminded of the environmental impact of cars and honor those industry manufacturers who work to ensure a sustainable future.
Photo: Lambretta Sidecar Convertible Top
Although most sidecars feature micro tonneau covers, some owners have taken it upon themselves to custom fabricate manual-folding convertible tops.
Why Ford Uses Clay to Design Car Seats
After a car seat is designed but before it's ready for production, automakers turn to the old tradition of clay modeling to transform their illustration into a prototype.
How to Clean Alcantara-Trimmed Car Interiors
Autoblog recently published a short video on how to clean and maintain the synthetic fabric. The process is quick and easy.
That's not all! Pop into our Auto Upholstery Forum and visit our Facebook, Twitter and Instagram pages to see what other trimmers are up to and join in the latest industry discussions.