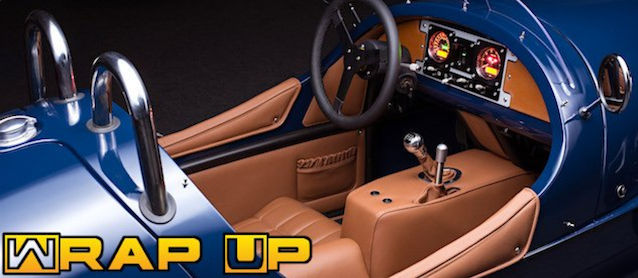 The year has just started and we're already on fire. This month we covered the latest industry news, showcased jaw-dropping projects, highlighted some bizarre concept vehicles and brought you killer deals from our sponsors. Here's a look back at January 2017.
5 Tips to Start Your Shop's New Year Right
With the new year comes the opportunity for a fresh start. For auto upholstery shop owners, that means recommitting one's self to being a successful entrepreneur.
Review: Knipex Diagonal Super Cutters
The good folks at KC Tool recently sent us a pair of Knipex Twinforce Diagonal Super Cutters to test. Check out our review below and find out how you can win a pair.
Adamo Logie Wins our Knipex Cutters Giveaway
Congratulations to Adam Logie of Finish Line Interiors in Santa Clara, California, for winning our Knipex Diagonal Super Cutters giveaway!
What's New at Albright's Supply?
Albright's Supply is kicking off the New Year with some awesome sales and promotions! Check out their January 2017 newsletter for details.
Car Upholstery Key to Solving Murder Case
A car's upholstery may be the key to cracking a decades-old murder mystery in Western Australia. Police have seized a station wagon involved in the case.
Window Tint Can Protect Your Client's Upholstery
Increasingly, auto upholstery shops across the United States are adding window tinting to their list of services. There's good reason too!
Survey Finds Drivers Still Love Convertible Tops
A recent consumer opinion survey conducted by Haartz found that key demographics prefer convertible soft tops over fixed roofs.
Register for the 2017 Mobile Tech Expo
Auto trimmers interested in launching a mobile leather and upholstery repair service should consider attending the 2017 International Mobile Tech Expo.
Las Vegas Trim Shop Destroyed in Fire
Wizard's Custom Interiors in Las Vegas, Nevada, was ravaged by flames that consumed more than a dozen vehicles, including a 1928 Ford Model T.
How to Clean Bird Crap off Auto Upholstery
Is there anything more annoying, insulting and repulsive then having a bird take a crap on a newly installed convertible top or, even worse, on a car seat?
Photo: BMW's Living Moss Sound Insulation
BMW's HaloActive interior features moss sound insulation, a hologram display system and hand-gesture technology.
UPDATE: Shop Profile of JNG Creations
Check out our interview with Jean-Noël Greffeuille, master trimmer and owner of JNG Creations, in the February 2017 issue of The Shop magazine.
GAC Motor Debuts Onboard Bonsai Tree
GAC Motor recently debuted its new EnSpirit concept vehicle, a sporty electric SUV that features a living Bonsai tree in its center console.
Attend the 2017 Winter Leadership Conference
Women in the craft of auto upholstery should consider attending Women in Auto Care's "2017 Winter Leadership Conference" in California.
Hydes Leather Launches Client Gallery
Want to see gorgeous auto upholstery work? Hydes Leather recently launched an online photo gallery, highlighting projects completed by their clients.
Check Out Kee Auto Top's Clearance Sale
Have you checked out Kee Auto Top's clearance sale? Their website features a clearance section that offers steep discounts on loads of products.
We scoured the internet for the latest employment opportunities in the field of auto upholstery and posted them on our jobs page.
Flashback: The Ford Pockar's Door Trunk
Who says a trunk has to be in the rear? In 1980, Ford introduced the Pockar — a small city car that had luggage compartments in its doors.
Pictorial: How to Clean a Convertible Top
When it comes to cleaning convertible tops, The Haartz Corporation knows best. After all, they're the world's leading manufacturer of convertible topping.
That's not all! Pop into our Auto Upholstery Forum and visit our Facebook, Twitter and Instagram pages to see what other trimmers are up to and join in the latest industry discussions.