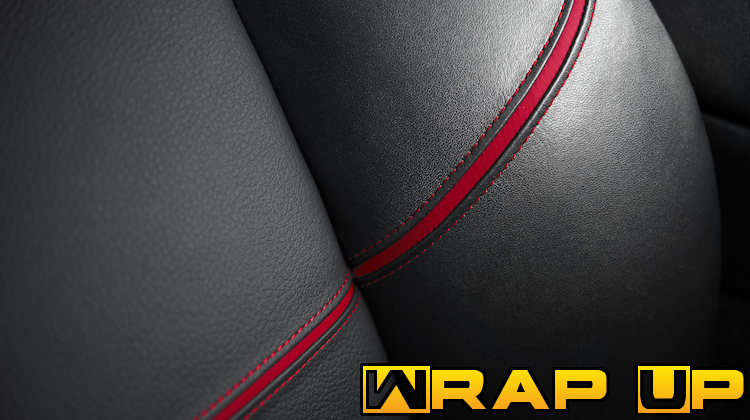 We had an exciting month on The Hog Ring! Not only did we bring you the latest news, but we also introduced a new article series about leather. Here's a look back at March 2019.
The Maven of Custom Motorcycle Seats
If custom motorcycle seats are your thing, check out this awesome profile of Emma Thieme from Maven Custom Leather and Seats.
Need Marine Vinyl? Try Jetty by Enduratex
If your trim shop repairs marine upholstery, you're in luck: Albright's Supply is offering big savings on Jetty by Enduratex.
California Trimmers Buy Their Dream Shop
Congrats to Pacific Coast Custom Interiors, which just bought the garage of their dreams.
Electron Top Wishes You a Happy Spring
It's almost spring — which means convertible top season is right around the corner.
An Epic Rant Against Plastic Rear Windows
Every so often, Jalopnik publishes an epic rant about upholstery that leaves us in stitches. Their latest target is "shitty plastic rear windows."
Attend Automotive Interiors Expo 2019
Guten tag! The Automotive Interiors Expo in Stuttgart, Germany, is only two months away.
NC & Douglass Unveil SEMA 2019 Prizes
The 2019 SEMA Show is still eight months away, but it's already shaping up to be an event to remember — thanks to the "NC Auto Interior of the Year" award.
New Auto Upholstery Job Openings
Are you an out-of-work auto trimmer? Fear not. We scoured the internet for the latest auto upholstery job openings and posted them on our jobs page.
Hydes Leather: Focused on 'Doing it Right'
With so much leather on the market, it can be difficult to separate the bad from the good and the very best. Fortunately, Hydes Leather makes it easier.
Remember When Vinyl Tops Were Cool?
Once upon a time, when vinyl tops were relatively new to the auto industry, GM took out a double-page ad for its new Chevrolet Caprice Custom Coupe.
The Worst Way to Destroy a Convertible Car
Auto trimmers who watch WWE wrestling definitely remember what "Stone Cold" Steve Austin did to Vince McMahon's prized convertible.
This Robot Can Install a Headliner Board
For the first time ever, an auto manufacturing plant is using robotics to install a headliner board in cars.
This Marine Vinyl Eradicates Pink Stains
Eradicate pink stains on marine upholstery with Jetty by Enduratex, now on sale at Albright's Supply.
What You Need to Know About Fleet Work
Repairing vehicle seats for fleet service companies has generated a lot of income for my auto upholstery shop, and it can do the same for yours.
LeBaron Bonney Files for Bankruptcy
LeBaron Bonney Company, one of the auto industry's oldest manufacturers of interior soft trim for antique cars, has filed for bankruptcy.
Man Killed at Supply Shop in Las Vegas
Police have arrested a suspect in a deadly shooting at Santa Barbara Upholstery Supplies in Las Vegas, Nevada.
The Crooked Stitcher Accused of Fraud
Police have charged a New York family with using their upholstery shop to defraud customers — and it's not the first time.
Ask Aaron: A New Series About Leather
Aaron Laithwaite, founder and CEO of Hydes Leather, has graciously volunteered to answer trimmers' questions about leather.
How Do I Store Leather in a Small Shop?
I'm planning some workshop improvements and one thing I want to look at is how the hides are stored.
How to Create Aluminum Trim Moldings
Want to learn how to create custom aluminum trim moldings? Watch this video by master trimmer Juan Estrada of Interiors by RMD Garage.
That's not all! Visit our Facebook, Twitter and Instagram pages to see what other trimmers are up to. You can also join in the latest industry discussions by registering for our Auto Upholstery Forum.