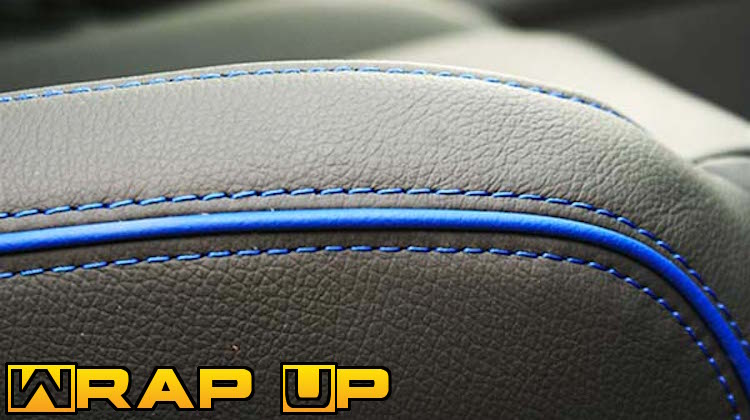 What a busy month! We brought you product discounts, industry news, sewing tutorials and more. Here's a look back at September 2019.
The Hog Ring would like to wish a very happy and safe Labor Day to all of our fellow auto trimmers taking a break from the daily grind.
Did You Know Haartz Has a Free Industry Glossary?
Ever come across an industry term that left you confused? Don't worry. The Haartz Corporation has an industry glossary.
That Time Singer Made Guns Instead of Sewing Machines
Singer invented the first practical sewing machine for general domestic use. But did you know the company once manufactured guns?
The Sono Sion Has Moss on its Dashboard
Usually, when green fuzz grows on your dashboard, it's a really bad sign. But for the Sono Sion, it's actually part of the design.
Help Trim Shops Hit by Hurricane Dorian
Those interested in helping trim shops impacted by Hurricane Dorian can donate to the Automotive Aftermarket Charitable Foundation.
Albright's Supply Has Marine Vinyl on Sale
Trim shops that repair boat and jet ski upholstery, listen up: Albright's Supply is having a sale on marine vinyl.
All Cars to Have Rear-Seat Alerts by 2025
Automakers will equipped nearly every new car sold in the United States with rear-seat occupant alerts by 2025.
Keyston Bros. Acquires DLT Corporation
The move expands Keyston's reach into the upper Midwest. It also increases the upholstery supplier's inventory and product line.
GAHH Automotive Group Sponsors The Hog Ring!
We're proud to introduce The Hog Ring community to our newest site sponsor: GAHH Automotive Group.
Proof that Bentley Uses Forks to Trim Steering Wheels
No one believed us when we said trimmers at Bentley Motors use dinner forks to wrap steering wheel covers. Now we have proof!
How to Make a French Seam Lay Flat
Ever wonder how automakers make French seams lay flat? This tutorial by Brent Parker Motor Trimming shows how it's done.
NC Unveils New Machine and 2019 SEMA Show Pricing
NC Carpet Binding & Equipment promised us a new sewing machine and door-buster deals — and they delivered both!
Nissan is Designing Gaming Chairs Based on its Cars Seats
Into cars and video games? Nissan is designing a line of esports gaming chairs based on its most iconic car interiors.
Electron Top's Long and Storied History
Did you know that Electron Top is the auto upholstery industry's oldest family-owned convertible top manufacturer?
Auto Upholstery Jobs and Apprenticeships
We scoured the internet for the latest auto upholstery jobs and apprenticeships and posted them on our jobs page.
Some Clients are a Pain in the Ass. Here's How to Spot Them
Most clients are pleasant and easy to work with. But there are some who will be a straight-up pain in the ass.
Can I Recycle or Compost Leather Scraps?
Aaron Laithwaite of Hydes Leather answers a trimmer's question about recycling or composting leather scraps.
Where Rolls-Royce Got the Idea for the Starlight Headliner
Rolls-Royce's starlight headliner is arguably the greatest innovation to happen to modern headliners since the power sunroof.
Spot these Celebs at the 2019 SEMA Show
Among those expected to make cameos at SEMA 2019 are Jay Leno, Chip Foose, Jesse James and even Blue Man Group.
Divers Street Rods Won a Ridler for this Car Trimmed in Douglass Leather
Brodie Smith of Douglass Interior Products chats with Scott Divers about "Ferrambo," winner of the 2008 Ridler Award.
Want to Learn Upholstery? Enroll at McPherson College
McPherson College is the first school in the United States to offer a bachelor's degree in automotive restoration.
That's not all! Visit our Facebook, Twitter and Instagram pages to see what other trimmers are up to. You can also join in the latest industry discussions by registering for our Auto Upholstery Forum. And don't forget to subscribe to our FREE newsletter!