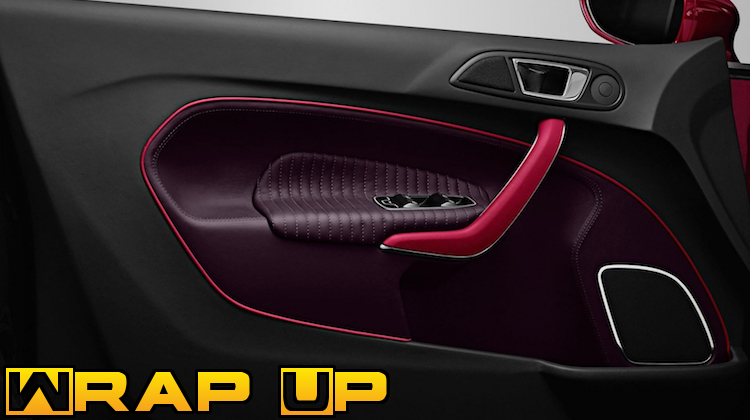 It was a really fun month on The Hog Ring. We covered industry news, featured awesome sales, reported on odd news, and more. Here's a look back at May 2023.
NC Announces SEMA Pricing in May!
This month only, NC Carpet Binding & Equipment is offering special SEMA discount pricing on all of their industrial sewing machines, skivers and more.
Trimmer Rev. Phillip Thomas Dies at 85
Trimmer Rev. Phillip Thomas of Greensboro, North Carolina, has died at age 85.
Wards Picks the '10 Best Interiors' of 2023
WardsAuto just published its annual list of the auto industry's "10 Best Interiors" — and electric vehicles dominated.
Listen to Hot Rod Interiors by Chuck on NC Shop Talk!
Tune in to the latest episode of NC Shop Talk to hear how Interiors by Chuck grew into one of the most well respected shops in the industry.
Researchers are Developing Upholstery that Repairs Itself
Tired of repairing small tears and cigarette burns in seat covers? With self-healing upholstery you won't have to.
Faurecia Unveils New 3D Panels to Reduce Interior Weight
Faurecia has unveiled its all-new Skin Light Panel, which is designed to reduce interior weight and provide more legroom for backseat passengers.
Register for Mobile Solutions' MasterTech Boot Camp
Mobile Solutions is hosting a MasterTech Boot Camp Training for emerging technicians to learn the fundamentals of design, fabrication, audio performance and system tuning.
Ford Recalls the Bronco for Seat Belt Issues
Ford Motor Company is recalling 175,000 Bronco SUVs for having hard-to-reach seat belts that put passengers in danger.
Most Corvette Z06 Models Sold are Convertibles
Who says US car buyers are no longer interested in drop tops? New data shows that the majority of Chevrolet Corvette Z06 models sold to date are convertibles.
Subaru is Selling Shopping Bags Made from Airbag Fabric
Subaru and automotive parts manufacturer Toyoda Gosei have partnered to create a line of reusable shopping bags made from discarded airbag fabric.
Pecca Leather Buys Majority Stake in GMK
Pecca Group is acquiring a majority stake in PT Gemilang Maju Kencana (GMK), expanding its business to Indonesia.
Trim Shop Illegally Growing Marijuana Catches Fire in California
An illegal marijuana grow operation, hidden in an auto upholstery shop, caught fire in Los Angeles, California, on Monday.
Skoda is Using Olive Tree Leaves to Tan Leather
Skoda has started upholstering its interiors in leather tanned with olive tree leaves.
That's not all! Visit our Facebook and Instagram pages to see what other trimmers are up to. You can also join in the latest industry discussions by registering for our Auto Upholstery Forum. And don't forget to subscribe to our FREE newsletter!