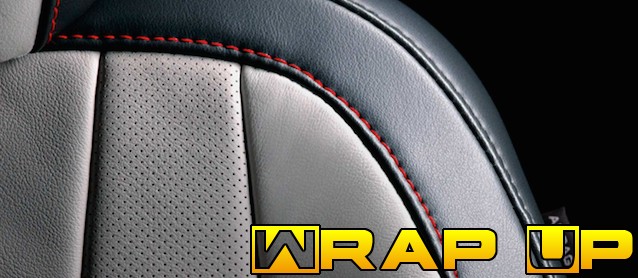 We accomplished a lot this month. Not only did we bring you the latest industry news, but highlighted fantastic sales, profiled some talented trimmers and even gave away a fantastic prize for "Comment of the Week." Here's a look back at January 2015.
Pinatex: Trimming Cars in Pineapple Leaves
A leather expert from the Philippines is set to revolutionize the textile industry with a fabric she developed from pineapple leaf fibers that many believe is a more sustainable and cost-effective alternative to leather.
Mercedes Debuts the Future of Car Interiors
The Internet is ablaze with news of Mercedes-Benz's new autonomous car, the F015 Luxury in Motion — especially its interior, which looks more like a living room than a traditional vehicle cabin.
Photo: Cadillac-Inspired '32 Ford Bench Seat
This Cadillac-inspired 1932 Ford 3W seat was trimmed by none other than Sid Chavers of Sid Chavers Company in Santa Clara, California, and posted to his Instagram account.
Putting The Hog Ring Design Studio to Good Use
Since launching The Hog Ring Design Studio, auto trimmers have put our illustrations to good use. Check out how one of our illustrations was used to design the seat of a custom 1973 Ford F100.
Photo: GAC Motor WitStar Aquarium Console
Trimming car interiors in salmon leather is so passé. The coolest cars feature live fish swimming about — or at least that's what Chinese automaker GAC Motor believes.
WardsAuto Interiors Conference 2015
WardsAuto Interiors Conference — the only event in North America solely dedicated to automotive interiors — is back, and details have just been released. Check it out!
Design Studio: High-Back Bucket Seat
Need to design and upholster a high-back bucket seat for a client? No problem. We've just added an illustration of one to The Hog Ring Design Studio — where you can download it for free!
JNG Creations in Chevy High Performance Mag
Pick up the March 2015 issue of Chevy High Performance magazine to see "Blue Angel," a 1969 Chevrolet Camaro SS upholstered by none other than Jean-Noël Greffeuille of JNG Creations.
Johnson Controls Unveils its ID15 Concept Interior
Johnson Controls, one of the world's largest suppliers of vehicle interiors, unveiled its Innovation Demonstrator "ID15" concept interior at this week's North American International Auto Show.
This Week Win a Staple Puller & 10 Yards of Vinyl!
The Hog Ring's "Comment of the Week" give aways are back for 2015! And our first contest is being sponsored by Albright's Supply, home to everything you need to get the job done.
While upholstering the armrest of an Acura TL, I noticed that its original French seam was backed by a rubber piece with an extrusion in the center that clipped directly into the plastic of the armrest.
Props to Ryan Martin of Johnny's Auto Trim
Check out the February 2015 issue of Performance & Hotrod Business Magazine to see a 1957 Chevrolet Nomad Bel-Air built and upholstered by Johnny's Auto Trim & Rod Shop.
Self-Driving Cars No Longer a Pipe Dream
When mainstream publications start to take notice of how vehicle cabins are changing due to autonomous technology, you know the industry chatter is on the verge of becoming reality.
Haartz Drops Tops at the 2015 Detroit Auto Show
The North American International Auto Show features loads of exciting new developments, including the introduction of four new soft-top convertibles trimmed in topping supplied by Haartz Corporation.
Trimmer Peter Pittel Wins Comment of the Week
Congratulations to Peter Pittel of Back To The Future Upholstery in Brandon, Minnesota. He won The Hog Ring's contest for "Comment of the Week" sponsored by Albright's Supply.
Shop Profile: Sew It Seams Interiors
Check out this profile of Scott Zielinski of Sew It Seams Interiors in Pennsylvania. If the name sounds familiar, it's because we recently highlighted a collaboration he did with Relicate Leather.
Is FreshPer4mance the Ultimate Fabric Coating?
Johnson Controls has developed a coating it applies to auto upholstery that renders it anti-odor, anti-stain, anti-microbial, anti-static and water resistant. No, it's not shellac.
Photo: Behold the Pagani Huayra's Interior
In a day and age when automakers are employing cheesy gimmicks to make their cars stand out, Pagani — which has designed what is arguably one of the coolest interiors of our time — will barely say a word.
Electron Top Wishes You All a Happy New Year
Always a class act, Electron Top dedicated its first "Keep in Touch!" newsletter of 2015 to wishing the auto upholstery community a Happy New Year, and providing a bit of inspiration for us to lean on.
That's not all! Pop into our Auto Upholstery Forum and visit our Facebook, Twitter and Instagram pages to see what other trimmers are up to and join in the latest industry discussions.