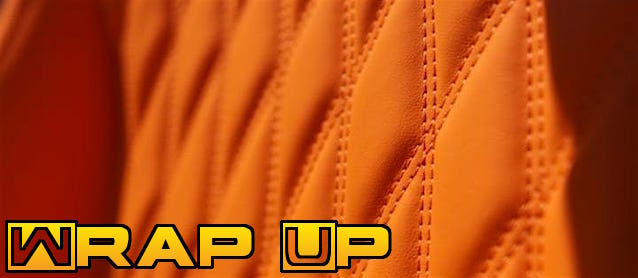 If you followed The Hog Ring this month, you saw a ton of industry news, product reviews and concept interiors. What's more, we announced big changes to our growing online community — including a soon-to-be unveiled Auto Upholstery Forum! Here's a look back at March 2017.
Winner of the "Be Our Valentine" Giveaway is…
Jordan Stratton of S&S Custom wins the Albright's Supply "Be Our Valentine" survey giveaway! His prize is a brand new Consew sewing machine!
Mobile Solutions Just Made 3D Routing Easier
Mobile Solutions USA just introduced a new tool that allows fabricators to quickly and easily create 3D components on their routing machines.
Man Who Murdered Two Trimmers Gets Parole
Two families are reeling after having just learned that a man convicted in a 1989 double homicide at A&A Auto Fabric Co will soon be released from prison.
Big Changes are Coming to The Hog Ring!
You may have noticed that we're making a number of changes to The Hog Ring – all with the aim of making it a better community for our industry!
The Nissan X-Trail is the Ultimate Car for Dogs
The Nissan X-Trail 4Dogs, which is basically a modified Rogue, features a diamond-quilted rear compartment packed with dog-related gizmos.
NIO Sets a High Bar for Self-Driving Cars
While other automakers compete to see who can stuff more useless gizmos in a self-driving car, NIO just unveiled the most gorgeous interior yet.
Suspect Arrested in Louisiana Trim Shop Murder
Authorities have arrested one of two men wanted in the 2014 murder of a trimmer at Red's Auto Upholstery in Baton Rouge, Louisiana.
What's New at Albright's Supply?
Check out the Albright's Supply newsletter for details on their "10 Yard Store" and free custom foam cutting service.
Frozen: Mazda Miata vs Chicago Snowstorm
Some ill-willed prankster stole the top of a 1997 Mazda MX-5 Miata last week in the middle of a Chicago snowstorm — causing irreparable damage.
The Volkswagen Sedric is a 'Lounge on Wheels'
Sedric, Volkswagen's first self-driving concept car, looks like a giant, ugly caterpillar. But it's bright yellow pseudo-bench seat is downright gorgeous.
50-Year-Old Texas Trim Shop Destroyed in Fire
A 50-year old auto upholstery shop in Rockdale, Texas, burned to the ground earlier this month after a neighboring propane business caught fire.
Electron Top Warns Against Inferior Soft Tops
With no-name brands increasingly selling knock-off tops online, it's not always easy to make the case for the high-quality, often pricier, tops we sell.
Check Out the McLaren 720S' Trick Dashboard
McLaren Automotive just released a teaser video for its soon-to-be-released 720S supercar, and the dashboard literally rotates!
Rinspeed's In-Cabin Garden Still a Mystery
Rinspeed caused a lot of folks to scratch their heads last year when it introduced its Oasis concept, which featured an in-cabin radish garden.
We scoured the internet for the latest employment opportunities in the field of auto upholstery and posted them on our jobs page.
That's not all! Visit our Facebook, Twitter and Instagram pages to see what other trimmers are up to and join in the latest industry discussions.