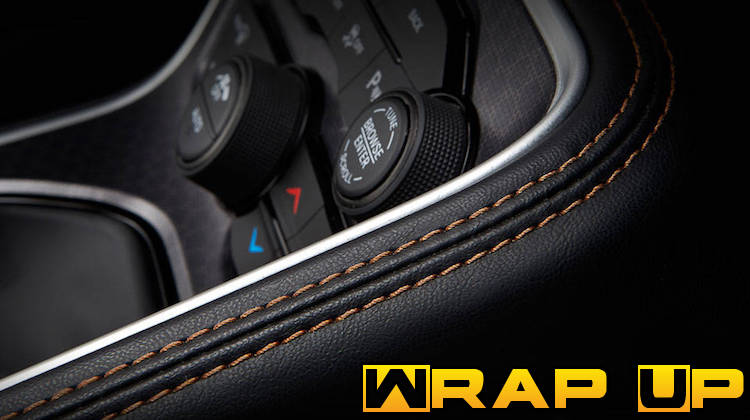 The Hog Ring was on fire this month! Not only did we report the latest industry news, but gave away prizes, featured awesome upholstery projects and interviewed some of the biggest names in our craft. Here's a look back at October 2017.
Elizabeth Contreras Wins Gedore Scissors!
Congrats to Elizabeth Contreras of Salty Water Upholstery for winning last week's Gedore Craftsman Scissors giveaway, sponsored by KC Tool.
Nissan Introduces Sweat-Sensitive Fabric
Nissan developed a new vehicle fabric that detects and alerts drivers when they're dehydrated so that they can consume water and remain alert.
Albright's Supply Cuts Prices on Thread
Last month, Albright's Supply gave away a bucket full of auto upholstery tools. This month, they're slashing prices on their most popular sewing threads!
California Trim Shop Busted in Meth Sting
Police raided Scott Auto Trim as part of an ongoing investigation into the sale of methamphetamine and other illegal drugs in Placer County.
NC Presents Courtney Hansen at SEMA
NC Carpet Binding & Equipment just announced another awesome addition to its blockbuster booth at SEMA: An appearance by Courtney Hansen.
How to Wrap a Shift Knob in Leather
Often times, the smallest upholstery projects are also the most difficult — just ask anyone who has ever attempted to wrap a shift knob in leather.
Electron Top Affirms They Won't Sell Direct
Electron Top's latest issue of "Keep in Touch!" affirms their pledge to never sell products direct to the public. It's a must-read for every trim shop owner.
How to Get Your Trim Shop in the News
Journalists are always searching for interesting stories to cover. So why not pitch them one about your auto upholstery shop?
Meet Stephen Kurzman of The Custom Stitching Co.
We recently spoke with master trimmer Stephen Kurzman about how he got his start in the craft of auto upholstery, his pet peeves and more.
Help Industry Families Hit by Hurricanes
Natural disasters have wrought havoc for millions of Americans over the past two months. The effects have been so great that AACF says requests for assistance are up 78%.
The Challenge of Designing Car Interiors
The cabin is where automakers are able to differentiate themselves from competitors and win over customers by providing a truly unique driving experience.
Leather Supplier Pins Bankruptcy on Uber
GST Autoleather Inc. recently filed Chapter 11 bankruptcy protection, citing the rise of ride-sharing services as one of the reasons it had lost so much money.
We scoured the internet for the latest employment opportunities in the craft of auto upholstery and posted them on our jobs page.
Osborne's Auto Upholstery Talks Leather
Dana Osborne of Osborne's Auto Upholstery partnered with his local newspaper to educate his community on how to care for their leather interiors.
Casio Can Now 3D Print Faux Leather
Casio has invented a 3D printer that prints faux leather with such detail that it looks and feels close to the real thing.
Aston Martin Chops the Roof Off its DB11
Aston Martin replaced the DB11's hard top with a soft top manufactured with The Haartz Corporation's high-performance Sonnenland A5B/DS fabric.
At SEMA? Stop by NC's Booth for Deals!
The 2017 SEMA Show is here! Make sure you swing by NC Carpet Binding & Equipment's booth to see the auto upholstery industry's largest-ever display!
That's not all! Visit our Facebook, Twitter and Instagram pages to see what other trimmers are up to. You can also join in the latest industry discussions by registering for our Auto Upholstery Forum.