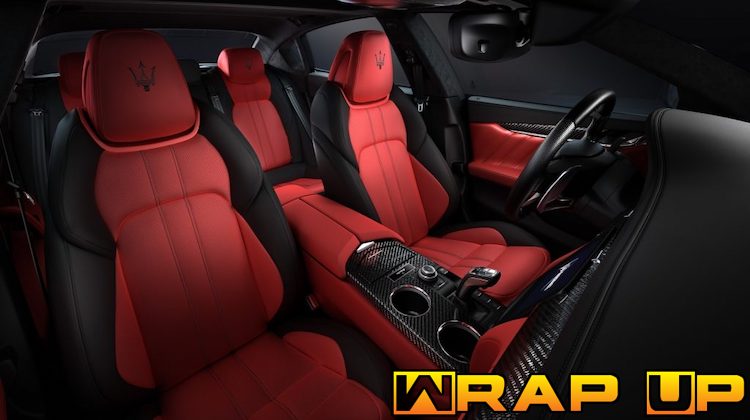 We had a really busy month! Not only did we cover the latest industry news, but we highlighted projects, products and more. Here's a look back at March 2021.
4 Tips to Double Your Shop's Annual Sales
Want to learn how to double your shop's sales? Then tune in for this free webinar hosted by SEMA.
These Sneakers Were Designed to Look Like the Lexus IS
Lexus and streetwear brand RTFKT collaborated to create a sneaker inspired by the 2021 Lexus IS.
UK Seat Maker Moving to North Carolina and Hiring Trimmers
FabworX, a UK company that manufactures van seats that convert into beds, is relocating to North Carolina.
Volvo is the Latest Automaker to Ditch Leather
Volvo has announced plans to stop trimming its vehicles in leather.
Trimmer Steward Van Dyke Dies at 79
Trimmer Steward "Stu" D. VanDyke of Hamilton, Michigan, has died at age 79.
Warning: There's a Shortage of Seat Foam
The winter storm that caused power outages and water shortages in Texas also shut down refineries that provide the raw materials for the production of seat foam.
Haartz Care Guide: How to Clean a Tonneau Cover
Trimmers get asked a lot of questions about vinyl tonneau covers. But the most important one is: "How do I keep it clean and looking new?"
Magnets are the New Fasteners. Here's What You Need to Know
Magnets are quickly becoming the fastener of choice for custom trim shops across the world, and Mobile Solutions, LLC is helping to bring about the change.
Webinar: How to Turn a Business Idea into a Plan
Do you need help creating a plan to execute a great business idea? Then check out this free webinar hosted by SEMA.
Trimmer Launches Scholarship Fund to Support the Trades
Steve Turner of Turner's Upholstery has launched a nonprofit organization called Bring Back the Trades to encourage young people to learn practical skills.
GM Teases In-Cabin Video Game Console
General Motors is teasing the idea of playing video games while driving.
Bentley is Selling a Luxury Trike for Kids
Luxury automakers are increasingly targeting young drivers. But Bentley Motors is going really young with the introduction of its new 6-in-1 Trike.
Cadillac's Automatic Drop Top was a Really Big Deal
We take automatic convertible tops for granted. But there was a time when tops had to be manually lowered.
Trimmer Marlie Wegscheider dies at 79
Trimmer Marlie James "Jimmy" Wegscheider of Richmond, Virginia, has died at age 79.
SEMA Opens Nominations for 35 Under 35
Do you know a young, promising trimmer who is moving the auto upholstery industry in a new and exciting direction?
When Should You Change a Sewing Machine Needle?
How often should you change the needle on your sewing machine? It's a common question for which there's no clear answer.
Ford Finds $100K Worth of Unused Leather and Gives It All Away
Ford Motor Company unearthed more than $100,000 worth of unused leather hides and is donating it all.
Apply for These Auto Upholstery Jobs
Are you an out-of-work trimmer? Fear not. We scoured the internet for the latest auto upholstery jobs and posted them on our jobs page.
Trimmer Ronald Baggett dies at 59
Trimmer Ronald Baggett of Luzerne, Pennsylvania, has died at age 59.
Lexus Built the Ultimate Gamers Interior
Sorry General Motors, but your in-cabin video game console is nothing compared to the 2021 Lexus IS Gamers' edition.
Pop the Original Mustang's Steering Wheel Cap for a Surprise
There's a surprise hidden in the 1964 ½  Ford Mustang that sheds light on the iconic car's history.
That's not all! Visit our Facebook and Instagram pages to see what other trimmers are up to. You can also join in the latest industry discussions by registering for our Auto Upholstery Forum. And don't forget to subscribe to our FREE newsletter!