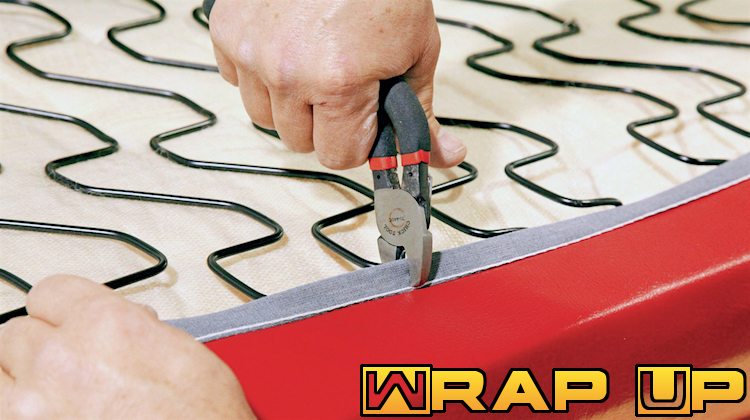 It was a really fun month on The Hog Ring. We covered industry news, highlighted talented shops, featured new products and contests, and more. Here's a look back at March 2023.
Starline Hot Rod Interiors Won the 2023 Stitch of Excellence Award!
Congrats to Paul Dulik of Starline Hot Rod Interiors for winning the 2023 Stitch of Excellence Award at the Grand National Roadster Show.
Genesis Recalls 65,000 Vehicles for Exploding Seat Belts
Genesis is recalling more than 65,000 vehicles over exploding seat belt pretensioners that could send shrapnel flying around the cabin in the event of a crash.
Deadline Approaching for SEMA Hall of Fame Nominations
There's only one week left to nominate a trimmer to SEMA's Hall of Fame!
Making Car Interiors from Coffee, Eggs and Lentils
Future car interiors could be made from a host of grocery store items — including coffee, eggs, walnuts, flax seed, rice and lentils.
Don't Let Clients Give You Bad Checks
While some auto upholstery shops have stopped accepting personal checks, many still do.
Webinar: Top Trends Shaping the Industry's Future
Curious about the new and upcoming trends sure to impact the automotive parts and services industry?
This Rolls-Royce Headliner Took 700 Hours to Complete
Rolls-Royce recently unveiled its Phantom Syntopia, which features the most technically complex bespoke headliner it has ever produced.
Global Auto Upholstery Market Will be Worth $10 billion by 2033
The global automotive upholstery market is forecasted to reach a valuation of $10 billion by 2033.
Trimmer Sharon Perkins Dies at 78
Trimmer Sharon Perkins of Binghamton, New York, has died at age 78.
Ferrari Adds a Convertible Soft Top to its Lineup
Ferrari recently unveiled its highly anticipated Roma Spider, which features an automatic retractable soft top.
Enter to Win Hydes Leather Build of the Month!
Hydes Leather has announced a new monthly contest to raise one trim shop's profile, showcase their work, and award the community some awesome discounts.
There's a New Bitchin Stitchin Class for Building Consoles
Have you been to a Bitchin Stitchin class yet? Then WTF are you waiting for?
We scoured the internet for the latest auto upholstery job openings and posted them on our jobs page.
Mississippi Auto Trim Shop Destroyed in Fire
Twins Upholstery in Jackson, Mississippi, was completely destroyed in a fire on Monday morning, according to local reports.
The Genesis GV60 has a Crystal Sphere on its Console
The Genesis GV60 features a cool, albeit useless, "Crystal Sphere."
Did You Know World Leather Day is April 26?
The international leather industry is set to rally in support of genuine leather on April 26.
Every Trim Shop Needs the E-ZEE Steering Wheel Jig
Upholstering a steering wheel without a proper jig will cause a lot of frustration.
That's not all! Visit our Facebook and Instagram pages to see what other trimmers are up to. You can also join in the latest industry discussions by registering for our Auto Upholstery Forum. And don't forget to subscribe to our FREE newsletter!