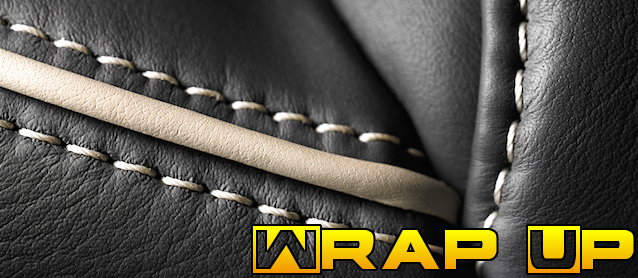 It's been another busy month at The Hog Ring. We kept you up on the latest industry news, featured some great products, highlighted a number of interesting builds and even introduced a new valuable resource — The Hog Ring Design Studio. Here's an end-of-month wrap up for April 2014.
Read our Interview with Rods N' Wheels in PHB
Check out The Hog Ring's exclusive interview with Billy Sr. and Billy Jr., stars of Discovery Channel's new hit TV show "Rods N' Wheels," in Performance and Hotrod Business magazine. We got a full six-page spread!
Opel Introduces Real Grass Upholstery
With "green upholstery" all the rage, German automaker Adam Opel AG debuted it's newest car today, the Astra Copacabana — which, among other things, features real grass upholstery on its seats and sand carpeting.
Read the Fine Print: It's Not Leather
In 2012, we inducted Kia Motors into The Hog Ring's "Hall of Shame" for fooling customers into believing that its popular Sportage SUV was trimmed in genuine leather. Sadly, we may soon have to induct the entire industry!
Convertible Hydraulic Systems with Kee Auto Top
With summer around the corner, Kee Auto Top published a helpful guide to maintaining convertible top hydraulic systems in its newsletter. It's a must read for every auto trimmer who repairs or installs convertible tops.
Shop Profile: Custom Auto & Upholstery Center
Press of Atlantic City recently published a profile of Custom Auto & Upholstery Center, a Pleasantville, N.J. shop that's been in the business for decades and maintains a pretty positive outlook on the industry's state of affairs.
Introducing The Hog Ring Design Studio
We've all heard the adage, "A picture is worth a thousand words." Well, no one holds that to be more true than auto trimmers — who, time and time again, struggle to explain design concepts to clients who cannot picture our visions for their interiors or simply lack an understanding of our craft. The Hog Ring has set out to solve this problem with our latest project: The Hog Ring Design Studio.
The Hog Ring Can Help with Your Spring Cleaning
We're already three weeks into spring, has your shop started its spring cleaning? If not, take advantage of the "Buy, Sell, Trade" section of The Hog Ring's Auto Upholstery Forum, where trimmers list unwanted fabrics, tools, supplies, sewing machines and more.
Which Car Shows Should You Attend?
In his latest "Interior Insights" article for Performance & Hotrod Business magazine, Ace Eckleberry of ACE Custom Upholstery & Rod Shop lays out his plan for how he decides.
Don't Leave Customers' Cars Vulnerable to Thieves
Mac's Auto Upholstery in Ventura, Calif. experienced an attempted theft on Wednesday that, although unfortunate, serves as a reminder to every auto trimmer to keep customers' cars locked and secure at all times.
Check Out What's New at Alea Leather
We have lots of exciting news to report from Alea Leather this month — including product updates, free promotions, ways to make your auto upholstery shop's website more engaging, and details on a one-off Lamborghini Aventador trimmed for a very special customer.
Ward's Picks Best Interiors of 2014
What do the Kia Soul and Rolls-Royce Wraith have in common? Not much… except they both just made WardsAuto's list of the 10 best new OEM car interiors. In fact, this year's list of honorees represents WardsAuto's most diverse list yet.
What's New at DLT Upholstery Supply?
Check out the April 2014 issue of "Upholstery & Trim News" for the latest news, sales and promotions from DLT Upholstery Supply. Like always, you can download your free copy here at The Hog Ring!
What Do You Think of Laced French Seams?
Few automakers that exist outside the realm of super luxury brands have outfitted their interiors with leather laced French seams— probably because it's so labor intensive. However, those that have continue to make a bold statement
Carlex Design's Overlapping Hexagon Pleats
Still trying to wrap your head around hexagon pleats? Well, you better figure it out soon because Carlex Design has already gotten so bored with the pattern that it's moved on to a new iteration — the overlapping hexagon pleat.
Find Out What's New at Electron Top
For Electron Top's latest news, promotions and sales, check out the latest issue of their monthly newsletter "Keep in Touch!"
Warning: Before Ordering Convertible Tops Online
The Hog Ring is geared toward professional auto upholsterers, not the DIY or hobbyist communities. However, we're going to make an exception to publish the following warning — issued by Electron Top — to shoppers who aim to save a few bucks by ordering off-brand convertible tops online.
Bugatti Introduces Hand Painted Interiors
While the rest of the automotive world was off spraying car interiors with SEM Color Coat, luxury automaker Bugatti has been busy developing an ink that allows artists to hand paint images on high-grade leather without the fear of their work fading away.
Photo: Custom Leather Engine Cover
Custom upholstered engine covers aren't all that rare. In fact, you're likely to find a few at nearly every car show you attend. But an entire engine bay trimmed in high-grade leather? Now that's a sight to see.
Albright's Supply Has Camouflage Headliner Fabric
While the fad of camouflage headliners hasn't taken North America by storm, there are regions in the United States and Canada where they're extremely popular. Auto upholstery shops that operate in areas like these will be happy to learn that Albright's Supply carries camo headliner in 14 unique patterns.
Learn the craft of Auto Upholstery at WyoTech
Interested in learning auto upholstery? Harry Weimann, director of operations at WyoTech's campus in Blairsville, Pa., provides an in-depth look at the trade school's auto upholstery program in Performance & Hotrod Business.
Edge Automotive Interiors of Rugby, England recently posted the above photo to its Instagram account, showing off a simple, yet all-together eye catching, approach to hexagon pleats.
That's not all! Pop into our Auto Upholstery Forum and visit our Facebook page to see what other trimmers are up to and to join in the latest industry chatter.