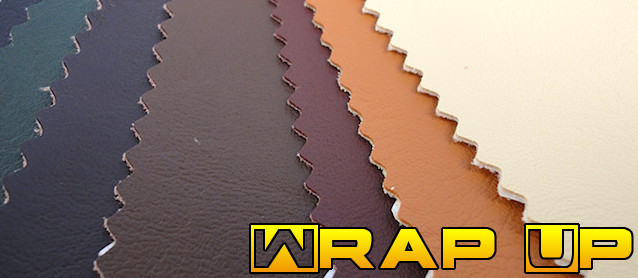 If you haven't been following The Hog Ring, you missed out on a lot this month. We introduced new products, profiled some amazing auto upholstery shops, highlighted loads of sales and promotions by our sponsors — and much more! Here's an end-of-month wrap up for May 2014.
Sew Foam for Seats with Cooling Systems
If you've worked on car seats equipped with cooling systems, you're familiar with Flow Throughsew foam. This unique, scrim-backed foam is a must-have for any auto upholstery shop that does repair work on late-model vehicles.
RSVP for DLT's 2nd Annual 'Open House'
If you didn't attend the "Open House" event DLT Upholstery Supply hosted last year, you missed a great time. Fortunately, they're doing it again this summer. Check out this month's issue of "Upholstery & Trim News" for details.
2015 GMC Canyon: Built for Men, Safe for Babies
GMC just debuted a simple, yet innovative, fix to the rear backseat of its 2015 Canyon truck that's sure to appeal to families with infant children. Check it out!
Please Help 'The Griebel Fabulous Five'
In times of great sadness, one must rely on the kindness of family, friends and sometimes even strangers for support. We hope that The Hog Ring community will rally together to help support a family within our industry in their time of need.
The Hog Ring Design Studio: Full Generic Interiors
Last month we launched The Hog Ring Design Studio, a growing collection of interior illustrations for you to use. Our first two renderings were of a generic bucket seat and bench seat. This month we've added two new ones.
Check Out What's New at Kee Auto Top
Kee Auto Top marks its 50th anniversary this month! To celebrate, the acclaimed manufacturer of convertible and vinyl tops is rolling out a full year of promotions, specials and events you won't want to miss.
Are you an out-of-work auto trimmer? Fear not. We've scoured the internet for the latest employment opportunities in the field of auto upholstery and posted them on our jobs page.
Shop Profile: Stitches Custom Auto Upholstery
Tony Miller of Stitches Custom Auto Upholstery in Bremerton, Wash., is one of the most highly decorated trimmers in our industry. His shop has won numerous awards and has even been featured in some of the hottest car magazines.
Photo: Pinstripe Stitching with Fat Lucky's
Sean Johnstun of Fat Lucky's may be the king of pinstripe stitching. His designs are eye grabbing, complex, and always executed with the utmost skill and precision.
Wanted: Auto Trimmers for a New TV Show
Want to showcase your skills on television? Raw TV, the production company behind Discovery Channel's hit show "Gold Rush," has tapped The Hog Ring to help it find auto upholsterers to feature on a new show about cars.
Are Fashion Designers the New Auto Trimmers?
CBS News' Jeff Glor recently interviewed Anthony Prozzi, a former Donna Karan fashion designer turned Ford interior designer, about the fashion industry's growing influence over the design of car interiors.
How to Turn an Indecisive Shopper into a Customer
I developed a three-step process to limit customers' options based on their budget and design ideas. By doing so, I'm able to turn indecisive shoppers into bona fide paying customers.
The Ford Mustang's Short-Lived Towne Top
Removable hardtops are readily available for late-model Ford Mustangs. But did you know that detachable roofs date as far back as the pony's debut in 1964?
Stitchcraft Interiors Custom Droptop Camaro SS
Steve "Revo" Reeves and his team at Stitchcraft Interiors in Westminster, Calif., have been featured on such popular TV shows as "Orange County Choppers" and "Overhaulin'" — for good reason of course, they're excellent.
Find Out What's New at Electrop Top
Like most of our auto upholstery shops, Electron Top is a family owned business. Therefore, it shouldn't come as a surprise to read that the May issue of  their monthly newsletter is dedicated to their mother Kitty Strauss and all our moms too.
Memorial Day and 'The Liberty Cadillac'
Memorial Day is not an excuse to skip work and barbecue by the pool. It's a day to remember, appreciate and honor all the men and women who died serving in the U.S. armed forces.
Video: Trimming Car Seats in Sheepskin
Wool is soft, comfortable, warm in the winter and cool in the summer. That's why many drivers turn to sheepskin to protect their car seats. Check out this great video to see just how they're made.
Alea Leather Introduces 3D Diamond Pleats
Forget what you know about diamond pleats — even long-tail and double-stitch variations. Alea Leather's Balenio insert puts a whole new spin on the traditional pattern.
That's not all! Pop into our Auto Upholstery Forum and visit our Facebook page to see what other trimmers are up to and to join in the latest industry chatter.