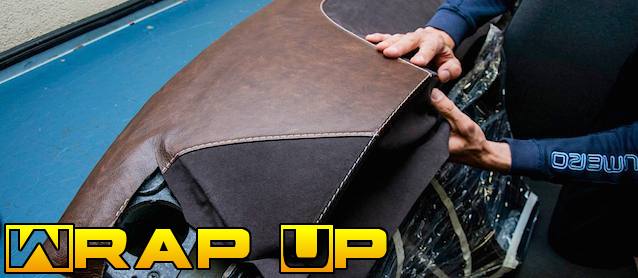 It's been a very productive month on The Hog Ring. We profiled a number of amazing trimmers, highlighted new products, covered the latest industry news (and sales!) and – of course – debuted a new addition to our popular Design Studio. Here's a look back at September 2014.
10 Questions for Master Trimmer Dan Kirkpatrick
When it comes to restoration work, Dan Kirkpatrick is one of the best auto upholsterers in the business. We're honored to interview him for the latest installment of The Hog Ring's popular "10 Questions" series.
Introducing Haartz Twillfast CR Convertible Fabric
This new OEM convertible topping material is designed to meet the demand for a convertible top that doesn't show unsightly creases after being stowed for long periods of time.
The Hog Ring Design Studio: 1932 Ford Roadster
The sketch we added this month shows a 3/4-angle view of the '32 Ford's cabin and trunk. The seat, door panel and trunk walls are all visible and awaiting your customizations.
Photo: Morgan SP1 Coupe Headrest
The first bespoke creation of Morgan's new Special Projects division, the SP1 features a frame, seats and dashboard constructed from Ash Wood and African Bubinga Red Hardwood.
Casting Call: SEMA Ignited TV Program
SEMA is selecting 10 car builders and their vehicles to display at the 2014 SEMA Show, highlight at a new post-show event, and compete in the "SEMA Battle of the Builders" competition.
Preserving Upholstery: When Bad Interiors are OK
While most auto upholstery shops repair, restore or customize car interiors, some also specialize in preserving them. The customers that these shops attract want to freeze their classic cars in bad state.
A Visit to Bentley Motors' Leather Workshop
Bentley Motors creates some of the most exquisite interiors in the world — but what goes into crafting each and every one? Drive TV paid a visit to the automaker's leather shop to find out.
What Southwest Airlines Did with 80K Seat Covers
Upon upgrading all of its 747 aircrafts with new upholstery, the airline found itself with an excess of 80,000 old leather seat covers. Find out how it put them to good use.
Save Big This Month at Kee Auto Top
Kee Auto Top continues to shake things up with more great products, discounts and the highest level of customer service. What's more, everyone is taking notice.
Haartz Recasts Aftermarket Soft Tops with Fortè
Fortè features a 100 percent polyester backing, offers superior strength and stability, and provides enhanced acoustics within the cabin. No competing material comes close.
Every Auto Trimmer Should Share this Article
With the rising popularity of DIY kits, it's not often that a journalist pens an article about why drivers should take their cars to trim shops. However, that's exactly what Tom Moor of Angie's List did.
Are Industry Trade Shows Worth Attending?
The article by Performance & Hotrod Business magazine provides great insight on why you should consider attending trade shows, as well as advice on how to maximize the opportunities they offer.
Photo: Catchall Miniature Display Seat
We recently came across this eye-catching miniature display seat on the Instagram account of Dane Utech, a talented auto trimmer employed at Customs by Vos.
Enter Alea Leather's Custom Interior Give Away
If you're headed to Las Vegas in November for the 2014 SEMA Show, be sure to visit Alea Leather Specialist Inc. for a chance to win a custom leather interior for your vehicle!
South Carolina Trim Shop Destroyed in Fire
With heavy hearts, we report that D&B Auto Sales – an auto upholstery shop and dealership in Aiken, SC – burned to the ground on Sunday. Fortunately, no one was hurt in the blaze.
Idaho Woman Chews Up Backseat of Police Car
According to Idaho's Bonner County Daily Bee, local woman Staci Anne Spence gnawed apart a police vehicle's seat foam and upholstery after she was arrested for a host of bizarre offenses.
Where are Your Convertible Tops Manufactured?
Electron Top's products are high quality, priced fairly and always accompanied with superb customer service. What's more, they're sourced and made right here in the United States.
Are you an out-of-work auto trimmer? We've scoured the internet for the latest employment opportunities in the field of auto upholstery and posted them on our jobs page.
Interview: Haartz Talks Knockoff Convertible Tops
We reached out to Matt Williams of Haartz to ask about inferior and impostor-brand materials, as well as what we – as an industry of manufacturers, suppliers and auto upholstery shops – can do about it.
Photo: Bugatti's Braided Leather Door Panel
Bugatti took super luxury interiors to an entirely new level when it debuted this hand-braided leather door panel in its limited-edition Veyron 16.4 Grand Sport Vitesse.
That's not all! Pop into our Auto Upholstery Forum and visit our Facebook page to see what other trimmers are up to and to join in the latest industry chatter.
[Photo credit: Vilner]