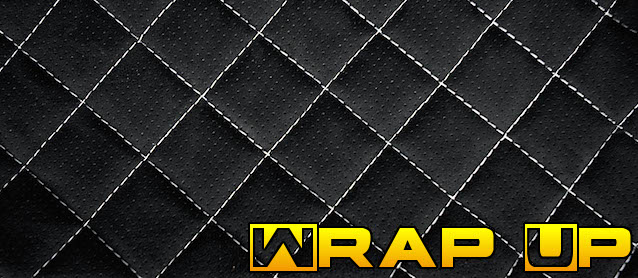 It's been a very busy month on The Hog Ring. We reported on industry developments, shared a number of interesting shop profiles and highlighted some outstanding work. Of course, we also kept you abreast of our sponsors' latest sales and promotions. Here's a look back at September 2015.
Shop Profile: Halvorsen Auto Restyling
In a recent profile for Highlands Today, the owners of Halvorsen Auto Restyling share a bit of their backstory, as well as some insight on success.
Will We Be Upholstering Cars in Fruit Leather?
Interested in plant-based fabrics? Student researchers in The Netherlands just developed a new fruit-based "leather" that's basically a fruit roll-up.
When Bears Attack (Car Interiors) 2
We come across a lot of stories about bears shredding car interiors — especially in the U.S. Northwest and Canada. Here's the latest story.
The Hog Ring would like to wish a very happy and safe Labor Day to all of our fellow auto trimmers taking a break from the daily grind.
Interior Manufacturers in State of 'Turmoil'
At a time when automakers are increasingly focused on interiors, some of the world's largest manufacturers of interior components are closing.
Wuzup Headliners Offers Interior Roof Tattoos
We've seen trimmers do a lot of interesting things with headliners. However, Wuzup Graphic Headliners is blazing a new path with interior roof "tattoos."
Peugeot Fractal Features 3D Printed Interior
French automaker Peugeot just unveiled its new Fractal concept car, an electric coupe that's interior is nearly all 3D printed. Is this the future of car interiors?
SEMA Honors Auto Upholsterer Tommy Perkins
Please join us in congratulating Tommy Perkins of Seams Ridiculous Upholstery in Montross, Virginia for being named to SEMA's "35 under 35" list.
Auto Upholstery 101.4: Interior Components
The Shop just published the latest installment of "Auto Upholstery 101" — an article series that explains the basics of our craft to car enthusiasts and industry rookies.
Hix Design Trims a 1959 Chevrolet Apache
Need some inspiration? Check out this custom 1959 Chevrolet Apache upholstered by HixDesignin Norman, Oklahoma. It'll blow you away!
Flashback: Ford's 'Wrist Twist' Steering Control
In 1965, an ex-missile engineer working for Ford Motor Company reinvented the steering wheel to allow drivers to navigate their vehicles using twist dials.
Save Big This Month at Kee Auto Top
Interested in new products, free shipping and more? Then check out the September 2015 issue of Kee Auto Top's newsletter! Download it here for free!
Bentley Motors' Super Expensive Dash Clock
Bentley Motors just announced that its first SUV, the Bentayga, will feature an optional gold and diamond-encrusted dashboard clock worth more than the vehicle itself.
We scoured the internet for the latest employment opportunities in the field of auto upholstery and posted them on our jobs page. Check it out!
Is Ferrari's Faux Leather Better Than Real Leather?
It's practically unheard of that a super luxury automaker would upholster its interiors in faux leather— but that's exactly what Ferrari is doing.
Find Out What's New at Electron Top
If you haven't already, check out Electron Top's latest newsletter for a ton of helpful product information — including price changes, new offerings and more!
Volkswagen Aims to Eliminate Interior Buttons
At a time when automakers are crowding dashboards and steering wheels with buttons and switches, Volkswagen is looking to eliminate them entirely.
Belarus Upholstery Shop Debuts Puzzle Pleats
Belarusian auto upholstery shop CarInterior.by comes up with some of the most original and eye-catching stitch patterns. Case in point: this awesome puzzle pleat.
Attention Shops that Accept Credit Cards…
Starting Oct. 1, businesses that haven't yet switched from old credit card terminals to ones that process more secure chip cards will be held liable for fraudulent charges.
That's not all! Pop into our Auto Upholstery Forum and visit our Facebook, Twitter and Instagram pages to see what other trimmers are up to and join in the latest industry discussions.