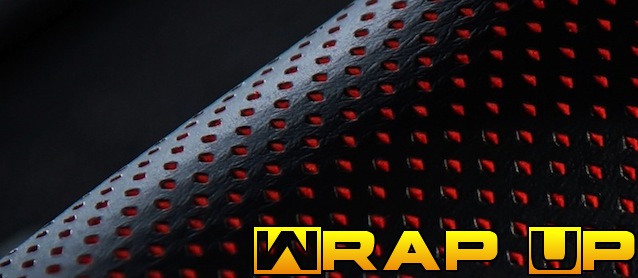 It's been another great month on The Hog Ring. We covered the latest industry news, gave away some awesome prizes and featured outstanding projects. Of course, we also highlighted our sponsors' latest sales and promotions. Here's a look back at November 2015.
Enter #TheHogRing SEMA Give Away!
Are you attending the 2015 SEMA Show? If so, we've got your chance to win a copy of "Custom Auto Interiors" by master trimmers Ron Mangus and Don Taylor.
Photo: 1963 Rolls-Royce Silver Cloud Interior
In 2013, we published an article asking: "Whatever happened to green car interiors?" Gillin Auto Interiors answered that question with this Rolls-Royce.
2016 Mazda MX-5 Miata Sports Haartz Topping
If you're attending SEMA, stop by Mazda's booth to check out the 2016 MX-5 Miata Spyder, which features a head-turning soft top made from Haartz fabric.
Kee Auto Top Share Convertible Care Tips
Kee Auto Top dedicated its November 2015 newsletter to sharing tips on how to care for a convertible top during the winter season and measure bow height.
Fuller Moto Wins #TheHogRing SEMA Give Away
The winner of our 2015 SEMA Show Give Away is Bryan Fuller of Fuller Moto in Atlanta, Georgia. He takes home a copy of "Custom Auto Interiors."
Auto Upholsterer Challenges McCain for Senate
David Pizer, former owner of Fitwell Seat Covers, recently announced a campaign to run as a Republican for the U.S. Senate — challenging John McCain.
Find Out What's New at Electron Top
Electron Top has published a special Thanksgiving edition of their monthly newsletter. It features the latest product information and, of course, a few heart-felt extras.
Shop Profile: Brent Davison of Sculpt Garage
Sculpt Garage has only been in business for four years, but is already making a name for itself as one of America's hottest custom hot rod interior shops.
Video: Car Thief Caught Slicing Convertible Top
British police are trying to identify an audacious thief recently caught on video surveillance attempting to steal a Porsche by slicing through its convertible top.
Customs by Vos Pioneers the Double Topstitch
It takes a forward-thinking craftsman with creativity, talent and influence to introduce a new look that catches on. That's exactly what Dave Vos has done with the double topstitch.
Win a Scholarship to Study Auto Upholstery
The SEMA Memorial Scholarship and Loan Forgiveness Program are back! If you're enrolled in an auto upholstery program, then you might be eligible.
Albright's Supply Presents Real-Time Inventory
Nothing stinks more than finding out the supplies you need to finish a job are out of stock. That's why Albright's Supply is excited to introduce real-time inventory!
Auto Upholster Turns California Serial Killer
ABC premiered new crime drama "Wicked City" last month, in which the main character is a "manager of an auto upholstery shop by day and a sadistic killer by night."
The Range Rover Evoque is Topped by Haartz
If you're planning to attend the 2015 LA Auto Show, make sure to stop by the Land Rover booth to see the luxury automaker's first-ever convertible SUV.
Ridgefield Auto Upholstery Helps Light Christmas
We believe that all businesses should give back to the communities in which they operate. So we'd like to acknowledge Ridgefield Auto Upholstery for doing just that.
Photo: Car Ashtray Turned Radio Control
Modernizing the interior of a hot rod is not easy. Auto upholsterers have to carefully balance the desire for contemporary features with the need to stay period correct.
Are you an out-of-work auto trimmer? Fear not. We scoured the internet for the latest employment opportunities in the field of auto upholstery.
Instagram Highlight: Dave The Trimmer
If you aren't already, make sure to follow Dave The Trimmer in Cranfield, England, on Instagram — especially if you're a fan of old world craftsmanship.
That's not all! Pop into our Auto Upholstery Forum and visit our Facebook, Twitter and Instagram pages to see what other trimmers are up to and join in the latest industry discussions.