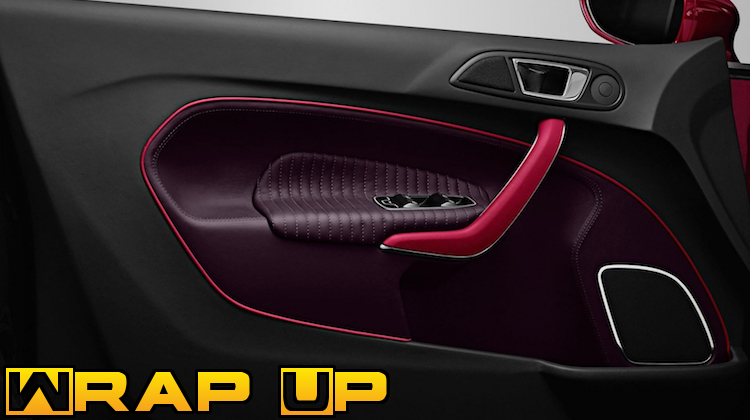 We kicked off the new year with a bang — reporting industry news, showcasing the latest interior technologies and highlighting some really talented trimmers. Here's a look back at January 2018.
Miata Rocks a New Cherry Red Soft Top
It's freezing outside, but we can still get excited about convertibles — especially since Mazda has announced that the 2018 MX-5 Miata will feature an optional cherry red convertible top.
Win $25 Store Credit at Albright's Supply
Albright's Supply is kicking off the new year with a promotion and giveaway! Just order 5+ yards of Spradling's Textures Collection and you're automatically entered to win.
Meet the Trimmers Behind Auto Kustoms
Although our "Meet the Trimmer" series typically focuses on one trimmer, we decided to widen our latest installment to include all three craftsmen behind Auto Kustoms.
New BAK Tonneau Cover Made from Haartz
Auto upholstery shops that sell and install tonneau covers will be happy to hear that BAK Industries' Revolver X4 tonneau system is made from an all-new Haartz material.
Free Seminar: Understanding the Tax Law
SEMA is hosting an online seminar to teach small business owners about how the United States' new tax law will impact auto shops and employees.
Scholarships to Study Auto Upholstery
Students preparing for a career in auto upholstery are eligible to apply for the 2018 SEMA Memorial Scholarship or Loan Forgiveness Program.
Upholstery Shop Uplifts Houston with Mural
Sublime Heights is uplifting its community in a really great way: By commissioning a local artist to paint a mural on its building celebrating the Houston Astros.
We scoured the internet for the latest employment opportunities in the craft of auto upholstery and posted them on our jobs page.
Tesla Owners Angry Over Headliner Fabric
Tesla owners are disappointed with the new Tesla 3's headliner, and are accusing the automaker of pulling an old fashioned bait-and-switch.
Headliners Will Soon Be Video Screens
Harman International just unveiled a range of innovative interior electronics — including a new, state-of-the-art headliner called MoodRoof.
Man Drives Top Down Through a Blizzard
A video of a Rhode Island man driving his car with the convertible top down through last week's "Bomb Cyclone" has gone viral.
Kee Sells Tops and a Whole Lot More
Kee Auto Top is renowned for their quality convertible and vinyl tops. But did you know they also sell automotive vinyl and other trim supplies?
Ultrasuede and Alcantara are Here to Stay
If you thought that microsuede was a passing fad — think again. The company that owns Ultrasuede and Alcantara is expanding production.
Casio Printer Turns Paper into Faux Leather
Casio's new Mofrel printer was on display at the Consumer Electronics Show, where company reps showed attendees how it can transform paper into faux leather.
New Wrangler Top Wows Crowds at NAIAS
If you're attending the Detroit auto show, check out the 2018 Jeep Wrangler, which features a power-retractable roof made from Haartz topping.
SMS Buys Competitor Original Auto Interiors
SMS Auto Fabrics, one of the auto upholstery industry's leading suppliers of original and reproduction fabrics, has purchased longtime competitor Original Auto Interiors.
Ford Changes 'Glove Box' to 'Phone Box'
Nearly 40% of British drivers don't know that their car's glove box was originally intended to store driving gloves, according to Ford Motor Company.
Emirates Airline Looks to Bentley for Seats
Emirates airline says it took inspiration for the design and upholstery of its new Boeing 777 business-class seats from super-luxury automakers, like Bentley Motors.
That's not all! Visit our Facebook, Twitter and Instagram pages to see what other trimmers are up to. You can also join in the latest industry discussions by registering for our Auto Upholstery Forum.