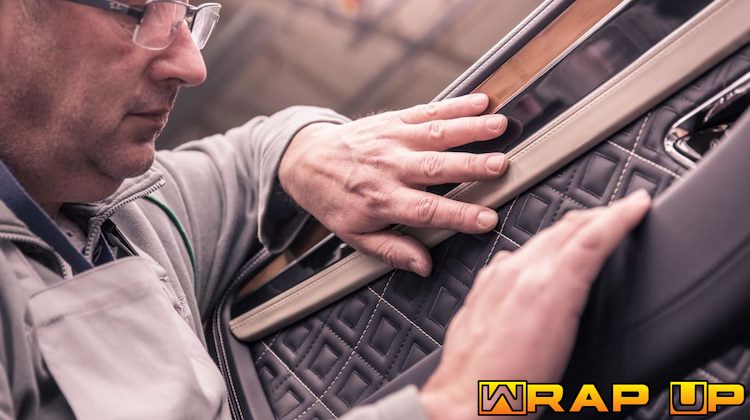 We covered a lot of ground this month! Industry news, interesting projects, and helpful guides were among some of our offerings. Here's a look back at October 2020.
Volvo is Making a Sliding Steering Wheel
Ever get tired of driving and want someone else to take over? Volvo's new sliding steering wheel makes it quick and easy.
Sevali Transforms Car Seats into Fashion
French label Sevali is making couture clothing for celebrities from upcycled car seats — and they don't look half bad.
Meet Troy Swarvar of Interiors by Troy
Troy Swarvar is renown for his stunning hot rod interiors and motorcycle seats, but his mastery of auto upholstery didn't come easy.
The BMW M3 and M4 Sport Seats are Hot
BMW recently announced that the 2021 M3 and M4 will feature optional carbon fiber sport seats — and we have details.
Win a 30″ Long Arm Sewing Machine at NC's Virtual Trade Show
NC Carpet Binding & Equipment is hosting the auto upholstery and trim industry's first-ever virtual trade show — and trust us, you don't want to miss it.
Find Out What's New at Electron Top
Check out Electron Top's latest newsletter "Keep in Touch!" for the latest product information on convertible tops.
BMW Ditches the 4-Series' Convertible Hard Top for a Soft Top
BMW recently announced that it's ditching the 4-Series' retractable hard top in favor of a fabric soft top.
Offset Spent $8,000 on this Child Car Seat
An average child car seat costs anywhere between $60 to $200. But for children of celebrities, it can run a whole lot more.
Warning: There's a Severe Shortage of Sewing Machines
There's a shortage of sewing machines — and, yes, the coronavirus pandemic is to blame.
Here's How Two Trimmers Launched Their Careers
We love to read stories about how trimmers got their start in the craft of upholstery.
Haartz's Best Tips for Soft Top Winter Care
With the winter season quickly approaching, convertible car owners may be wondering how to safely clean and care for their soft tops.
Trimmer Peggy Jeffries Dies at 87
Trimmer Peggy Jeffries of Traer, Iowa, has died at age 87. She owned and operated Jeffries Auto Upholstery for over 30 years.
The First Nike Jordan Was Inspired by Car Upholstery
According to The New York Times, Nike borrowed some of its design elements for the first Air Jordan from auto upholstery.
This 'Jurassic Park' Headliners is Terrifying
Someone customized a 1993 Ford Explorer XLT to look exactly like the vehicles from "Jurassic Park," and the headliner is wild.
Deadline Extended for NC Interior of the Year
Great news for trimmers interested in submitting a project for the "NC Interior of the Year" award — the deadline has been extended.
Need a Job? These Companies are Hiring
Are you an out-of-work trimmer? Fear not. We scoured the internet for the latest auto upholstery jobs and posted them on our jobs page.
GAHH Introduces a Soft Top for the 2013-2020 Audi A3
GAHH Automotive just introduced a convertible soft top for the Audi A3 Cabriolet.
Happy Thanksgiving from Electron Top
Check out Electron Top's November issue of "Keep in Touch!" for a special prayer of thanks ahead of the upcoming Thanksgiving holiday.
NC's Virtual Trade Show Was Wednesday
NC Carpet Binding & Equipment's virtual trade show was Wednesday at 1:00 pm ET on Facebook Live.
This Trimmer's Coronavirus Survival Story is Inspiring
Coronavirus nearly killed Joe Alvarez of Junior's Auto Upholstery.
Check Out This Car's Transparent Dashboard
Japanese tech firm Kyocera recently debuted a retro-styled electric, autonomous car that features a see-through dashboard.
That's not all! Visit our Facebook, Twitter and Instagram pages to see what other trimmers are up to. You can also join in the latest industry discussions by registering for our Auto Upholstery Forum. And don't forget to subscribe to our FREE newsletter!