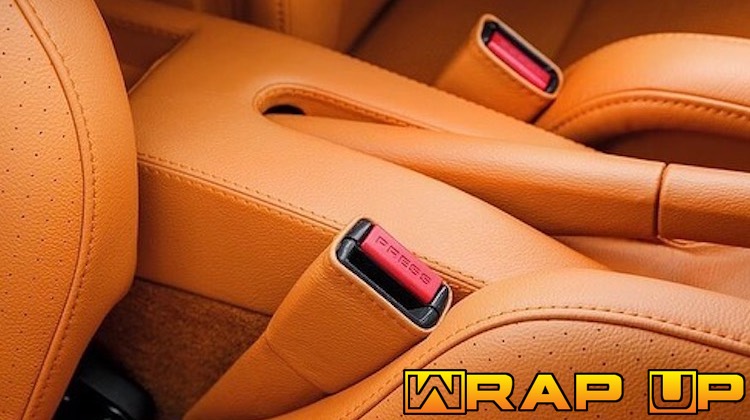 We had a busy month on The Hog Ring — covering the latest industry news, highlighting projects, products, sales and more. Here's a look back at May 2022.
NC Announces SEMA Pricing in May!
NC Carpet Binding & Equipment is offering special SEMA discount prices on all of their industrial sewing machines.
Registration Open for the 2022 SEMA Show
Registration for the 2022 SEMA Show in Las Vegas is now open! And yes, we have details.
Make Shoes to Match a Client's Interior
Matt Zheng, a transportation design student, made a pair of shoes to match his interior — and now you can too.
It's Almost Collector Car Appreciation Day
Collector Car Appreciation Day is almost here, and with it comes a lot of weekend car shows that you should attend.
BMW Designer Says Giant Screens are Out
Remember when David Fearnley, lead designer for Bentley, said touch screens aren't luxury? A top BMW designer agrees.
ILM: Biomaterials Should Target Synthetics, Not Leather
Why are makers of biomaterials, like cactus and mushroom leather, targeting the genuine leather industry?
Every Trim Shop Should Download These Soft Top Care Guides
It's not enough to replace a client's convertible soft top. You also need to teach them how to care for it.
Keyston Bros' Annual Customer Appreciation Day is Almost Here!
Keyston Bros is celebrating its 155th anniversary and is hosting their annual Customer Appreciation Day to celebrate!
Profit Sharing Can Help Your Shop Attract Employees
SEMA is hosting a free webinar on how profit sharing can help auto businesses attract and retain better employees.
Miami Trimmer and Girlfriend Killed in Auto Accident
Yaudys Vera and his girlfriend Ogniana Reyes were struck and killed by an SUV while cycling in Miami, Florida.
Texas Upholstery Shop Damaged in Fire
Marin's Upholstery in El Paso, Texas, was one of several businesses damaged when a fire broke out.
Try Dinamica: A Quality Alternative to Alcantara
Are you searching for a high-quality alternative to Alcantara? Then check out Apex Leather's line of Dinamica microsuede.
Former Trimmer William Thiele Dies at 76
Former trimmer William "Billy" Thiele of Ponca City, Oklahoma, has died at age 76.
Bentley Rebrands Diamond Pleats as 'Wellness Quilting'
Bentley Motors' all-new Azure range includes diamond pleats rebranded as… wellness quilting?
The Polestar 1 Features a Crystal Gear Shift
Just when you thought you've seen it all, Polestar is offering a custom made crystal gear shif that looks as wild as it sounds.
Last Call to Save Big on an NC Machine!
Act fast if you're in the market for a new industrial sewing machine, skiver, serger or carpet binder.
Trimmer Melvin Michael Doll Dies at 90
Trimmer Melvin Michael Doll of Brainerd, Minnesota, has died at age 90.
Webinar: What to Know About the Auto Market
SEMA is hosting a free webinar to unveil it 2022 Market Report and update us on the state of the industry.
She's the 'Dream Weaver' of Discontinued Fabrics
Mary Eaton is quickly making a name for herself as someone who can replicate discontinued fabrics for classic cars.
That's not all! Visit our Facebook and Instagram pages to see what other trimmers are up to. You can also join in the latest industry discussions by registering for our Auto Upholstery Forum. And don't forget to subscribe to our FREE newsletter!