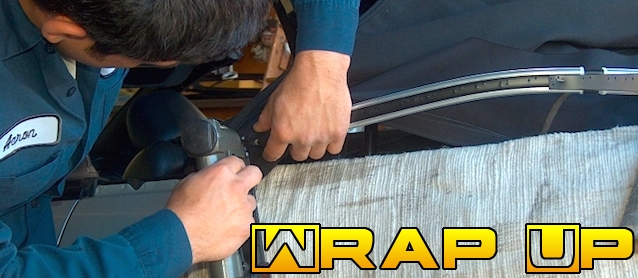 Fell off The Hog Ring this month? Well then you missed a ton! We added new illustrations to our Design Studio, introduced new products, unveiled some amazing sales by our sponsors — and much more! Here's an end-of-month wrap up for June 2014.
At just 32 years old, Dave Vos has already established himself as a master in the craft of auto upholstery — netting numerous awards, magazine spreads and, most importantly, the respect of his peers.
Murder Strikes Louisiana Trim Shop
Our condolences to the team at Red's Auto Upholstery in Baton Rouge, LA — where employee Nicholos Brumfield, 23, was gunned down Saturday night while working in the shop.
When Martial Arts Meets Auto Upholstery
From jousting with cardboard tubes to headliner-ball dodge ball, auto trimmers invent all sorts of games to keep themselves amused during down time. Justin Henzel of 4H-Customs Upholstery is no different.
Save 15% on Everything at DLT Upholstery Supply
Just because you can't make DLT Upholstery Supply's 2nd annual "Open House" event June 6 – 7 in Oak Lawn, IL, doesn't mean you have to miss out on all their great sales and promotions.
JNG Creations' Custom 1969 Chevrolet Camaro
Jean-Noël Greffeuille of JNG Creations has developed a strong reputation for designing stunning hot rod interiors. So when the owner of this 1969 Camaro needed a custom cabin, he knew exactly who to turn to.
In Photos: DLT's 2nd Annual 'Open House'
Who says you can't mix business with pleasure? At DLT Upholstery Supply's "Open House," trimmers networked, learned about new products, took advantage of sales and even let loose in a moon bounce.
Shop Profile: Roy Keith Powell of Drew's Garage
Master trimmer and long-time THR contributor Roy Keith Powell recently closed his shop, Roy Keith Classics, and joined the team at Drew's Garage — moving over 1,000 miles from SD to AZ.
Photo: Mansory Zapico Motorcycle Seat
German tune-shop Mansory's Zapico bike, developed in collaboration with famed motorcycle customizer Thomas M. George, is one of our all-time favorites — especially its simple, yet elegant, split-seat design.
Save Big This Month at Kee Auto Top
It's convertible top season — are you prepared? Check out Kee Auto Top's June newsletter for the latest sales and promotions on quality tops and accessories.
The Hog Ring Talks Sales in PHB Magazine
Check out our article "How to Turn an Indecisive Shopper into a Customer" in the June 2014 issue of Performance & Hotrod Business magazine.
Boutiques Want Your Unwanted Car Fabrics
If large rolls of old, unwanted fabric are taking up valuable space in your auto upholstery shop, consider selling them to a boutique clothing and accessories manufacturer.
Shop Profile: A&E Auto Upholstery and Canvas
Local newspaper Florida Today recently profiled A&E Auto Upholstery and Canvas, a 52-year-old shop that's been in the Hayes family for three generations.
Mother Jailed for Loving Upholstery More than Kids
How much do you love your car's interior? Enough to force your kids to sit on the trunk while you drive home so that their wet clothes don't damage your upholstery? That's what one Texas woman recently did.
TMI Products' 1-Piece Headliner for Ford Mustangs
Over the last few years TMI Products has been on a quest to mass-produce custom-looking hot rod interior parts. Check out their latest offering: one-piece headliners for 1964 – 1968 Ford Mustangs.
Join PRO to Strategize for Our Industry's Future
The Professional Restylers Organization, a SEMA Council that promotes the interests of the restyling industry — including auto upholstery shops, is hosting a "Long Range Planning Meeting and Industry Discussion."
Alea Leather Wants to Promote Your Shop
Alea Leather wants you to send them pictures of your seat cover installations using any one of their 23 unique inserts. If you do, they'll promote your work and give you a $25 credit toward your next order.
The Hog Ring Design Studio: 1955-57 Chevy
The Hog Ring Design Studio is a growing collection of vehicle interior renderings. This month we unveil the first of many vehicle makes and models: a 1955-57 Chevrolet.
What's New at Albright's Supply?
In need of a 2014 Detroit Book? Custom cut polyfoam? Camouflage headliner material? Automotive vinyls, cloths, leathers? tools or supplies? Well don't fret. Albright's Supply has you covered.
Electron Top Asks an Important Question
This month, Electron Top mailed a flier to all of its customers asking one important question: "Who do you want to trust your reputation to?" In this new age of convertible top sales, it's a question worth pondering.
That's not all! Pop into our Auto Upholstery Forum and visit our Facebook page to see what other trimmers are up to and to join in the latest industry chatter.