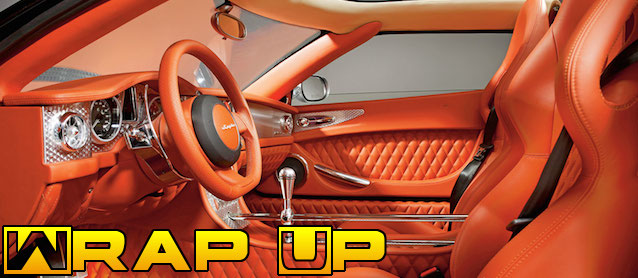 It's been another awesome month on The Hog Ring. We brought you the latest industry news, profiled standout upholstery work and shared some great business tips to help your shops grow. Of course, we also highlighted our sponsors' latest sales and promotions. Here's a look back at October 2015.
Relax, the Leather Industry is Not Dying
Despite endless industry chatter about leather alternatives and bio-based fabrics, demand for hides shows no signs of letting up. In fact, it's growing.
Jalopnik: Alcantara is 'Garbage Material'
Jalopnik just published a harshly worded article titled "Suede Is A Garbage Material for Car Interiors," that's basically a rant against Alcantara.
Shawn Krist Intros the Diamond-Heart Pleat
Check out this beautiful diamond-turned-heart pleat by Shawn Krist of Krist Kustoms. It's perfect for the seats or door panels of a 1950's hot rod.
Save Big This Month at Kee Auto Top
Check out the October 2015 issue of Kee Auto Top's newsletter for the latest sales, promotions and industry tips. You can download it free on The Hog Ring!
Your Auto Upholstery Shop Needs a Commercial
Today, all you need is your smart phone and a computer to create a commercial that can be uploaded to YouTube and viewed by thousands of customers.
2016 Smart ForTwo Features Haartz Topping
Haartz Corporation, the leading provider of soft top convertible material, recently announced that it'll be providing topping for the 2016 Smart ForTwo.
Want Another Chance to Try SewGlow?
If you didn't get a chance to try SewGlow, the first industrial glow-in-the-dark sewing thread, when we gave cones away in June, here's another chance!
The Hog Ring Reaches 5K Instagram Followers!
Last week we hit 5,000 followers on Instagram! Thanks to everyone for helping us in our mission to grow and strengthen the auto upholstery industry!
Shop Profile: Kaze Williams of Trim Den
To run a successful auto upholstery shop, you need to be skilled, hard working and passionate. Kaze Williams of Trim Den has those qualities in spades.
Does Your Shop Install Seat Heater Kits?
Winter is just around the corner. If your auto upholstery shop doesn't sell and install seat heaters, you're potentially missing out on a lot of money.
Vetron Autoseam: The Machine that Sews Alone
The Vetron Autoseam is the world's first fully automated sewing machine that can identify, adjust and sew together fabric without guidance from an operator.
Nissan Says the Future is Digital Upholstery
Imagine if you could change a car's upholstery whenever you wanted at the touch of a button. That's exactly what Nissan Motor Company aims to achieve.
Maserati Revives Silk Car Interiors
For decades, the only cars upholstered in silk were those designed for the showrooms, not the streets. Maserati, however, just changed that.
Faurecia's New Car Seat Cures Road Rage
Faurecia recently debuted new car seat technology aimed at detecting and reducing stress levels. In other words, it helps cure road rage.
Understanding Auto Shop Business Insurance
To protect your business from potential losses, you need to now exactly what your insurance policy covers and take steps to ensure it's what you need.
We've scoured the internet for the latest employment opportunities in the field of auto upholstery and posted them on our jobs page. Check it out!
Instagram Highlight: California Upholstery
After hitting 5,000 followers, we announced a new initiative to feature the Instagram page of one shop per month on The Hog Ring. The first is California Upholstery.
This Ford Mustang Sports Plexiglass Seats
Just when you thought you'd seen it all, Ultimate Audio of South Carolina went ahead and fabricated the front seats of this Ford Mustang out of plexiglass.
Domino's Pizza Creates the Ultimate Delivery Car
Chevrolet, Roush Enterprises and Domino's Pizza recently teamed up to create the ultimate delivery car, and the interior sounds pretty cool.
Video: Step Inside Mercedes' Self-Driving Car
The Mercedes-Benz F015 Luxury in Motion is the crème de la crème of self-driving cars. But until now, we haven't seen any unedited videos of its interior.
Tesla Motors Reinvents the Sun Visor
Despite all the advancements made in car interiors, the sun visor hasn't changed since the 1950's. Tesla Motors, however, just reinvented it!
That's not all! Pop into our Auto Upholstery Forum and visit our Facebook, Twitter and Instagram pages to see what other trimmers are up to and join in the latest industry discussions.