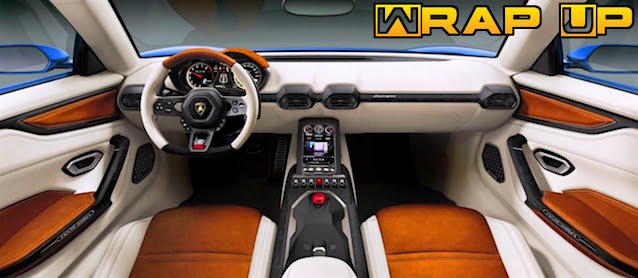 We had a blast this month! Not only did we attend the 2016 SEMA Show, but we also highlighted great interior projects, reviewed some tools and gave away prizes. Here's a look back at what you might have missed in November 2016.
Report Back: 2016 SEMA Show, Day 1
We received our media registry, read up on the companies and vehicles we wanted to visit, walked the show floor and saw some gorgeous builds.
Report Back: 2016 SEMA Show, Day 2
We're networking with industry leaders, learning about new products and checking out some jaw-dropping interior projects.
Report Back: 2016 SEMA Show, Day 3
After two days of visiting booths and networking with company reps, we finally had a chance to walk the outdoor car show and take in some live rock music.
Electron Top Wants You to Vote Smart
Electron Top's November 2016 issue of "Keep in Touch!" reminds readers how important it is to stay politically engaged.
SEMA's Nat Danas Scholarship is Back!
If you're enrolled in an auto upholstery program you might be eligible for either the SEMA Memorial Scholarship or Loan Forgiveness Program.
New Auto Upholstery Shop Opens in Illinois
Congrats to Amanda Tharp for opening Signature Upholstery in Roseville, Illinois. The new shop focuses on automotive and marine upholstery.
Watch Seams Ridiculous Upholstery on Truck Tech
Check out Tommy Perkins of Seams Ridiculous Upholstery do his thing on a recent episode of PowerNation TV's hit show "Truck Tech."
We scoured the internet for the latest employment opportunities in the field of auto upholstery and posted them on our jobs page.
Use Hydes' Nappa Leather for that 'Molded' Look
We recently chatted with Chris McClintock of Bux Customs about his work with Hydes Leather and switch to Nappa leather. His answers were insightful.
Giving Quotes, Estimates and Ballpark Figures
Here's a refresher on the difference between quotes, estimates and ballpark figures. Make sure your clients know what these terms mean.
What's New at Albright's Supply?
Albright's Supply kicked off the month by announcing Chris Parker of Everything Upholstery as the winner of their "Spooktacular Giveaway."
UPDATE: 10 Questions for Tracy Weaver
Five years after interviewing Tracy for our "10 Questions" series, we caught up with him to see what he's been up to and publish an update.
Instagram Highlight: WoodWrite
WoodWrite in Chicago, Illinois, creates custom wood dashboard kits and interior component for a range of vehicles. Check them out!
Flashback: When Reclining Seats Were Big
In the 1930s, a reclining car seat was the height of in-cabin technology. And the way people talked about it is pretty amusing!
Review: Knipex Needle-Nose Hog Ring Pliers
We recently had the opportunity to test a pair of Knipex's unique needle-nose hog ring pliers, which we spotted at the 2016 SEMA Show.
Richard Perez Wins our Knipex Pliers Giveaway
Congratulations to Richard Perez of R.P. Interiors, Inc. in Horseheads, New York, for winning our Knipex hog ring pliers giveaway!
To all our community members – trimmers and sponsors alike, we'd like to say thank you. You make The Hog Ring possible, and continue to inspire us with your work.
The Juki 28010-7x Will Revolutionize Your Shop!
In the market for a new sewing machine? Then check out the Juki 28010-7x — an innovative, high-end machine that won't break the bank.
Watch Carlex Design Customize a Nissan GT-R
Need inspiration? Check out this video by Carlex Design in which they fully customize the exterior and interior of a Nissan GT-R.
Remember When 3-Seat Supercars Were a Thing?
When McLaren Automotive unveiled its F1 supercar in 1992, the 3-seat cockpit with a center steering wheel stunned audiences.
That's not all! Pop into our Auto Upholstery Forum and visit our Facebook, Twitter and Instagram pages to see what other trimmers are up to and join in the latest industry discussions.