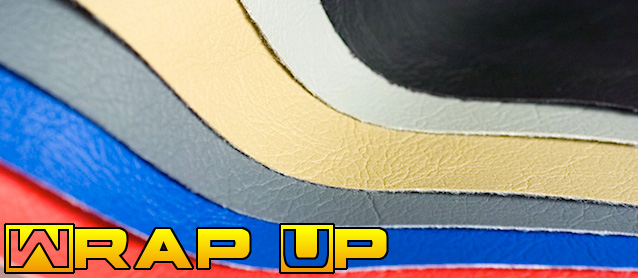 We covered a lot of ground on The Hog Ring this month. We brought you the latest industry news, highlighted some amazing shops, featured outstanding products by our sponsors, and even added two new illustrations to our Design Studio. Here's a look back at July 2014.
Remember those red sports car beds that were really popular with kids in the 1980′s? Furniture company Morgann Paulljust started selling a car-themed bed designed for adults.
The Darker Side of Leather Tanneries
Quality leather is soft to the touch, rich in color and an all-around joy to work with. But how much do you really know about the industry that produces it?
Ring Brothers' 1971 DeTomaso Pantera
World-renowned American car builders Ring Brothers teamed up with athletic apparel company Nike to create a one-off 1971 DeTomaso Pantera with an amazing interior.
Save Big This Month at Kee Auto Top
Kee Auto Top is celebrating "National Collector Car Appreciation Day" by offering outstanding sales and promotions all month long! Promotions vary, but they're all impressive.
Carlex Design Trims a Mercedes-Benz SLS AMG
What happens when Polish automotive trim shop Carlex Design gets its hands on a limited-edition Mercedes-Benz SLS AMG Black Series? Jaws drop and drool drips — that's what!
Shop Profile: Mike's Seat Cover Center
The Columbus CEO recently interviewed 46-year industry veteran Tim McKaye for a profile of his auto upholstery shop, Mike's Seat Cover Center in Martins Ferry, Ohio.
Johnson Controls on Automotive Car Interiors
Automotive news site Just Auto recently published an interesting Q&A with Han Hendriks, vice president of Advanced Product Development & Sales at Johnson Controls.
What's New at DLT Upholstery Supply?
The July issue of DLT Upholstery Supply's "Upholstery & Trim News" is not to be missed. It features new sales, promotions and services that trimmers will want to take advantage of.
Shop Profile: Marine Tops Unlimited
While The Hog Ring focuses on auto upholstery, many of us also dabble in marine work— which is why we're highlighting the following profile of Marine Tops Unlimited.
The Up-and-Down History of the Convertible
CBS News recently aired a segment that provides a fantastic overview of how and why convertible tops have teetered back and forth between being immensely popular and not very popular at all.
These days, Alcantara is the only fabric customers seem to know by name. But how many people – auto trimmers included – even know what it is? We found out.
Photo: 1970 Lancia Stratos HF Zero Interior
Check out the interior of this 1970 Lancia Stratos HF Zero concept car. While the vehicle never made it to production, it's widely regarded as a motorized work of art.
Shop Profile: Shoreham Upholstery
Jim Ortuno of Shoreham Upholstery in Shoreham, VT isn't just an auto upholsterer, he's an everything upholsterer — including cars, boats, doll houses and antique baby buggies.
The Newlong Industrial NP-7A Sewing Machine
Check out this handheld industrial sewing machine. It probably wouldn't serve a purpose in the automotive upholstery field, but it sure does appeal to the sewing machine buff in me.
Japanese Trains Put a New Spin on Swivel Seats
General Motors' introduction of swivel seats in 1973 made people's heads turn, but these Japanese subway cars put a much cooler spin on the idea.
Find Out What's New at Electron Top
Electron Top mailed fliers to auto upholstery shops warning them  to "Beware of Impostors" — a call to only purchase and install convertible tops manufactured using Haartz fabric.
Flashback: When Child Safety Seats Weren't Safe
These days, parents who don't strap their children into safety car seats can be jailed. However, that wasn't always the case — especially in the 1930′s when child safety seats weren't safe.
Alea: Leather Specialist Extraordinaire
The Detroit News recently published a fantastic profile of Alea Leather Specialist, Inc. that highlights their quality products and services, and sums up why we're so proud to call them sponsors.
Photo: Most Hideous Hummer Interior Ever?
We've seen a lot of ugly vehicle interiors, but the custom cabin in this 2001 Hummer H1 takes the cake. Not only is the craftsmanship shoddy, but it's trimmed in four exotic skins.
Are you an out-of-work auto trimmer? Fear not. We've scoured the internet for the latest employment opportunities in the field of auto upholstery and posted them on our jobs page.
Shop Profile: Rancho Upholstery
We highlight a lot of auto upholstery shops on The Hog Ring — but some of our most favorite are those run by old timers. Bob Monica, 77, of Rancho Upholstery in Geneva, NY is one of them.
The Hog Ring Design Studio: 1955-57 Chevy, Pt. 2
Last month, The Hog Ring Design Studio debuted two illustrations of a 1955-57 Chevrolet interior. This month, we're offering two more renditions of the iconic Tri-Five's cabin.
That's not all! Pop into our Auto Upholstery Forum and visit our Facebook page to see what other trimmers are up to and to join in the latest industry chatter.