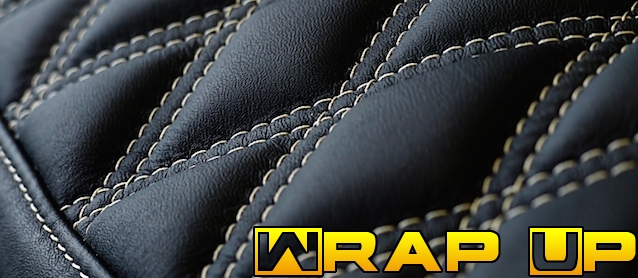 It's been an exciting month for The Hog Ring. We covered a ton of industry news, products and designs. And, of course, we highlighted some amazing sales and promotions too. Here's a look back at August 2014.
Haartz Corporation Sponsors The Hog Ring
It's with great pleasure that we introduce The Hog Ring community to our newest site sponsor: Haartz Corporation — the world's leading supplier of automotive topping fabrics.
Photo: Aston Martin DB9 Saddlebags
Check out the beautiful, handcrafted saddlebags affixed to the rear-console of the Aston Martin DB9 Volante Equestrian Edition. This GT features saddle tan leather, diamond-quilted ivory Alcantara inserts, and more.
Save Big This Month at Kee Auto Top
Whether you're installing a convertible top or vinyl top, Kee Auto Top has you covered! This month they're running a special promotion on both — and a whole lot more! Believe us, these aren't sales you want to miss.
Mercedes-Benz SLK: Painting Interior Plastics
I recently purchased a 1999 Mercedes-Benz SLK 230 and discovered a major interior defect. Evidently, Mercedes-Benz used a low-quality paint on the cabin's interior plastics that scratches easily.
What's New at DLT Upholstery Supply
DLT Upholstery Supply is shaking things up with its new "Certified Shop Loyalty Program" — which awards trim shops that regularly order from them with a long list of benefits, including discounts and customer referrals.
Georgia Trim Shop Destroyed in Fire
Sad news to report from Douglasville, Georgia — Town and Country Fabrics and Upholstery fell victim to a massive fire last Tuesday, destroying the business and sending one fireman to the hospital.
Johnson Controls on Smart Interior Materials
Johnson Controls, one of the world's largest suppliers of vehicle interiors, plans to introduce "smart" surfaces that make it possible to actually change the color of a car's interior at the touch of a button.
Pictorial: How to Rebuild a Mustang Bench Seat
Enthusiast website Mustang 360 recently published a fantastic pictorial on how to rebuild a 1965-1969 Ford Mustang bench seat. Every rookie trimmer should check it out!
What's New at Albright's Supply?
If you haven't already set up a business account with Albright's Supply, you're missing out. In addition to free shipping and their popular "10 Yard Store," they offer a long list of services, fantastic sales and fun promotions.
Shop Profile: Compton Custom Interiors
One of the greatest pleasures for me in running The Hog Ring is the opportunity to speak with auto trimmers and shop owners from around the world and learn how they got their start in our highly specialized craft.
Carlex Design's Maserati Grandiamond
Carlex Design crafted an entire interior to resemble the classic geometric shape of a diamond gemstone. Best of all, they executed their plan on a super-luxury Maserati GranTurismo — which they've since dubbed the Grandiamond.
Are You Prepared for the SEMA 2014 Show?
The 2014 SEMA Show is less than three months away. As you make final preparations to showcase your products and services, tune in to SEMA's free online seminar hosted by show director Tom Gattuso.
Photo: Leopard-Print Chevy S-10 Dashboard
We're filing this custom leopard-print dashboard  in our "Ugly Upholstery" category for obvious reasons. We found it on S10Forum.com, where S-10 owner "Slappy McNasty" was bragging about his wild cat-themed interior.
Top Gear's 'Renault Espace Convertible Challenge'
Back in 2009, Top Gear chopped the top off a Renault Espace minivan to create their own retractable soft top. The result was comical, but the real fun didn't start until they were challenged to put it through its paces.
Aston Martin Reimagines the Diamond Pleat
From its intricate Zagato Wave to Hour Glass Stitch, Aston Martin has been on the cutting edge of unique pleat design for many years. However, its latest feat — a fresh take on diamond pleats — is its most mesmerizing accomplishment.
Bugatti Debuts Car-Themed Clothing Line
If driving a Bugatti wasn't pretentious enough, the super-luxury automaker just rolled out a clothing line manufactured from the same fabrics and materials it uses to trim its vehicle interiors.
Setting Up Your Shop for Maximum Productivity
Whether you're opening a new auto upholstery shop or reorganizing your current one to maximize space, check out the latest "Interior Insights" article by Harry Weimann in Performance & Hotrod Business magazine.
Photo: Fat Lucky's Custom Creeper
Every trimmer takes advantage of downtime to transform the mundane into something truly special. Sean Johnstun of Fat Lucky's is no different. Check out this shop creeper he tricked out in custom upholstery.
The Upholstery and Trim International Convention
Are you an industry manufacturer, wholesaler or supplier interested in meeting and doing business with other companies like yours? Then attend next month's "Upholstery and Trim International Convention" in San Diego.
That's not all! Pop into our Auto Upholstery Forum and visit our Facebook page to see what other trimmers are up to and to join in the latest industry chatter.