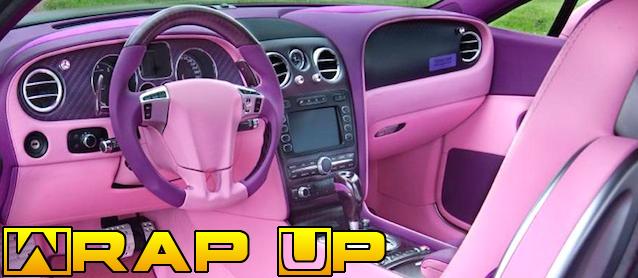 We covered a lot of ground on The Hog Ring this month — including industry news, product reviews and even some awesome sales and promotions from our sponsors. Here's a look back at August 2015.
Pro Tip: How to Mold Automotive Leather
Interested in learning how to wrap any plastic interior component in leather? Then check out this video by Cesar, a master auto upholsterer turned teacher.
Why is Alcantara so Expensive?
Curious why Alcantara is so expensive? Turns out the answer has as much to do with logistics as it does with quality and brand marketing.
Is Your Auto Upholstery Shop Insured?
If your auto upholstery shop lacks insurance, you're literally one fire or natural disaster away from total financial ruin. However, things don't have to be that way.
Sewing Airbag Seams with Durkopp Adler
Many auto upholstery shops have become wary of repairing car seats, door panels and other interior components that have airbags built inside.
Save Big This Month at Kee Auto Top
Interested in buying quality products for a discount price? Then check out Kee Auto Top's latest newsletter, which features hot sales and cool products.
Where Does Car Leather Come From?
Most automakers and seat cover manufacturers source their leather from cows. But not any cow will do. In fact, some are quite picky about the cattle they use.
8 Ways to Deal with Bad Online Reviews
In today's digital age, where people are turning to websites to review their experiences, it's becoming increasingly difficult to deal with dissatisfied customers.
Just when you thought the "jump seat" was dead and gone, Kia Motors redesigned and revived it for its all-electric concept car, the Pop. Check it out!
How to Fabricate a Custom Starlight Headliner
Ryan Nettleton of Exact Art Fabrications in Philadelphia, Pennsylvania, told us all about how he fabricates custom starlight headliners for customers' cars.
What Causes Pink Stains on White Vinyl?
Curious what causes pink stains on white vinyl? DLT Upholstery Supply published an explainer that debunks the myth of mildew, and provides cleaning tips.
New Upholstery Shop Opens in Battle Lake, MN
Join us in congratulating Lakeside Upholstery & Canvas Inc. on their grand opening. Based in Battle Lake, Minnesota, they specialize in a range of services.
Johnson Controls to Unveil SD15 Concept Interior
Johnson Controls is set to debut a seating system at next month's Frankfurt Motor Show that it says will be the standard by 2020. Check it out!
The Inspiring Story Behind Al's Upholstery
If you enjoy learning about other auto upholstery shops, then watch this video profile of Al's Upholstery in Albuquerque, New Mexico. It's inspiring!
We scoured the internet for the latest employment opportunities in the field of auto upholstery and posted them on our jobs page. Don't miss out!
Tool Review: MasterPry LED Pry Bars
Every auto upholsterer's toolbox is filled with a wide range of pry bars in various shapes and sizes. However, none are like the MasterPry LED.
This Week win a Set of MasterPry LED Pry Bars!
So you read our review of the MasterPry LED and really want a set, huh? Well here's your chance! We're giving away a set to three lucky winners!
Drivers Can't Tell Leather Apart from Leatherette
Auto upholsterers can tell the difference between genuine leather and synthetic leather. But a new report by JD Power reveals a lot of car owners can't.
When Upholstery Shop Meets Barbershop
Auto upholstery is a multidisciplinary craft that requires a range of skills — including sewing, carpentry, mechanics and more. But is barber one of them?
How Fuel Economy Affects Convertible Sales
Demand for convertible cars has been on a steady decline. The reasons are many, but a report on NPR says tougher fuel economy standards are making it worse.
Lincoln Introduces 30-Way Power Seats
Lincoln Motor Company just made things more complicated by unveiling a 30-way power seat that allows drivers to make adjustments for each butt cheek.
The Winners of Our MasterPry LED Contest Are…
Thanks to everyone who read and shared our review of the MasterPry LED. As promised, we picked three auto upholsterers to award a free set.
That's not all! Pop into our Auto Upholstery Forum and visit our Facebook, Twitter and Instagram pages to see what other trimmers are up to and join in the latest industry discussions.