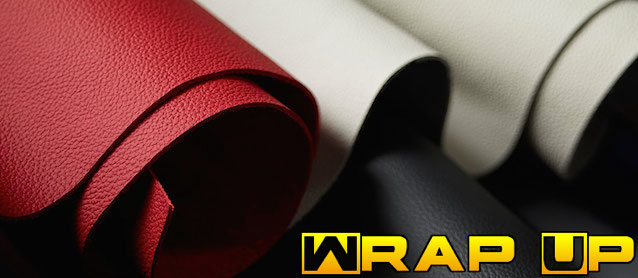 It's been another busy month on The Hog Ring. Not only did we cover the latest industry news and highlight some amazing trim shops, but we gained two new sponsors: NC Carpet Binding & Equipment and Hydes Leather. With their support, we're able to continue in our mission to strengthen and grow the auto upholstery industry. Please show your appreciation by giving them your business.
Here's a look back at February 2016:
NC Carpet Binding & Equipment Sponsors The Hog Ring
We're excited to introduce The Hog Ring to a new site sponsor: NC Carpet Binding & Equipment, an industry-leading manufacturer of industrial sewing machines.
The Strange Ways Ford Tests its Car Interiors
Audi made headlines with news that it employs a special "Nose Team" to test the scent of its car interiors. However, Ford does even crazier things.
Alea Leather Now Sells Headrest Shrinkers
Since giving away a headrest shrinker in 2012, trimmers have been asking us where they can buy one. Well, here's the answer: Alea Leather Specialists, Inc.
Someone is Setting Car Interiors on Fire in NH
There's a pyromaniac on the loose in New Hampshire, and he's exclusively targeting car interiors. The culprit, of course, has earned a spot in our "Hall of Shame."
Buick to Air First-Ever Super Bowl Ad for Cascada
Proving once and for all that convertible cars are back, Buick is set to air its first-ever Super Bowl commercial on Sunday featuring the all-new Cascada.
Shop Profile: Cape Fear Upholstery
If you enjoy learning about other auto upholstery shops as much as we do, then check out Fay Observer for its recent profile of Cape Fear Upholstery in North Carolina.
Photo: The Velorex 16/175 Soft Body
Neither the country Czechoslovakia nor the automaker Velorex still exist. But when they did, both were famous for one of the most bizarre cars in automotive history.
Should We Not Resew Backseats Either?
Seat airbags have complicated the work of trimmers, who are concerned that if they repair seat covers and the airbags underneath don't deploy they could be held liable.
Dan Miller on Upholstering the VLF Force 1
We caught up with Dan Miller, the trimmer behind the VLF Force 1's handcrafted leather interior, to talk about the project and his long relationship with Henrik Fisker.
Save Big This Month at Kee Auto Top
Check out Kee Auto Top's February 2016 newsletter for discounts, product information, business advice and even a helpful "Trimmer Tip."
We scoured the internet for the latest employment opportunities in the field of auto upholstery and posted them on our jobs page. Check it out!
Design Studio: 1956 Ford F100 Door Panel
Last year we launched a series of hot rod door panel illustrations in The Hog Ring Design Studio. Today, we're expanding it with the iconic 1956 Ford F100.
Talking Shop With Restoration Parts Unlimited, Inc.
We reached out to Mitch Williams, CEO of Restoration Parts Unlimited, Inc., to talk about the current and future states of the classic auto restoration market.
Electron Top Now Sells Volkswagen Beetle Tops
Electron Top now makes a convertible top for the 2003 to 2010 Volkswagen Beetle. The new top is produced to the same high standards as all of their other products.
The Haartz Corporation: A Legacy of Innovation
Haartz has great news to share this month — including the introduction of an all-new tonneau cover material and an award by the Classic Car Club of America.
Instagram Highlight: GTS Classics
If you're into custom classic car seats, then definitely follow GTS Classics on Instagram, where owner Stefan Schleissing regularly posts photos of his team's projects.
Shop Profile: Mr. Sid's Fine Auto Upholstery
Check out The Denver Post, which recently published a short Q&A with Sid Lopatin, owner of Mr. Sid's Fine Auto & RV Upholstery in Northglenn, Colorado.
Hydes Leather Sponsors The Hog Ring
Please join us in welcoming our newest sponsor, Hydes Leather — who's at the 2016 Detroit Autorama to unveil three gorgeous cars trimmed in their leather.
That's not all! Pop into our Auto Upholstery Forum and visit our Facebook, Twitter and Instagram pages to see what other trimmers are up to and join in the latest industry discussions.