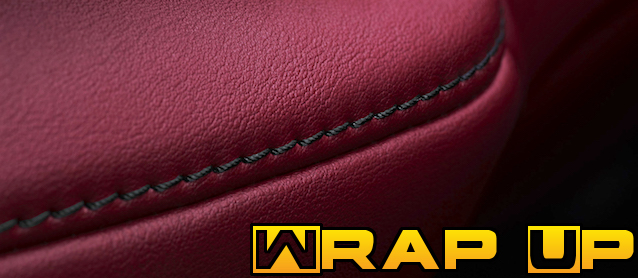 It was another fun month on The Hog Ring. We covered the latest industry news, showcased some interesting projects, and shared a ton of helpful tips and advice. Here's a look back at August 2016!
The Italian Who Upholstered Every Inch of His Fiat
When Federico Bonizzoni set out to upholster his classic Fiat 500 in leather, he didn't stop at just the interior. He covered the body panels and wheels too!
Dream Garage: Vidir Textile Carousel
The latest addition to our "Dream Garage" is the Vidir Textile Carousel, a magnificent machine that eliminates the need for extensive shelf space.
Flashback: The Dashboard Map Rack
Long before the advent of GPS, map racks were the height of in-car global positioning technology. Here's a look back at how they worked.
Carlex Design Introduces Custom Key Fobs
Not content with just trimming car interiors, Carlex Design recently expanded their services to include customizing car keys.
Register for the 2016 SEMA Show Today
SEMA brings together thousands of manufacturers, suppliers and auto professionals to browse, learn about and purchase the latest tools and products.
West Coast Customs to Launch Trade School
West Coast Customs is launching West Coast Customs Academy, a school dedicated to providing first-class training in everything car related — including upholstery.
How to Clean a Stained Vehicle Headliner
If you stain a headliner while installing it back in a vehicle, the job could end up costing you a lot of time and money. For such cases, check out this video.
Why is Bus and Train Upholstery so Ugly?
Have you ever wondered why bus and train seats are always trimmed in ugly fabric? According to BBC Autos, there's a logical reason for it.
Flashback: Kaiser's Zebra, Lion and Bear Interiors
In 1951, Kaiser Motors debuted four special-edition vehicles trimmed in exotic pelts — including zebra, lion, polar bear and horse.
Photo: Auto Upholstery Gone Horribly Wrong
We have no idea what this is or even what it's supposed to be. Some bizarre couch-convertible hybrid perhaps?
Automakers are Racing for the Ultimate Car Seat
Automakers are locked in a race to see which can invent and patent the ultimate car seat — and they're pulling out all the stops.
Shop Profile: TM Custom Auto Trim & Glass
It's always fun to read about other trim shops, especially those that have been around for decades, as their stories provide valuable lessons and inspiration.
Where to Find Mustang Door Panel Vinyl
Since its debut in 2005, the fifth-generation Ford Mustang has been plagued by falling door panel inserts. Here's where to find the discontinued vinyl.
2016 SEMA Show to Host Student Career Day
The decision to host the event was made after a study revealed aftermarket shops are in need of skilled employees, but don't know where to find them.
Flashback: The First-Ever Seat Belt Alarm
In June 1960, a man wrote a letter to Popular Science magazine boasting about how he finally convinced his wife to wear a seat belt.
Goodguys: Upholstery Tips from the Pros 1
Goodguys launched an article series full of helpful upholstery tips. The first installment features M&M Hot Rod Interiors and Ron Mangus Hot Rod Interiors.
Haartz on the Future of Convertible Cars 2
We spoke with Matt Williams of Haartz about the future of convertible tops. He provided insight on the exciting and radical direction that convertible top fabric is headed.
California Upholstery Shop Wins Economic Award
Congrats to Belluz Upholstery for winning its hometown's "Economic Vitality Award," and serving as an example for other upholstery shops.
Goodguys: Upholstery Tips from the Pros 2
In this second installment, Good Guys talks to Hudsons Rod and Customs, Sid Chavers Company and Recovery Room Hot Rod Interiors.
Flashback: Chrysler's 'Mobile Director' Package
Introduced in 1967, the "Mobile Director" package included front bucket seats that rotated 180 degrees and an armrest that converted into a table.
We scoured the internet for the latest employment opportunities in the field of auto upholstery and posted them on our jobs page.
Haartz Restorer's Guide for Vintage Convertibles
Haartz Corporation published an invaluable guide to vintage topping and has made it free to auto upholstery shops and car enthusiasts. Check it out!
That's not all! Pop into our Auto Upholstery Forum and visit our Facebook, Twitter and Instagram pages to see what other trimmers are up to and join in the latest industry discussions.
[Photo Credit: Lexus]