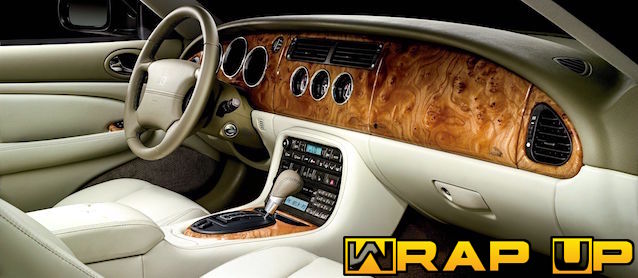 What a whirlwind month! Not only did we cover the latest industry news, we reviewed awesome products, held giveaways, put a sewing machine up for grabs and inspired one of our sponsors to help a shop rebuild after a devastating fire. Here's a look back at February 2017.
Then vs Now: Rolls-Royce's Leather Shop
Rolls-Royce Motor Cars is renowned for its old-world craftsmanship, especially when it comes to fabricating and trimming luxurious interiors.
Who Wants to Win a New Sewing Machine?
Albright's Supply is giving away another Consew sewing machine, and every auto upholstery shop owner and employee is eligible to win.
Attention to Detail: Custom Floor Mats
It's not easy to make vehicle carpets look classy, but that's exactly what Bulgarian auto upholstery shop Vilner did to the floor mats in this Mitsubishi Pajero.
Review: Gedore Craftsman Scissors
No hand tool is more essential to the craft of auto upholstery than quality scissors. That's why most trimmers spend years testing different brands and models.
Tony Miller Wins our Gedore Scissors Giveaway
Congrats to Tony Miller of Stitches Custom Auto Upholstery for winning our Gedore Craftsman Scissors giveaway, sponsored by KC Tool.
Meet 'Bus Driver Dave' of Dido Upholstery
David Gludt is loved throughout the city of Troy, Idaho. And it's not just because his upholstery shop is a local staple. He's also a neighborhood school bus driver.
Tesla 'Jump Seat' Sparks Kidnapping Scare
Concerned citizens in Santa Clara, California, called the police on a man they spotted opening the rear hatch of his Tesla Model S and strapping a kid inside.
WardsAuto Interiors Conference 2017
The WardsAuto Interiors Conference — the only event in North America solely dedicated to automotive interiors — is back, and details have just been released.
What's New at Albright's Supply?
Albright's Supply is giving away a brand new Consew sewing machine! For details, plus other great sales and promotions, check out their February newsletter.
10 Songs About Having Fun in the Backseat
What better way for an auto upholsterer to celebrate Valentine's Day than by rocking out to songs about the backseat? After all, it is the sexiest part of a car.
Try the Haartz 'Find Your Top' Database
To help top manufacturers and auto upholstery shops match OEM top fabric, The Haartz Corporation recently updated its free "Find Your Top" online database.
Sithole's Upholstery: Slowly Building a Dream
For 30 years, Ratsela Sithole in Lobatse, Botswana, has been upholstering everything from office chairs to car interiors using only a manual sewing machine.
C&U Upholstery Supply Hit by Deadly Car Crash
The team at C&U Upholstery Supply Company in Garden City, Alabama, experienced tragedy when a vehicle crashed into the front of their building.
Trimmer Leaves Legacy of Community Service
Gary Zink, 81, of Sure Fit Auto Care in Canton, Ohio, was laid to rest today — leaving a beautiful legacy of service to his family, friends, customers and community.
Hydes Leather: Your #1 Source for Alcantara
Hydes Leather is renowned for its premium leather and long list of custom services, but did you know they're also North America's largest distributor of Alcantara?
How to Install a Padded Roof on a Ford Model A
Hot Rod magazine recently published a pictorial showing how Glenn Kramer of Hot Rod Interiors by Glenn installs a custom top on a 1929 Ford Model A.
5 More Tips to Start Your Shop's New Year Right
In January, we highlighted The Shop magazine's article "5 Tips for Restylers" — which provided tips on how to take your shop to new heights. Here are five more tips.
We scoured the internet for the latest employment opportunities in the field of auto upholstery and posted them on our jobs page.
NC Helps Las Vegas Shop Rise from the Ashes
It's been a tough couple months for Luis Valadez. Days before the New Year, his Las Vegas upholstery shop, Wizard's Custom Interiors, burned to the ground.
That's not all! Pop into our Auto Upholstery Forum and visit our Facebook, Twitter and Instagram pages to see what other trimmers are up to and join in the latest industry discussions.