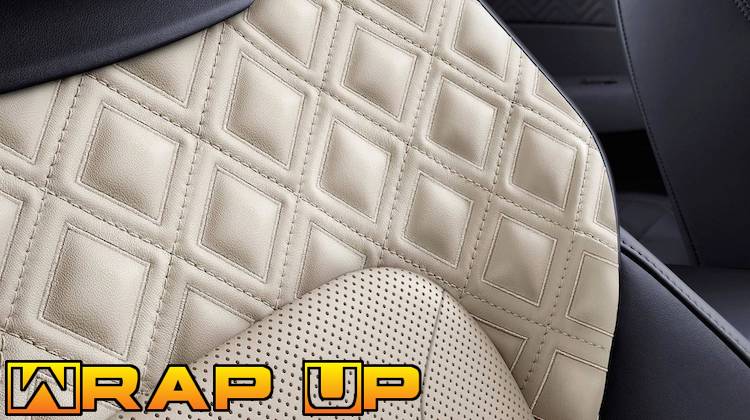 The Hog Ring had an awesome month! We brought you the latest industry news, SEMA Show plans, pro tips and more. Here's a look back at October 2019.
Mercedes is Making Headliners from Plastic Ocean Waste
Mercedes-Benz is collecting ocean waste and turning it into upholstery for its all-new Vision EQS.
Cars are Outlasting their Interiors, and OEMs are Freaking Out
Automakers are facing a problem: They've focused so much on mechanics that cars are now outlasting their interiors.
Save $50 on Your SEMA Registration
Stop procrastinating! Early registration for the 2019 SEMA Show ends October 11.
Tesla Plans to Eliminate Seams on Car Seats
Tesla Motors wants to reinvent seat upholstery by eliminating seams.
Pro Tip: How to Figure Out How Much Leather You Need
How many times have you ordered leather for an interior project only to find out later that it isn't enough?
Save on Marine Vinyl at Albright's Supply
Boat owners know winter is the best times to have upholstery repaired, because it means no downtime when the sun reemerges.
You'll Never Guess Where Corinthian Leather Comes From
We've all heard of Corinthian leather — that luxury hide used to trim 70's era Chryslers. But do you know where it comes from?
Scottish Leather Group to Open New Auto Leather Plant
Scottish Leather Group plans to open a new facility that will meet growing demand for automotive leather.
The Amazing Story Behind Volkswagen's Plaid Upholstery
Volkswagen's plaid upholstery has made a huge comeback. But do you know how the style originated?
Australian Trim Supply Destroyed in Fire
Australian Trim Supply was destroyed in a fire that created so much smoke that health officials warned residents to stay indoors.
In the Shop: Understanding Side Impact Airbags
Check out the November 2019 issue of The Shop magazine to read "Understanding Side Impact Airbags."
How Instagram is Impacting the Design of Car Interiors
A designer has divulged that automakers are starting to select interior fabrics based on how they'll look on Instagram.
Introducing Luxembourg Vehicle Carpeting
Looking for that perfect carpet to set off a street rod interior? Check out Douglass Interior Products' Luxembourg carpeting.
Ruskin Design Employee Wins 'Best Apprentice' Award
Congrats to Gemma Lee of Ruskin Design for winning "Best Apprentice" at the Leicestershire Live Women in Business Awards.
This is How to Upholster a Steering Wheel
Want to learn how to upholster a steering wheel? Then check out this awesome step-by-step tutorial.
Auto Upholstery Jobs and Apprenticeships
We scoured the internet for the latest auto upholstery jobs and apprenticeships and posted them on our jobs page.
Haartz Gets Candid About Off-Brand Tops
It's officially fall — which means anyone who's been cruising around with the top down all summer has to finally raise it.
Catch Douglass Interior Products at SEMA
Heading to the 2019 SEMA Show? Make sure to check out Douglass Interior Products.
Trimmer Ronald Zombro Dies at Age 74
Ronald Zombro of Zombro's Auto Upholstery in Winchester, Virginia, has died at the age of 74.
Daniel Williams of DJ Designs Talks Shop
In roughly 10 years, Daniel Williams has gone from WyoTech grad to owning and operating DJ Designs.
2019 SEMA Show Hosts Student Career Day
SEMA will host a "Student Career Day" at this year's annual show.
Haartz Tips for Convertible Soft Top Care
October is "Fall Car Care Month," a perfect time to educate customers on how to properly care for their convertible soft tops.
New Soft Top Swatches and SEMA Specials
Trimmers attending SEMA should check out what GAHH Automotive, Robbins Auto Top and E-Z ON Auto Tops have to offer.
Hydes Leather is Hosting a SEMA Party!
Hydes Leather is hosting a party at the 2019 SEMA Show, and all professional trimmers are invited!
That's not all! Visit our Facebook, Twitter and Instagram pages to see what other trimmers are up to. You can also join in the latest industry discussions by registering for our Auto Upholstery Forum. And don't forget to subscribe to our FREE newsletter!