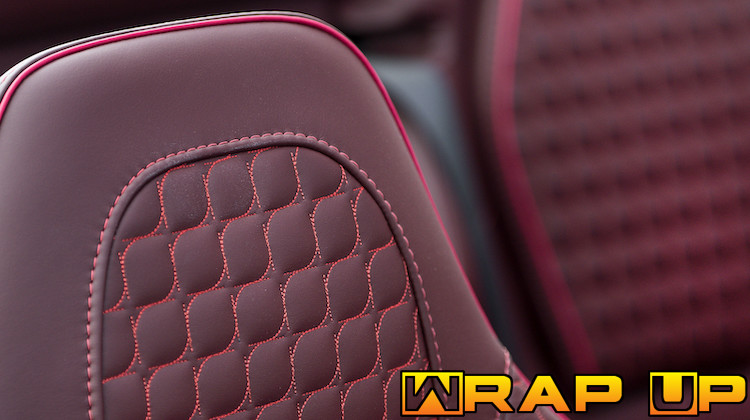 We ended the year on a high note, bringing you several guest posts from master trimmers, tutorials, product discounts and more. Here's a look back at December 2019.
Perfect Stitch Upholstery Damaged in Fire
Perfect Stitch Upholstery in Longview, Washington, was damaged in a fire that occurred just one week before Thanksgiving.
These Nike Sneakers Were Inspired by Cars
Nike's designers are more than just sneakerheads — they're gearheads too. How else can you explain these shoes?
Electron Top Wishes You a Merry Christmas
Check out the December 2019 issue of Electron Top's newsletter "Keep in Touch!" for some holiday cheer.
Rolls-Royce Unveils its Most Detailed Embroidery Ever
Rolls-Royce just unveiled its most detailed embroidery ever — a falcon, consisting of nearly 250,000 stitches.
How to Create Multicolored Windlace like Interiors by Shannon
Check out this awesome tutorial by Shannon Walters, who offers up some of his secrets to creating multicolored windlace.
Giant Santa Returns to Escondido, Thanks to an Upholstery Shop
Sickel's Fabrics & Upholstery has helped revive a fun Christmas tradition in Escondido, California — and locals are thrilled.
Ford is Making Car Parts from McDonald's Coffee… Seriously
Ford and McDonald's want to give cars a "caffeine boost" by transforming coffee chaff into interior components.
Register for the 2020 Mobile Tech Expo
Trimmers interested in launching a mobile upholstery repair service should consider attending the 2020 Mobile Tech Expo.
Albright's Supply is Having a Christmas Sale!
'Tis the season for an awesome Christmas sale and even a free gift from Albright's Supply.
Sewn Tight Custom Interiors' Secret to an Organized Shop
Every auto upholstery shop can benefit from having a clean and organized workspace.
Renault Introduces Recycled Fabric Made from Seat Belts
In response to increasing demand for eco-friendly products, Renault is introducing a new interior fabric that's 100% recycled.
The Lexus LC 500 Convertible is the Next Hot Droptop
In the latest sign that convertible cars are making a comeback, Lexus recently unveiled its all-new 2021 LC 500 Convertible.
Trimmer Raymond Hurtado Dies at Age 78
Raymond Hurtado of Bell Auto Upholstery in Phoenix, Arizona, has died at the age of 78.
Where to Find the Owner's Manual for a Classic Car
Are you restoring a classic car and need the original owner's manual to ensure the upholstery is period correct?
Customs by Vos Built a Mustang Interior That Will Blow Your Mind
Elite trim shops do more than cut, sew and install auto upholstery. They custom fabricate nearly every element of a vehicle's interior.
Ford Recalls 500K Trucks Amid Carpet Fires
Ford Motor Company has issued a recall for more than 500,000 pickup trucks because their interiors are catching fire.
Santa Works in an Auto Upholstery Shop!
What do you suppose Santa Claus does when he isn't delivering presents to kids? He upholsters cars, of course!
Nissan Remixes Leaf Chimes to Create a Christmas Carol
You know those annoying chimes cars makes when you turn the ignition? Nissan just remixed them to create a Christmas carol.
The BMW i3 Urban Suite Has a Lounge Seat
BMW is set to unveil a new i3 interior at the 2020 Consumer Electronics Show next month, and it's already turning heads.
It Took 1 Million Stitches to Complete This Embroidery
Rolls-Royce recently built a bespoke Rose Phantom that features a record 1 million embroidered stitches on the interior.
GST AutoLeather is Back After Bankruptcy
Remember when GST AutoLeather filed for bankruptcy, citing ride-sharing apps as a reason why? Well, they're back.
The Car Doctor and Haartz Talk Import Tops
Tune into "The Car Doctor Podcast" for a great conversation with Phil Hollenbeck of Haartz Corporation.
That's not all! Visit our Facebook, Twitter and Instagram pages to see what other trimmers are up to. You can also join in the latest industry discussions by registering for our Auto Upholstery Forum. And don't forget to subscribe to our FREE newsletter!