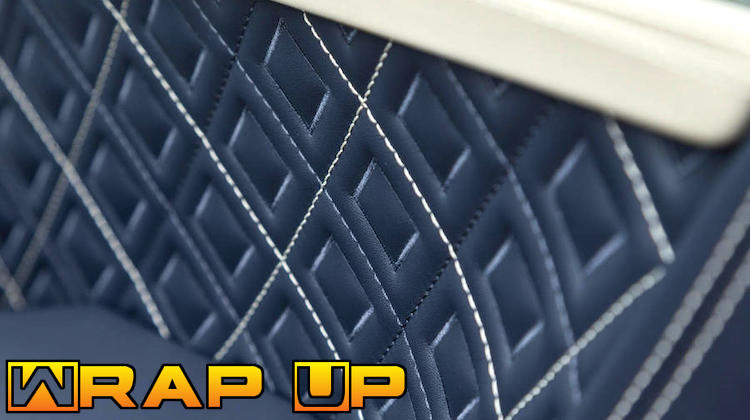 What a month! We brought you the latest industry news, sales, tutorials and more. Here's a look back at February 2020.
Want a Scholarship to Study Auto Upholstery?
Are you preparing for a career in auto upholstery? Then you're eligible to apply for a scholarship through SEMA.
Albright's Supply Has New Marine Vinyl Colors
With Punxsutawney Phil predicting an early spring, trimmers would be wise to start stocking up on marine vinyl.
JLR's Morphable Seats Will Change How We Drive
Jaguar Land Rover is developing a "morphable" seat that can trick the mind into thinking it's out for a leisurely stroll.
Own the Last 7th Generation Corvette Convertible for $150
You can own the last 7th generation Chevrolet Corvette Convertible for only $150 — but you'll have to beat the odds.
10 Tips to Organize Your Own Car Show
What better way to promote your auto upholstery shop than by hosting a car show?
This Thread is Made from Human Skin
Researchers in France have developed thread made entirely from human skin. Seriously.
Katzkin Among Industry Leaders Helping Teach Future Trimmers
Aftermarket manufacturers and suppliers are donating parts to the SEMA High School Vehicle Build Program.
Legendary Auto Interiors Brings Floor Mats In-House
Legendary Auto Interiors installed their first-ever sheet extrusion line, allowing them to produce custom floor mats.
Women in Textiles Summit is Almost Here
Are you a woman working for an industry manufacturer or supplier? If so, register for Women in Textiles Summit 2020.
Albright's Supply Valentine's Day Flash Sale
Albright's Supply loves their customers. And they're showing their affection with a Valentine's Day Flash Sale!
10 Songs for Getting Busy in the Backseat
What better way for an auto trimmer to celebrate Valentine's Day than by rocking out to songs about the backseat?
Ford Appoints Former Trimmer to COO
Ford Motor Company just appointed a new chief operating officer — and he's a former trimmer!
Host Your Own Seminar at SEMA 2020
Interested in sharing your skills and knowledge with the aftermarket? Then apply to host your own seminar at SEMA 2020.
Aston Martin Cuts its Top-Drop Time in Half
The Aston Martin Vantage roadster is built for convertible enthusiasts who like to do things fast. REAL FAST.
Auto Upholstery Jobs and Apprenticeships
We scoured the internet for the latest auto upholstery jobs and posted them on our jobs page.
Polestar is Making Car Interiors from Wine Cork
Polestar is cutting back on plastic by developing materials made from recycled fibers, including cork.
World of Speed Hosts Auto Upholstery Workshop
Folks interested in learning about auto upholstery should sign up for this introductory workshop at World of Speed.
Trimmer William Clay Stokes Dies at 81
William Clay Stokes, longtime upholsterer at Service Chevrolet in Ada, Oklahoma, has died at age 81.
Do You Use Steering Wheel Leather? You Should!
Some trimmers may be surprised to learn that automotive leather and steering wheel leather are not the same.
10 Crazy Steering Wheels We Want to Wrap
So you think you're good at wrapping steering wheels, huh? Well then try wrapping one of these bad boys…
Over 100 Water Bottles Go into Trimming Every Audi A3
Audi just announced that more than 100 recycled water bottles will go into every A3 interior.
That's not all! Visit our Facebook, Twitter and Instagram pages to see what other trimmers are up to. You can also join in the latest industry discussions by registering for our Auto Upholstery Forum. And don't forget to subscribe to our FREE newsletter!