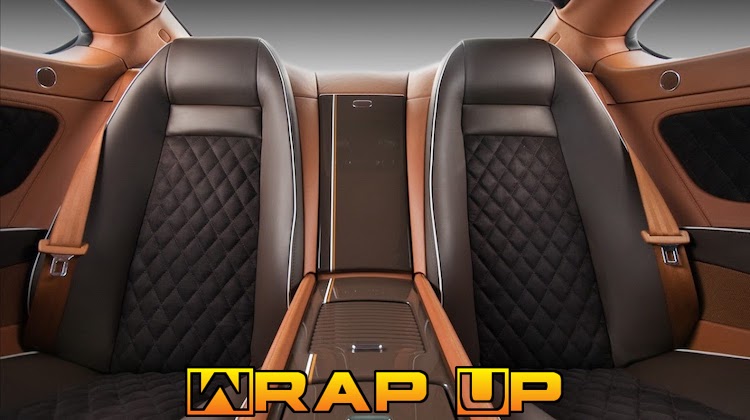 What a crazy month! We brought you the latest industry news, sales, tutorials and some helpful tips to keep safe during the coronavirus pandemic. Here's a look back at March 2020.
Vilner Works its Magic on a Tesla Model 3
Vilner, our favorite Bulgarian trim shop, recently got their hands on a Tesla Model 3 and gave its cabin a total overhaul.
This Bentley is Trimmed in 5,000-Year-Old Riverwood
The Bentley Bacalar might just have the most exclusive interior trim to ever grace a vehicle's cabin: 5,000-year-old Riverwood.
Electron Top Enters its 60th Year in Business
Electron Top's latest newsletter thanks trim shops that have supported them over the past six decades.
Hyundai Unveils Car with Joystick Steering
Speaking of crazy steering wheels, have you seen the dual joysticks in the Hyundai Prophecy concept EV?
Miami Corporation Sponsors The Hog Ring!
We're excited to introduce The Hog Ring community to our newest site sponsor: The Miami Corporation.
A New Scholarship Fund to Study Auto Upholstery
The family of late trimmer Willie Williamson is honoring his legacy by creating a scholarship fund.
National Upholstery Association to Launch Strategic Plan
The National Upholstery Association is launching its first strategic plan, and is inviting all trimmers to participate.
Trimmer Kenneth Wilson Dies at 68
Kenneth Wilson, owner of Teton Upholstery in Idaho, has died at age 68.
8 Steps to Protect Your Trim Shop from Coronavirus
Coronavirus has forced countless businesses to shut down. Don't let your auto trim shop become its next victim.
This Cologne Smells Like Car Interiors
If you love the smell of a new car interior, you're in luck. A new men's cologne will let you smell like that all the time.
Trimmer Gary Kolstad Dies at 70
Trimmer Gary Kolstad of Mentor, Minnesota, has died at age 70.
The NC Track Battle to Support Military Families
NC is teaming up with some industry giants to burn rubber for a great cause!
Boxmark Leather Halts Production to Make Face Masks
Boxmark is halting its production of auto upholstery to start making protective face masks to combat coronavirus.
Use Alcohol to Kill Coronavirus in Cars
The only chemical you should use to disinfect a customer's car from coronavirus is isopropyl alcohol.
Italy Halts All Leather Production Due to Coronavirus
Italy's leather manufacturing industry has ground to a halt, as officials desperately try to stop the spread of coronavirus.
Watch Alchemy Kustom Shape Seat Foam
Rick Valdez of Alchemy Kustom just released a video teaching viewers how to shape bench seat foam.
The BMW 4-Series is Getting a Soft Top!
The BMW 4-Series is undergoing some serious changes, including an all-new convertible soft top.
Indian Trim Shop Destroyed in Fire
An auto trim shop in Margoa, India, was destroyed in a fire this week.
Sage to Buy Adient's Fabric Business for $175 Million
Sage Automotive Interiors has agreed to purchase Adient Inc.'s auto fabric business for a whopping $175 million.
The Vegan Leather Market Will Be Worth $90 Billion by 2025
The vegan leather market will be worth nearly $90 billion by 2025, according to a new report.
Albright's Supply Explains Sew Foam
Albright's Supply recently launched a new video series titled "Upholstery Insights" that you don't want to miss.
Electron Top is Open for Business!
Many auto trim shops are working through the coronavirus pandemic. Know that Electron Top has your back!
That's not all! Visit our Facebook, Twitter and Instagram pages to see what other trimmers are up to. You can also join in the latest industry discussions by registering for our Auto Upholstery Forum. And don't forget to subscribe to our FREE newsletter!