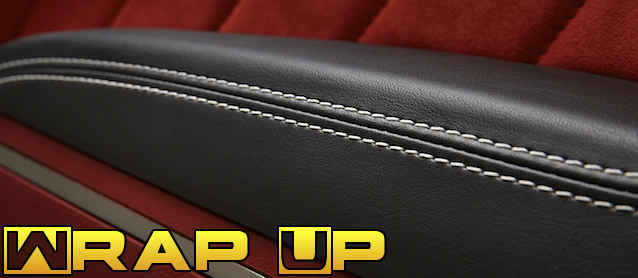 It was another great month on The Hog Ring! We covered the latest industry news, featured awesome discounts from our sponsors and even gave away some prizes. Here's a look back at June 2015.
Design Studio: Volkswagen Beetle Door Panel
Last month, we introduced two illustrations of classic VW seats to The Hog Ring Design Studio. This month, we expand the collection with the addition of a VW door panel.
Lines Blur When Affordable Cars Go Luxury
While speaking at the 2015 WardsAuto Interiors Conference, Adam Bernard of General Motors addressed the auto industry's changing perception of luxury interiors.
5 Instagram Tips to Market Your Upholstery Shop
Since launching The Hog Ring's Instagram account in October, we've connected with thousands of trimmers around the world who are also using the app.
Johnson Controls Refreshes the Rear Seat
Johnson Controls recently unveiled a luxury rear seat it says combines the expressed needs of customers and automakers in one — but we just think it's cool.
Find Out What's New at Electron Top
Electron Top's latest issue of "Keep in Touch!" is a must read — featuring helpful information on new products, notes about old ones, and even a heartfelt Father's Day dedication.
Light Up Custom Interiors with SewGlow Thread
Auto upholstery shops that do a lot of custom interiors should consider upselling customers on SewGlow, the world's first industrial glow-in-the-dark sewing thread.
SEMA PRO Open Meeting and Industry Discussion
The Professional Restylers Organization will host its annual Long Range Planning Meeting and Industry Discussion in Detroit this month, and the event is open to non-members.
How to Turn Mistakes into Opportunities
Even the most skilled trimmers sometimes make mistakes — which, if not handled correctly, can damage their shops' reputations and end up costing them money.
2015 Mercedes-Benz C300 Seat Discoloration
The C300 has an upholstery problem. Owners are reporting multiple issues with its MB-Tex imitation leather — including discoloration, white splotches and greasy looking stains.
The Winners of Our SewGlow Give Away Are…
As promised, we picked two auto upholstery shops who entered our Facebook and Instagram contests to award a free cone of SewGlow thread. Here are the winners!
Survey: Alea Leather Wants Your Feedback
When Alea leather Specialist, Inc. announced it was launching an industry-wide survey to gauge satisfaction with its products and services, we knew we had to be a part of it.
2015 Convertible of the Year: Porsche Boxster GTS
The United States' premier convertible competition, "SAMA Topless in Miami Presented by Haartz," just named the 2015 Porsche Boxster GTS "Convertible of the Year."
The Story of the Sewing Machine
The sewing machine is so common it's difficult to imagine that it was ever considered a revolutionary technology that was going to forever change the world.
Attention to Detail: Upholstered Rearview Mirror
Luxury automakers and high-end auto upholstery shops are cashing in on the simple, yet ritzy, accent. In fact, Porsche, which offers it in its Panamera, charges $675 for the upgrade.
Do You Know How a Sewing Machine Works?
Check out this short animated video that explains the process by which a walking-foot sewing machine uses two sources of thread to create a lockstitch. It's fascinating!
We've scoured the internet for the latest employment opportunities in the field of auto upholstery and posted them on our jobs page. Best of all, we'll continue to do so.
Check Out Our Ringbrothers Interview in PHB
Our article "10 Questions for Mike and Jim of Ringbrothers" made the front cover of the July 2015 issue of Performance & Hotrod Business magazine!
Shop Profile: Antwan's Upholstery
Constance Griffin, owner of Antwan's Upholstery, explains how faith — in addition to business skills, talent and hard work — contributed to making her auto upholstery shop a success.
Check Out Kee Auto Top's New Website
Have you seen Kee Auto Top's new website? Its beautiful layout and simple navigation makes it easy to find anything you're looking for and order it hassle free.
Photo: Paint-Soaked Maserati Interior
The driver was cruising when he suddenly swerved to avoid a dog. The car jerked so hard that it sent a can of house paint flying, spilling it all over the interior.
That's not all! Pop into our Auto Upholstery Forum and visit our Facebook, Twitter and Instagram pages to see what other trimmers are up to and join in the latest industry discussions.