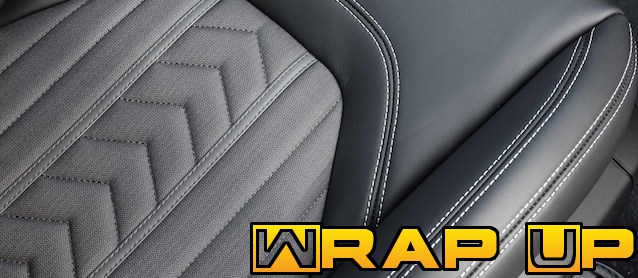 It was an exciting month on The Hog Ring. We reported the latest industry news, showcased some awesome projects, and even offered exclusive discounts on NC sewing machines to The Hog Ring community. Here's a look back at June 2016!
Hydes Leather Offers Computerized Stitching
Hydes will sew any pattern you like into their leather, Alcantara or cloth fabric. You pick the material and the stitch pattern, and they'll do the rest.
Wrapping the Bentley Mulsanne's Steering Wheel
Wrapping the Mulsanne's steering wheel in leather is such a complex task that only four trimmers at Bentley Motors know how to do it.
2016 Convertible of the Year: Mercedes SL65 AMG
The Mercedes-Benz SL65 AMG was just named "Convertible of the Year" at the "Topless in Miami" competition sponsored by Haartz.
Smart Fabric Aims to Make Airbags More Effective
Automakers and tech firms are developing textiles with electronic components woven into their fibers that will make car interiors safer.
Electron Top Wishes You All a Happy Father's Day
Kimmy of Electron Top celebrates Father's Day by paying homage to her late dad and company founder Fred W. Strauss Jr.
Take Advantage of the Demand for Better Seats
Find out how upholstery shops can capture a larger portion of what The Wall Street Journal says is a $60 billion car seat market.
What Killed the Front Bench Seat?
Jalopnik recently published an article explaining why the classic seat is no more. It's a must-read for all automotive history buffs.
Dream Garage: Polymaster Fabric Rolling Machine
The latest addition to our "Dream Garage" series is a tool that makes organizing an auto upholstery shop's vinyl rolls a breeze.
This Electric Car Has a Soft Fabric Exterior
We've seen car exteriors wrapped in leather, velvet and even yarn, but Rimono Corp.'s latest electric vehicle takes the cake.
Photo: Ford Model T Upholstery Assembly Line
Despite a dearth of photos, we tracked down two that show what it was like to work on the Model T's auto upholstery assembly line.
Exclusive Discounts on NC Sewing Machines
Are you in the market for a new sewing machine? NC Carpet Binding & Equipment is offering exclusive discounts to all THR members.
Transforming Sewing Machines into Model Tractors
Lots of people collect antique sewing machines, but late artisan Roy Gaunt of Illinois transformed them into model tractors.
Step Inside the Rolls-Royce 103EX Concept
Rolls-Royce Motor Cars recently dropped jaws with the introduction of its latest and greatest concept car, the 103EX.
Carlex Design Parks an SLS AMG on its Building
Polish shop Carlex Design recently parked a Mercedes-Benz SLS AMG Black Series on its exterior wall, making its shop even cooler.
Need Help Color-Matching Leather, Vinyl or Cloth?
If you're having trouble finding leather, vinyl or cloth that matches the color of your client's car interior, Albright's Supply can help.
Yes, the Grass Soft Top is Back!
An Indian taxi driver has transformed his cab into a roving garden by growing a grass lawn on its roof and filling its cabin with plants.
JD Power Survey Highlights Cars Topped by Haartz
JD Power just released its 2016 Initial Quality Survey and new convertibles featuring topping by Haartz are among the highest ranking.
California Upholstery Shop Damaged in Fire
A fire at Foss Upholstery & Restoration has destroyed several vehicles, caused extensive smoke damage, and left the shop closed.
Denim Dan's Dream Car: The MX-5 Levanto
Tell us how you think Garage Italia Customs did with the interior of this Mazda MX-5 Miata, which is wrapped in both Alcantara and denim.
That's not all! Pop into our Auto Upholstery Forum and visit our Facebook, Twitter and Instagram pages to see what other trimmers are up to and join in the latest industry discussions.