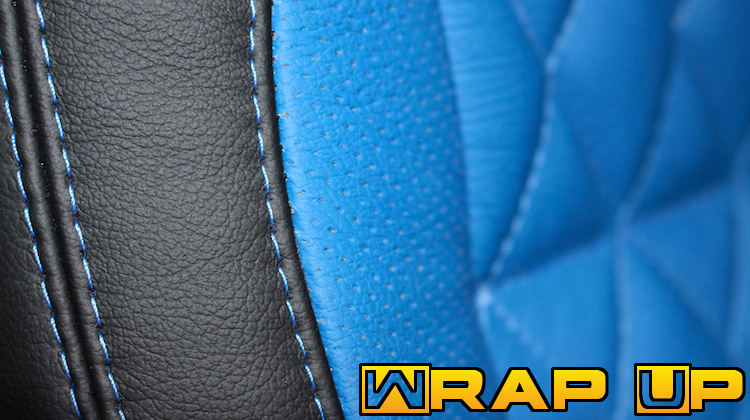 The Hog Ring covered a lot of ground this month! We brought you huge sales, interesting articles and loads of beautiful upholstery work to check out. Here's a look back at May 2019.
Let's Welcome Douglass Interior Products
We're happy to introduce The Hog Ring community to our newest sponsor: Douglass Interior Products.
Convertibles Heat Up the NY Auto Show
It was awesome seeing so many new convertible cars on display at the New York Auto Show — and, of course, they were all topped by the Haartz Corporation!
Your Source for Piping and Split Hidem
In the market for piping or split hidem? Check out what Albright's Supply has in stock!
Read this Before Sewing Airbag Seams
One of the most heated debates in the auto upholstery industry is whether or not shops should repair seats equipped with side impact airbags.
Electron Makes Custom Convertible Tops
Bored with conventional convertible tops? Then check out Electron Top's custom tops program!
It's Time for Biodegradable Seat Covers
Auto upholstery shops produce a lot of waste, particularly in the form of vinyl. Wanting to change that, two companies have come together to create biodegradable seat covers.
Bangladesh Wants to Supply Us with Jute
Bangladesh aims to become the world's leading provider of automotive jute.
Volvo to Use More Recycled Materials
Volvo has pledged to trim its car interiors with at least 25% recycled materials by 2025.
Shop Owner Convicted of Insurance Fraud
A Georgia man faces up to 70 years in prison and a $400,000 fine for setting his upholstery shop on fire to collect the insurance money.
How to Grow Your Shop's Instagram Page
If your auto upholstery shop isn't on Instagram or using it incorrectly, you're missing a huge opportunity to turn car enthusiasts into clients.
Wards' Picks the '10 Best' Interiors of 2019
WardsAuto recently hosted its annual Interiors Conference, where it announced its list of the auto industry's "10 Best Interiors" of 2019.
What's the Difference Between Stayfast and Twillfast?
Among Haartz Corporation's impressive range of OEM and aftermarket convertible topping are its Stayfast and Twillfast lines.
Driver Fined for Having a Dirty Car Interior
An English police officer recently fined a driver for having a dirty car interior.
Is the Back of Leather the Same as Suede?
What's the difference between suede and the flesh side of leather? Is it possible to use the flesh side as the finished side when covering an interior panel?
Bentley Teases 3D Diamond Interior Trim
Bentley Motors just teased the interior of its new Flying Spur, which features 3D diamond trim.
Memorial Day and 'The Liberty Cadillac'
Memorial Day is not an excuse to skip work and barbecue by the pool. It's a day to remember, appreciate and honor all the men and women who died serving in the U.S. armed forces.
Douglass: Your Choice for Scottish Leather
For more than 35 years, Douglass Interior Products has been the exclusive distributor of Scottish Leather Group in the United States.
New Jobs in the Craft of Auto Upholstery
We scoured the internet for the latest auto upholstery job openings and posted them on our jobs page.
Watch the Porsche 911's Soft Top in Action
The new Porsche 911 Carrera's convertible soft top is an engineering marvel. It's the lowest and lightest to ever sit atop a 911.
That's not all! Visit our Facebook, Twitter and Instagram pages to see what other trimmers are up to. You can also join in the latest industry discussions by registering for our Auto Upholstery Forum.