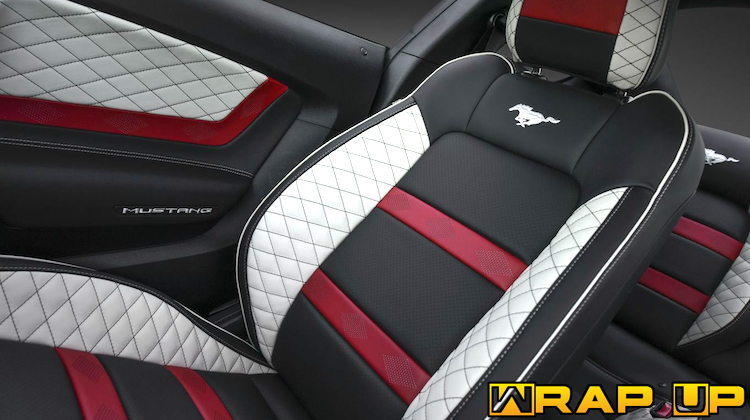 What a busy month! We brought you huge sales, tutorials, loads of beautiful upholstery and the latest industry news. Here's a look back at July 2019.
The Albright's Supply Summer Sale is Here!
Albright's Supply is offering discounts on materials and supplies that are designed to withstand the outdoors.
How Do I Remove Creases from Leather?
William Duffy asks: Do you have any tips on how to revive leather hides that were stored incorrectly?
How to Measure a Roll of Vinyl Without Undoing the Roll
Tired of undoing rolls of vinyl and fabric to measure how many yards are left? Here's a quicker and easier way to do it.
Happy Independence Day from Electron Top
Check out the July 2019 issue of Electron Top's newsletter "Keep in Touch!" for some great Independence Day reading.
This Car is so Messy the Driver Crashed
An English driver crashed his car because the interior was so messy that he couldn't find the handbrake.
Attackers Beat Auto Trimmer and Smash His Only Sewing Machine
Two men are in custody after beating a trimmer, threatening to stab him in the neck and destroying his sewing machine.
Nuclear Substance Found in Car's Interior
What's the craziest thing you've found hidden in a car's interior panel? Money? Drugs? How about a nuclear weapon?
Hydes Leather is Now Alcantara's Exclusive Auto Distributor
Congrats to Hydes Leather for becoming Alcantara's exclusive automotive distributor in the United States and Canada.
How to Sew Aston Martin Rapide Diamonds
Traditional diamond pleats too easy? Try sewing Aston Martin's eye-catching Rapide diamonds.
This Rolls-Royce Headliner is a Masterpiece
Rolls-Royce just built a custom Wraith that pays homage to the first non-stop transatlantic flight.
It's Time You Rock a Red Convertible Top
Would you drive a car with a red convertible top? Auto journalist Bradley Brownell is damn near obsessed with them.
Everything in Cars Will Soon be Adjustable
Most cars have power-adjustable front seats. But everything else may soon become adjustable too.
Is it Safe to Steam Leather Seat Covers?
Dean McConnell: What's your expert opinion on steaming leather? Is it safe or should we steer clear?
Auto Upholstery Jobs and Apprenticeships
We scoured the internet for the latest auto upholstery jobs and posted them on our jobs page.
Meet Aspiring Auto Trimmer Lauren 'Ralphie' Marusic
We interview a lot of master craftsmen, but how about a student for a change?
Woah! The Lexus LC Convertible is Real
If you get as excited as we do about new convertibles, you'll be happy to hear about the Lexus LC 500.
Family Seeks Justice for Murdered Trimmer
Six years ago, Roberto Reyna of Austin Auto Threads was shot and killed. His family is still seeking justice.
The Man Behind Ram's New Luxury Interior
Check out this interview with Ryan Nagode, interior design chief at Fiat Chrysler.
Smoking May Have Caused Shop Explosion
Authorities investigating a shop explosion have not determined the cause, but say smoking may have played a role.
Douglass Debuts New Leather Options
Douglass Interior Products just added new colors and grain textures to its extensive line of premium leather.
4 Aftermarket Miata Soft Tops to Consider
Top manufacturers have developed alternative Miata soft tops that look great and provide increased visibility.
Trimmer Gets 30 Years in Prison for Arson
Trimmer Christopher Hedgecock was sentenced to 30 years in prison for starting a fire at his shop.
That's not all! Visit our Facebook, Twitter and Instagram pages to see what other trimmers are up to. You can also join in the latest industry discussions by registering for our Auto Upholstery Forum. And don't forget to subscribe to our FREE newsletter!