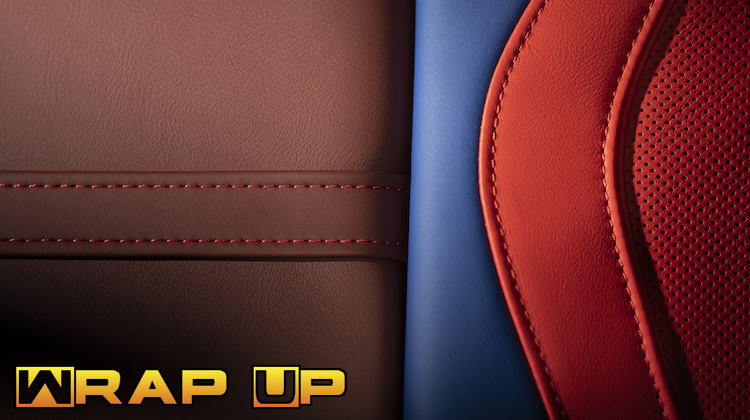 It was a very busy month at The Hog Ring. We brought you the latest industry news, highlighted great innovations, and flagged some awesome products and sales. Here's a look back at September 2021.
Listen to Bryan Schmitt on NC Shop Talk!
Tune in to the latest episode of NC Shop Talk to hear Bryan Schmitt of Mobile Solutions talk about how his team teaches trimmers the latest interior fabrication techniques.
Help Trimmers Impacted by Hurricane Ida
Hurricane Ida knocked down buildings, cut power and flooded properties from the Gulf Coast to the North East — including trim shops.
Dow to Launch a Silicone Leather for Cars
Materials company Dow is launching the latest innovation in automotive fabric: silicone leather.
The Hog Ring would like to wish a very happy and safe Labor Day to all of our fellow auto trimmers taking a break from the daily grind.
Red Seats Will Transform Your Driving Experience
If you ever needed proof that a car's interior can make or break the driving experience, check out Business Insider's review of the 2021 Acura TLX A-Spec sedan.
Trimmer Robert Azure Dies at 93
Trimmer Robert "Bob" Leonard Azure, Sr. has died at age 93.
How to Network in the Auto Industry
Having a difficult time meeting other pros in the industry? Check out this free SEMA webinar on how to effectively network.
Why Your Trim Shop Needs a Budget
When it comes to budgets, how many shop owners are just winging it? Probably a lot more than are willing to admit it.
Nissan is Hiring People to Sniff its Interiors
Nissan Motors is taking a page straight out of Audi's playbook by hiring its own team of "certified smellers."
Attend the 2021 IFAI Expo in Nashville
The textile industry's largest event returns for in-person attendance just in time for its 100 year anniversary.
BMW is Set to Trim Cars in Cactus Leather
Remember Adriano Di Marti, that Mexican company that created a line of vegan leather made entirely from cactus? They just inked a deal with BMW.
Free Lesson: Learn to Use QuickBooks
If you ever wanted to learn how to use QuickBooks, now's your chance. The SBA is offering free lessons on how to use the popular accounting software.
Heated Headliners and Carpets are Coming
Lots of cars have heated seats and steering wheels. But one German supplier is looking to heat other interior surfaces, like the headliner and carpet.
An Irish Trimmer's Advice to Aspiring Shop Owners
Carl Conlon opened his trim shop months before the coronavirus pandemic hit, shutting down economies across the world.
SEMA is Celebrating Women in the Industry
More than ever before, women are taking a leading role in the automotive aftermarket — including running successful trim shops.
Trimmer Frederick Hale Jr. Dies at 85
Trimmer Frederick Esmond Hale Jr. of Bristol, Tennessee, has died at age 85.
Pay Wholesale for Jeep Interior Parts
If your trim shop customizes and repairs a lot of Jeep interiors, you need to create a wholesale account with Quadratec, the industry's largest retailer of Jeep accessories.
Trimmer Luke Raymond Green Dies at 100
Trimmer Luke Raymond Green of Providence, Rhode Island, has died at age 100.
Interior Supplier Creates 103 New Jobs in SC
Auto interior supplier Auria is expanding is operation in Spartanburg, South Carolina — creating 103 new jobs in the process.
Some Exhibitors are Pulling Out of SEMA
Exhibitors are dropping like flies from the 2021 SEMA Show, citing health and safety concerns amid the ongoing coronavirus pandemic.
Keyston's New Headliner Program is Here!
Are you tired of low-quality headliner fabric that looks and feels cheap? Then you need to check out Keyston Bros' new headliner program.
That's not all! Visit our Facebook and Instagram pages to see what other trimmers are up to. You can also join in the latest industry discussions by registering for our Auto Upholstery Forum. And don't forget to subscribe to our FREE newsletter!