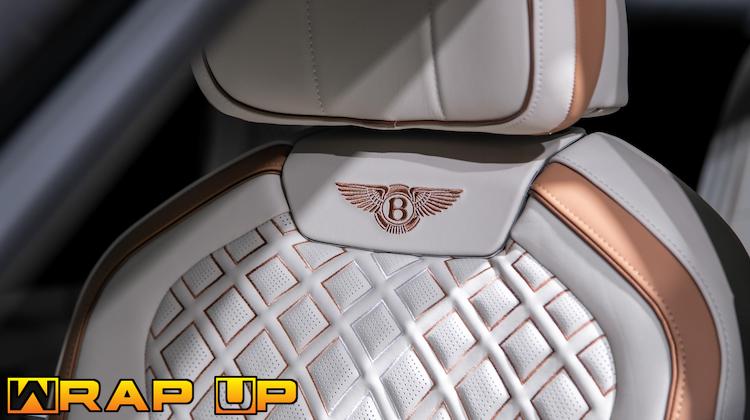 What a month! Not only did NC Carpet Binding & Equipment name its "Auto Interior of the Year" winners, but the 2021 SEMA Show took place, two industry giants merged, and much more. Here's a look back at November 2021.
Lear to Acquire Vehicle Seating Company for $200 Million
Lear Corporation just announced that it will acquire Kongsberg Automotive's Interior Comfort Systems (ICS) division for more than $200 million.
The 1968 Shelby GT500KR's Rarest Interior
Did you know that Ford manufactured 1,452 models of the 1968 Mustang Shelby GT500KR — and only six came with a saddle brown interior?
These are the Top 5 Finalists for NC Interior of the Year!
The top five finalists for the 2021 NC Auto Interior of the Year award have been chosen!
RMD Garage Wins 'NC Interior of the Year'
Congrats to RMD Garage in Long Beach, California, for winning the 2021 "NC Auto Interior of the Year" award!
Haartz Rocked the 2021 Detroit 4Fest!
Did you catch Haartz Corporation at Detroit 4Fest, the premier off-road festival in Michigan?
Trimmer Christopher DiChiro Dies at 64
Trimmer Christopher Michele DiChiro of Johnston, Rhode Island, has died at age 64.
Volvo is Now Making Leather-Free Handbags
Volvo is doubling down on the whole vegan leather craze.
Listen to Stitch Girl Inc on NC Shop Talk!
Tune in to the latest episode of NC Shop Talk to hear Oksana Ignatova of Stitch Girl Inc. talk about her growing custom interior shop in Wauconda, Illinois.
Enrollment at WyoTech is Booming!
If WyoTech's enrollment numbers are a sign of what's to come, it looks like the trades are bouncing back.
Attend ILM's Online Leather Supply Chain Forum
International Leather Maker (ILM) is hosting a Digital Automotive Leather Supply Chain Forum next month.
Custom Creations Wins NC 'People's Choice' Award!
Congrats to Derek Friesen and his team at Custom Creations Upholstery for winning the 2021 NC Auto Interior of Year "People's Choice" award.
Timmer Robert Peltz Dies at 76
Trimmer Robert "Bob" D. Peltz Sr. of Chester Township, Ohio, has died at age 76.
Report: The Interior Industry is about to Skyrocket
The automotive interior industry is about to skyrocket, according to McKinsey & Company.
How to Sell Your Services to Car Dealers
Many trim shops, especially those that primarily operate as installers or restylers, can make a lot of money selling products and services to car dealers.
Haartz Materials Were Spotted All Over the SEMA Show
If you attended the 2021 SEMA Show, chances are you spotted a vehicle that donned Haartz topping — because they were everywhere!
Try New Fabrication Tools at MasterTech Expo
If you like innovative tools that make work easier and more precise, you'll dig Mobile Solutions' new Router Guide and Template Arc Guide System.
Listen to Bill Carlton of 'Texas Metal' on NC Shop Talk!
Tune in to the latest episode of NC Shop Talk to hear Bill Carlton of Motor Trend's "Texas Metal" talk about his custom fabrication and automotive design shop.
Wishing You a Happy Thanksgiving!
Happy Thanksgiving to everyone in The Hog Ring community!
Cheyenne from Keyston Bros is 'Faux Real'
Are you in the market for a high-quality faux leather that looks distressed? Then check out Cheyenne from Keyston Bros.
Rex Pegg Fabrics Acquires Phoenix Trim & Supply
Rex Pegg Fabrics announced that it has acquired Phoenix Trim & Supply, bringing the two regional upholstery suppliers under one management team.
Are Piano Black and Carbon Fiber Trim Played Out?
Zac Palmer, a writer for Autoblog, is sick and tired of piano black and carbon fiber trim — and thinks you should be too.
Want to Lead a Seminar at the SEMA Show?
Interested in sharing your skills and knowledge with the aftermarket industry? Then apply to become a speaker at the 2022 SEMA Show.
That's not all! Visit our Facebook and Instagram pages to see what other trimmers are up to. You can also join in the latest industry discussions by registering for our Auto Upholstery Forum. And don't forget to subscribe to our FREE newsletter!