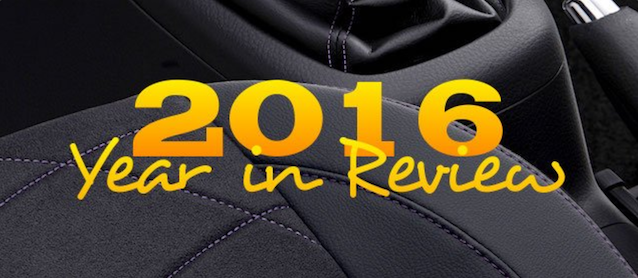 Six years in and The Hog Ring is still going strong thanks to our loyal community members and generous sponsors!
With a focus on stronger, more interesting and engaging content, 2016 was one of our best years yet! We covered the latest news, highlighted new products and services, showcased incredible talent and interviewed some of the biggest names in our craft.
We also gained nearly 25,000 followers on Instagram, which we use as a "look book" to showcase auto upholstery shops' best work and help them attract new clients.
Of course, that's not all. We continued to help trimmers find employment through our jobs page, grew our free online Design Studio, gave away some awesome prizes, and more!
Here's a look back at some of the highlights!
JANUARY
• We taught trimmers how to quickly calculate material length without having to undo rolls. Simply enter three figures into a free online calculator and you'll never again waste time double checking an order or updating inventory records.
• We produced a video showcasing Albright Supply's free foam-cutting service, which few auto upholstery shops know about. The company's three industrial machines can cut foam horizontally, vertically and even make custom shapes.
FEBRUARY
• Two fantastic companies, NC Carpet Binding & Equipment and Hydes Leather, stepped into The Hog Ring, joining our roster of quality manufacturers and suppliers who want to strengthen the industry and help our online community grow.
• We expanded The Hog Ring Design Studio with the addition of a 1956 Ford F100 door panel illustration. Simply download and print the illustration. When clients arrive for a consultation, break out a set of color pencils and sketch your ideas on the spot.
MARCH
• We interviewed Michael Dudley, a former shop owner-turned-assistant professor of automotive restoration at McPherson College. He told us all about his school's unique auto upholstery program, which provides students with hands-on experience.
• The 1997-2004 Dodge Dakota features a fragile headliner pushpin that has aggravated auto upholsterers for nearly 20 years. We found a cost-effective solution to the problem and highlighted it for trimmers to use.
APRIL
• We debuted our "Dream Garage" series, where we showcase badass tools and equipment that every auto trimmer would love to own. The first gizmo to make the cut was the Rexel ST-3/K pneumatic-lifting table, which will literally save your back.
• Our interview with Dan Miller, the master trimmer behind the VLF Force 1's jaw-dropping interior, was featured in The Shop magazine. The three-page spread highlighted Dan's skills behind the sewing machine and how he got to work on such a cool project.
MAY
• We chatted with Mal Maher, CEO of NC Carpet Binding & Equipment, to get the scoop on carpet binders and sergers. He explained the differences, the applications and much more. The interview also touched on the best models for auto upholstery.
• We profiled Mary Godin, LeBaron Bonney Company's oldest and coolest employee. At 82 years old, the great-great grandmother is still going strong as a pattern cutter. Amazingly, Godin doesn't rely on computers. All patterns are stored in her head!
JUNE
• We uncovered two rare photographs of auto trimmers working on Ford Motor Company's assembly line, upholstering the Model T. The photos, taken sometime between 1908 and 1927, are among the craft's oldest historical documents.
• Need help pulling off a unique or complex stitch pattern? We featured Hydes Leather's computerized stitching service, which now makes it possible for auto upholstery shops of all skill levels to offer super-luxury pleat designs.
JULY
• We highlighted the growing trend of creating faux luggage to mask unsightly batteries, fuel cells and other vital components in the trunks of hot rods. A recent project by Stitches Fine Automotive Interiors showed how gorgeous the trend looks.
• We spoke with JPM Coachworks to learn about BMW's iconic ///M logo. They told us the exact thread brand and colors to use in order to pull off the model's famed tri-stitch pattern. We also featured some of our favorite M-stripe designs from Instagram.
AUGUST
• Repairing door panel inserts on the fifth generation Ford Mustang was once next to impossible, as the fabric had long been discontinued. However, we uncovered a replica vinyl that's nearly a perfect match, squashing the problem once and for all.
• Trimmers that specialize in classic restorations face a dual challenge: Not only must their work be high caliber, but also period correct. We highlighted Haartz Corporation's "Vintage Restorer's Guide," which ensures drop tops meet those standards.
SEPTEMBER
• We traced the history of the "rumble seat," debunking old myths about how it got its name and uncovering new details about its long history. For instance, did you know the term pre-dates cars and shares a common history with the "jump seat"?
• Veteran trimmers enjoyed our two-part series highlighting dead or dying interior trends. The articles covered everything from the front bench seat to tweed upholstery, and even piping. Which do you think will make a comeback?
OCTOBER
• We partnered with Albright's Supply to give away a brand new Consew sewing machine! The winner, Chris Parker of Everything Upholstery, was randomly chosen from among those that completed an industry survey.
• Our review of the Tandy Super Skiver, a $20 alternative to expensive skiving machines, turned trimmers on to a new, helpful tool that won't break the bank. We filled trimmers in on the pros and cons, and gave our final verdict: Buy it!
NOVEMBER
• We attended the 2016 SEMA Show, where we met up with fellow trimmers, learned about new companies and products, and saw some jaw-dropping interiors. Among our favorite booths was Alea Leather, which showcased their new LED seat covers.
• We chatted with Chris McClintock of Bux Customs about his use of Nappa leather. He told us all about the pros and cons, and explained how it helps him achieve that "molded" look in his award-winning custom interiors.
DECEMBER
• We showcased several gorgeous interior projects, including a $30,000 steering wheel designed by Dartz Motorz Company. The steering wheel is trimmed in alligator and stingray leather, features 14-carat gold buttons, 292 diamonds and two rubies.
• We profiled a new faux leather made from pineapple leaves that's production is helping to eliminate poverty in the Philippines. When the fabric makes it to car interiors, we'll be repairing cars and helping to change lives at the same time!
Of course, that's only some of the awesome, informative and fun content we produced!
We Couldn't Have Done it Without You!
Thank you for continuing to follow The Hog Ring and encouraging your friends to do the same. You shared and commented on our articles, published pictorials in our forum, and assisted one another in difficult projects. You also provided us with great story leads and feedback that continue to help us realize our mission of strengthening the auto upholstery industry.
Of course, none of this would be possible without the financial support of our sponsors: Albright's Supply, Alea Leather, DLT Upholstery Supply, Electron Top, The Haartz Corporation, Hydes Leather, Kee Auto Top and NC Carpet Binding & Equipment.
Not only are these eight companies outstanding leaders, who provide quality products and exceptional services at competitive prices, but they also share our vision of a stronger, more unified industry.
It's a new year and we're raising our glasses to all of you! May every single person in this community of professionals and friends find happiness and success in 2017!
Sincerely,
Nadeem & Naseem