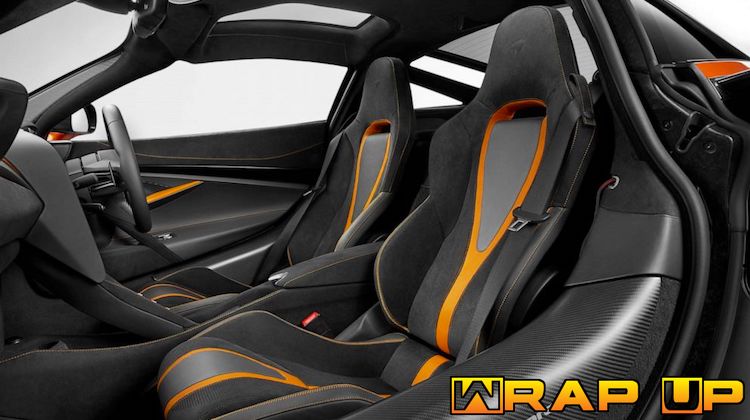 It was an exciting month! We brought you industry news, sales, how-to guides and more. Here's a look back at May 2020.
Lear Employees Die After Coronavirus Outbreak
Lear Corporation has announced that "several" employees at its plant in Ciudad Juárez, Mexico, have died.
Bentley's Lead Designer Says Touch Screens Aren't Luxury
Super luxury automakers have a problem: car interiors are going high-tech, but there's nothing luxurious about technology.
Wolfsteins Founder on What Makes RaggTopp so Great
Rick Goldstein talks about his company's products and philosophy, as well its close relationship with The Haartz Corporation.
5 Harbor Freight Tools that Don't Suck
Harbor Freight tools gets a bad rap, as many craftsmen equate the store's low prices with even lower quality.
This Trimmer Just Saved LA's Entire Electric Power Grid
One auto trimmer is keeping Los Angeles' entire workforce of linemen safe and the city's electric power grid running.
This Car Interior is Designed for Social Distancing
Automotive design firm DC2 has created the first "sanitized and distanced" car interior for germaphobe drivers.
Happy Mother's Day from Electron Top!
Electron Top dedicated their latest issue of "Keep in Touch" to moms across the auto trim industry.
NC Slashed Prices on Their Most Popular Machines!
NC Carpet Binding & Equipment is offering significant discount on some of their most popular machines.
Hyundai Plans to Make UV Dome Lights to Kill Viruses
Hyundai wants to equipped its cars with UV dome lights to kill dangerous pathogens like the coronavirus.
Albright's Supply Introduces Road Warrior
Searching for an automotive fabric that's durable and looks great? Check out Road Warrior by Absecon.
Who Remembers Chrysler's VisorPhone?
In the early 1990s, Chrysler introduced an optional feature that blew everyone's mind: the VisorPhone.
Headliner Market to be Worth $20.4 Billion
The global automotive headliner market will be worth $20.4 billion by 2025, according to a new report.
McLaren's New SuperFabric has Armored Plates Embedded Inside
When it comes to trimming the interior of a supercar, no ordinary leather or vinyl will do. What you need is a super fabric.
Haartz is Helping Supply Face Masks to Texas Food Banks
The Haartz Corporation has partnered with leather bag maker Jon Hart Design to supply food banks with face masks.
Bentley's Triple Diamond Seats are Beautiful
Check out the triple diamonds on the seats of this Bentley Continental GT Convertible.
Disinfect Car Interiors With Douglass Cleaning Wipes
With the coronavirus pandemic showing no signs of abating, it's time to get serious about sanitizing customers' cars.
What Trim Shops Looked Like in the 1800s
What did auto trim shops look like 150 years ago? See for yourself.
NC Interior of the Year is Back… and NC Upped the Prize!
It's time for talented trimmers to compete to see who's got the chops to take home the "NC Interior of the Year" award.
Electron Top is Open for Business!
Trim shops not located in areas hit hard by the coronavirus are still open for business. Electron Top has your back!
Bestop Joins the Effort to Make Face Masks
Bestop has joined hundreds of industry shops supporting health care workers by producing face masks.
Watch Alchemy Kustom Upholster a Seat
Rick Valdez of Alchemy Kustom shows us how to upholster a custom bench seat from scratch.
Trimmer Savvas Moraitis Dies at 73
Trimmer Savvas Moraitis of Andy's Upholstery in Toledo, Ohio, has died at age 73.
Want a Free Sticker from The Hog Ring?
The Hog Ring is giving away free stickers to auto trim shops that want to participate in an Industry Sticker Exchange
Auto Upholstery Jobs and Apprenticeships
We scoured the internet for the latest auto upholstery jobs and posted them on our jobs page.
That's not all! Visit our Facebook, Twitter and Instagram pages to see what other trimmers are up to. You can also join in the latest industry discussions by registering for our Auto Upholstery Forum. And don't forget to subscribe to our FREE newsletter!