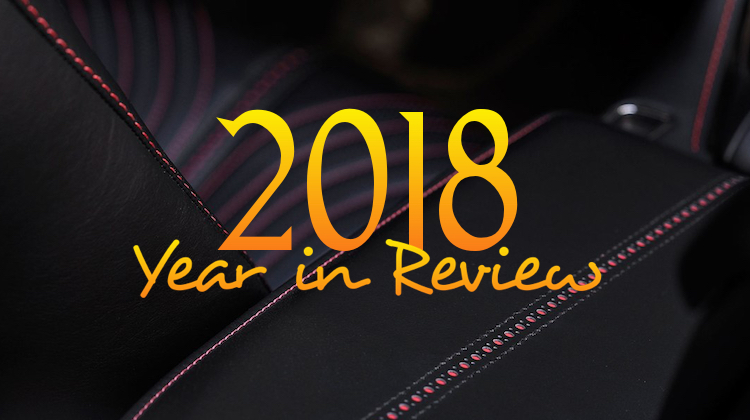 2018 was a phenomenal year for The Hog Ring, thanks to the thousands of trimmers who joined our community, auto enthusiasts who took the time to learn about our craft and sponsors who made it all possible.
We promised you stronger, more interesting and engaging content — and delivered! We covered the latest industry news, highlighted new products and services, hosted upholstery challenges and showcased incredible talent.
We also partnered with suppliers and manufacturers to give away thousands of dollars in awesome prizes, launched our very own online store and grew our Instagram page to more than 50K followers, who we continue to steer to independent trim shops.
As a result, our audience grew by leaps and bounds, not just in terms of site visits, but also geography. While our primary audience remains in North America, trimmers from South America, Europe, Asia, Australia and Africa flocked to our site and joined our growing community.
Together, we strengthened the industry by networking, exchanging ideas and sharing tips and tricks — not just about the craft of auto upholstery, but also the journey of running a small business.
Here's a look back at some of the highlights!
We profiled the three talented trimmers behind Auto Kustoms in Harrodsburg, Kentucky. Erik Demonbreun, Jonas Taulbee and Chris Pirrman talked to us about a range of subjects, from how they learned auto upholstery to what concerns them most about the industry. When asked about his favorite aspect of the craft, Erik told us: "It's when a customer isn't sure how to explain what they want and then when you are finished with the job and it's revealed they say: 'That's exactly what I wanted!'"
We hosted a "Tiny Binding Challenge," inspired by trimmers Brian Willingham and Ricky Howard, who dared one another to bind a dime-sized hole in vehicle carpet. It wasn't an easy task, but the fellas pulled it off with mind-blowing precision. We saw the photos they posted on Instagram and were curious how many other trimmers could do it — so we posted a challenge and gave away THR stickers to all participants. The entries were overwhelming, and proved how much talent there is in our industry.
We partnered with NC Carpet Binding & Equipment to promote their first NC Auto Interior of the Year Award, which was ultimately won by DJ Designs in San Francisco, California. The award, which was presented at the 2018 SEMA Show, included a giant trophy, $2,500 gift certificate to Douglass Interior Products, shop profile on The Hog Ring and, of course, bragging rights. It was one of the few moments in our industry's history where trimmers gathered to celebrate their craft and honor a talented peer.
We reviewed BeA's CL24-HR 68 pneumatic hog ring gun. After spending a week with the gun, we concluded that it's a total game changer and recommended that every professional trimmer give it a try. To that end, we hosted a BeA hog ring gun giveaway, which Rick Esterly of Stitchwurx won. He wasn't the only winner. Brent Parker of Brent Parker Motor Trimming won a BeA "Money Maker" t-shirt, and Oksana Ignatova of Red Thread Interiors won a BeA staple gun trucker hat! Months later, we reviewed and gave away a BeA pneumatic staple gun!
We interviewed Eric Haartz, CEO of The Haartz Corporation, about convertible culture. He spoke to us about everything from convertible vehicles' place in American pop culture to how convertibles are likely to evolve in the age of self-driving cars. The conversation was both fascinating and enlightening. It was an honor to speak to the man at the helm of the industry's leading manufacturer of convertible soft top fabric, and have him be so candid with our community.
We learned about the important differences between automotive- and furniture-grade leather, thanks to Aaron Laithwaite, founder and CEO of Hydes Leather. He explained to our community why trim shops need to be careful about the types of leather they purchase and use to upholster car interiors, as it could impact the quality and longevity of their work. What's more, he told us all about how his company can pretty much match any color out there.
We purchased The Hog Ring's first-ever project car, a 1969 Dodge Charger. Our Charger is clean, but not quite car show ready — so we're going to have to pull out all the stops to restore this bad boy, especially the interior. Best of all, we're going to document the entire process on The Hog Ring, and even bring a few sponsors into the mix. By the time we're done with this classic Mopar, it's going to turn heads and drop jaws. Follow the build in 2019!
We launched our first industry-wide survey, part of an ongoing effort to better understand the auto upholstery community. To start, we posed two questions: How old were you when you learned to sew? Who taught you to sew? The response was overwhelming, and provided some great insight into how trimmers across the industry got their start in the craft. The big (summarized) takeaway? Most auto trimmers learned to sew as children — not adults.
We paid respect to Steve Kurzman of The Custom Stitching Co., who became the latest auto trimmer named to SEMA's "35 under 35" — an annual list that recognizes the top 35 professionals under the age of 35 who are changing the automotive aftermarket industry. Members of The Hog Ring community know we're huge fans of The Custom Stitching Co. In fact, we profiled Steve in October 2017, highlighting his story and excellent craftsmanship.
We headed to Las Vegas to cover the 2018 SEMA Show and network with trimmers from across the country, who gathered at NC Carpet Binding & Equipment's booth. Some of the industry's most talented trimmers stopped by, including Bux Customs, Stitchcraft Interiors, Sewn Tight Custom Interiors and RMD Garage. While at the show, we interviewed Ringbrothers about their latest build (interview forthcoming!) and played "Spot the Interior," featuring the best interior builds on Instagram. Of course, we also took some of NC's quality sewing machines for a test drive!
We promoted a campaign to raise money for auto professionals impacted by the Camp Fire, the deadliest and most destructive wildfire in California history. The fundraiser, which was organized by The Automotive Aftermarket Charitable Foundation (AACF), provided financial assistance to families in our industry to help them find temporary housing, food and care. You can still make a tax-deductible donation to AACF, by visiting aacfi.org.
We launched an online store to sell auto upholstery swag to professionals across the industry who want to show their pride in the craft of auto upholstery. The store was born from a contest, in which we gave away a limited-edition "Real Men Sew" t-shirt to celebrate reaching 50,000 followers on Instagram. Chris McClintock of Bux Customs won that contest. But the response was so overwhelming — with trimmers asking to buy a shirt — that we decided to open a store. All proceeds from sales will go to funding more cool (and free) resources for The Hog Ring community!
We Couldn't Have Done it Without You!
Thank you for continuing to follow The Hog Ring and encouraging your friends to do the same. You shared and commented on our articles, published pictorials in our forum, and assisted one another in difficult projects. You also provided us with great story leads and feedback that continue to help us realize our mission of strengthening the auto upholstery industry.
Of course, none of this would be possible without the financial support of our sponsors: Albright's Supply, Electron Top, The Haartz Corporation, Hydes Leather, Kee Auto Top and NC Carpet Binding & Equipment.
Not only are these six companies outstanding leaders, who provide quality products and exceptional services at competitive prices, but they also share our vision of a stronger, more unified industry. Please show your appreciation by giving them your business.
It's a new year and we're raising our glasses to all of you! May every single person in this community of professionals and friends find happiness and success in 2019!