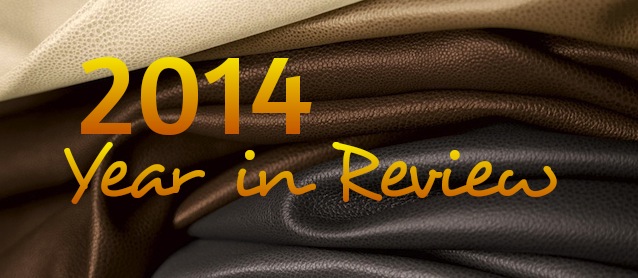 2014 was an incredible year for The Hog Ring. We partnered with some of the auto upholstery industry's leading manufacturers and suppliers to reach more trimmers, cover the latest industry news and developments, feature the latest products and services, and showcase some incredible talent. We also worked tirelessly to expand the utility of this website as a resource for auto trim professionals of all stripes.
In turn, you kept coming back to The Hog Ring to read our articles; take advantage of our free services — like our Jobs Page, Design Studio, and Industry Directory; and share tips, tricks and words of encouragement with peers in our Forum. We can't thank you enough for your support. Without your continued participation, The Hog Ring would not be possible.
Let's take a look back at some of the most memorable moments of the year…
We profiled incredibile talent

Over the course of 2014, we profiled some really amazing shops and talented trimmers — including Bare Bones Leather, JS Custom Interiors, Stitches Custom Auto Upholstery, Customs by Vos, Compton Custom Interiors, JNG Creations, and Roy Keith Powell of Drew's Garage. We also interviewed Dan Kirkpatrick of Dan Kirkpatrick Interiors and the stars of Discovery Channel's hit show Rods N' Wheels for our popular "10 Questions" series. One of the most interesting interviews we did this year was with Matt Williams, director of business development for Haartz Corporation. He shed new light on the threat of inferior and impostor-brand convertible tops, as well as what we – as an industry – can do about it.
Each profile and interview we completed left us more knowledgable, intrigued and inspired. We hope it had the same effect on you. With your support, we aim to highlight even more shops and trimmers in 2015.
We showcased jaw-dropping projects

In addition to highlighting industry leaders, we also showcased many incredible projects — including interiors by Carlex Design, Fat Lucky's, Ringbrothers, Stitchcraft Interiors, and even automakers like Buggati, Rolls Royce and Aston Martin. We even showed community members how to replicate Aston Martin's ultra unique Rapide Diamond Pleat!
Among our most popular interior showcases of the year was a custom 1969 Chevrolet Camaro by JNG Creations and a 1974 Lamborghini Espada by Brent Parker Motor Trimming. We followed the Espada build from start to finish, and broke it out into a four-part article series titled "Lambo Stitching with Brent Parker Motor Trimming."
We worked hard to grow The Hog Ring
Not only did we launch our very own Instagram account, where we feature outstanding work of trimmers from all over the world, but we highlighted the best employment opportunities in the auto upholstery industry on our Jobs Page and doubled the number of shops listed in our Industry Directory. What's more, we launched The Hog Ring Design Studio — which is a growing collection of bare illustrations to help auto trimmers quickly and easily sketch their ideas. The studio already features 13 free illustrations, ranging from door panels to racing seats.
We also flew to Las Vegas for this year's SEMA Show — where we met members of The Hog Ring community, learned about new products, checked out some fantastic interior builds and networked with suppliers from all over the world. We did so much research for you at the show that we haven't even gone through it all yet… so stay tuned for more post-show coverage in January and February of 2015!
We celebrated the support of our sponsors

Of course, none of this would be possible without the financial help of our sponsors, who share our vision for the auto upholstery industry and want to help propel our craft to new heights. In 2014, we were fortunate enough to gain two new sponsors – Alea Leather and Haartz Corporation – and have our previous ones reaffirm their commitment to The Hog Ring community.
Many also marked really big occasions. Kee Auto Top celebrated its 50th anniversary, DLT Upholstery Supply held its 2nd annual "Open House", Albright's Supply staged its first "Open House" and launched a game-changing inventory system, Electron Top pledged its support for small businesses, Haartz recasted aftermarket soft tops with Fortè, and Alea Leather introduced loads of exciting products.
All of our sponsors have put a great deal of faith in The Hog Ring and want to see it succeed. Please show your gratitude by giving them your business.
Of course, not everything in 2014 was good
A number of auto upholstery shops suffered devastating fires, including Town and Country Fabrics and Upholstery, D&B Auto Sales, and Ricardo's Auto Upholstery. Three Rivers Supply was also damaged in a fire, but recovered shortly after.
Also this year, Nicholos Brumfield of Red's Auto Upholstery was shot and killed while at work, and Josh and Monica Griebel of Griebel's Upholstery died in a car accident, leaving behind five beautiful children. Catherine "Kitty" Strauss, loving matriarch of the Electron Top family, also passed away in 2014.
To those shops – and all of the families affected by their losses – we offer our sincerest condolences. We will keep you all in our thoughts and prayers.
Here's to a wonderful new year!
We are excited to embark on The Hog Ring's fifth year as the auto upholstery industry's leading news website and online community. This site was launched as an experiment that has grown beyond our wildest expectations. The people we've met, talent we've witnessed and guidance and support we've received have left us inspired and determined to continue to do all we can to benefit the small, but powerful, community of auto upholstery professionals. Together, we will grow and advance our craft.
Thank you all for your loyalty and support throughout the year. We're truly blessed that you've allowed us into your lives.
We wish you all the best in 2015. Happy New Year!
Nadeem & Naseem