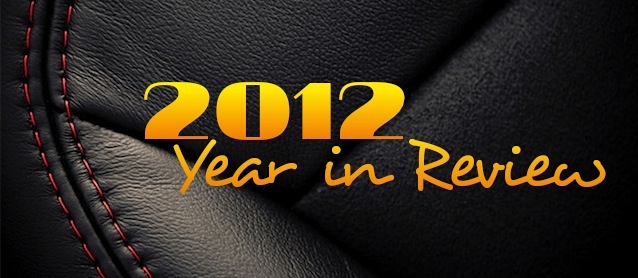 2012 was a monumental year for The Hog Ring. Our community grew by leaps and bounds with loads of news articles, product reviews, inspiring interviews and how-to guides. We partnered with companies to bring you interesting content and some really cool prizes. Most importantly, though, the number of trimmers willing to share their knowledge and expertise with one another ballooned beyond our wildest expectations.
Let's take a look back at some of the most memorable moments of the year…
Auto Upholstery Forum Connects Shops
We launched the auto upholstery industry's first-ever online forum where trimmers from all over the world can network and connect. The feature has attracted everyone from rookies to seasoned vets – all willing to lend their knowledge and support to help each other grow in the field.
Why Are Detroit Books So Hard to Find?
We contacted Detroit Body Products, which publishes the Detroit Book, as well as De Leo Textiles, which produced the comparable Lion Book up until 2009, to finally get a straight answer as to why OEM sample books are so hard to find. With the tips we uncovered, no shop should fall behind in its collection of Detroit Books.
If You Install Convertible Tops, this is a Must Read!
We called out GAHH Automotive on its unethical practice of concealing the fact that it sells convertible tops directly to customers and teaches them how to weasel trim shops out of their price markups. The negative publicity forced GAHH to remove a statement from one its websites advising customers on how to do just that.
Shop Profile: Edge Automotive Interiors
We interviewed Stephen Palmer, the 26-year-old trimmer behind Edge Automotive Interiors whose work is making waves in the UK's auto scene. He told us all about how he's managed to grow his business in only four short years, as well as what inspires him to keep innovating.
How to Build a Display Motorcycle Seat
Our article "Why I Build Miniature Car Seats" was so well received, that we decided to produce a video on how to build a display motorcycle seat. We even published free downloadable templates. Trimmers have since been building miniature display seats and publishing photos of their work in our Auto Upholstery Forum.
Kristin Cline of SEMA's All-Women Mustang Build
We published an exclusive interview with Kristin Cline – the woman chosen by Ford and SEMA to lead the interior portion of SEMA's first-ever all-women Mustang build. She told us all about her background, the Mustang project and even shared some thoughts on the state of women in the auto industry.
SEMA Honors The Hog Ring Founders
SEMA honored The Hog Ring by naming us to its list of "35 under 35". The list recognizes the top 35 professionals under the age of 35 who are doing something new and exciting to change the automotive aftermarket industry. We're honored that an association as large and influential as SEMA values this community as much as we do.
After discussion in our Auto Upholstery Forum turned to unique pleat designs, we published a short guide on how to stitch a hexagon-tiling pattern similar to the one found in the new Aston Martin Cygnet – allowing trimmers to offer customers an exciting alternative to traditional diamond and vertical pleats.
Pro Tip: Sewing Leather With Ease
We launched the first in what will become a series of video "Pro Tips" designed to help rookie (and perhaps even not-so-rookie) auto trimmers get the job done more effectively, efficiently and professionally. Our first video, "Sewing Leather With Ease", was so well received that we've already begun working on more.
The Hog Ring's 10 Questions Series
Our quest to bring the auto upholstery community exclusive interviews with leaders in the craft led us to a conduct a series of inspiring interviews with some of the best – including Ron Mangus, Tracy Weaver, Shannon Walters, Jay Teske and Sid Chavers. Best of all, we've got a few new interviews in the works!
Nissan Responds to 'Do Not Resew' Inquiries
The Hog Ring was one of the first industry publications to report on Nissan's controversial "do not resew" tags – and the only one to successfully secure a quote from the automaker explaining its position on why it had begun attaching them to its seat covers. No doubt, this story will continue to develop throughout 2013.
Loads of Prizes for "Comment of the Week"
We partnered with a number of great companies to give away over $2,000 in prizes to community members who left insightful comments on our articles this year. Among the winners…
Russell of ProStitch Auto Interiors and Upholstery, Inc. in Taylorville, IL won a dual seat heater kit courtesy of Roadwire.
Karen of KAR Quality Upholstery in Sparks, NV; Jay of The Interior Shop in Billings, MT; Roy of Roy Keith Classics & Customs in Hot Springs, SD; and Phillip of Anderson Custom Interiors in Clarksburg, WV won high-quality German shears from Kretzer.
Kyle of South Hoosier Hot Rods in Madison, IN; Craig of CDIDIT in Fort Worth, TX; Billy of Murdock's Auto Upholstery in Brevard, NC; and Brad of Driven Fabrication & Upholstery in White Marsh, MD won 25 yards of black Naugahyde fabric and an 8 oz spool of 270 contrast thread from DLT Upholstery Supply.
Steve of Aero Upholstery in Hamel, MN won a Flex'N Hold steering wheel bracket system courtesy of Coachtrim.
Wade Labofish of Madfish Designs in Annapolis, MD won a pneumatic headrest shrinker from LeatherSeats.com.
Of course, not everything that happened this year was wonderful.
Three auto upholstery shops – Antioch Convertibles and Auto Upholstery of Pittsburgh, PA; Rayco Auto Repair of Allentown, PA; and Voris Upholstery and Randy's Trim Shop of Whiteland, Indiana – suffered devastating fires.
To those shops – and all of the families who depended on them for their livelihoods – we offer our condolences. We hope that you rebuild and will surely be here to support you in your efforts.
Also, Nat Danas – pioneer, leader and role model to many in the auto upholstery industry – passed away at age 90. As founder of the National Association of Auto Trim Shops and Auto Trim and Restyling News, Danas dedicated his life to building a strong and connected community of auto trimmers.
He will be missed, but certainly not forgotten. We hope to channel his love and dedication for the auto upholstery community through The Hog Ring for many years to come.
Here's to a wonderful new year!
While 2012 was a whirlwind year for The Hog Ring, the best has yet to come. We plan to grow and develop this site as a resource for professional auto trimmers throughout the next year. Among our plans for 2013 – a more functional forum, a ton of new prizes, some new partnerships aimed at growing our community and, of course, more great interviews and articles.
Thank you all for your loyalty and support throughout the year. Without the hardworking trimmers who make this community strong, The Hog Ring wouldn't be anything. We're truly blessed that you've allowed us into your lives.
We wish you all the best in 2013. Happy New Year!
Nadeem & Naseem